Vegas Massacre Exposes Underbelly of Soft Targets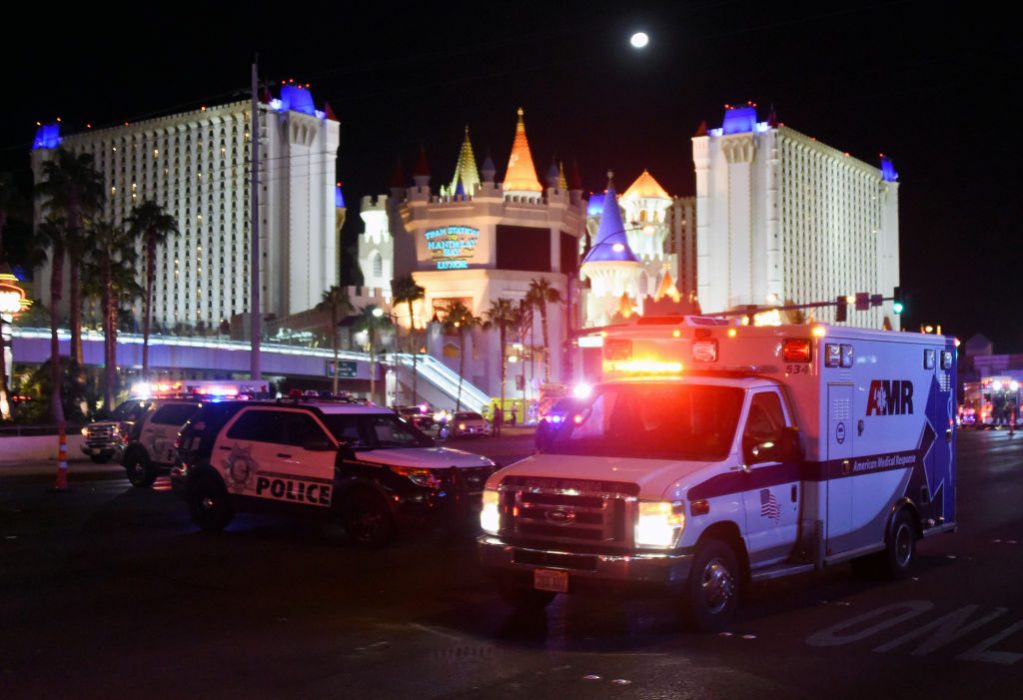 Firing from 32 stories up at a crowd a block away, a lone gunman killed at least 59 people and injured hundreds more, in a devastating attack that has law enforcement rethinking how to keep Americans safe.
The 64-year-old retiree opened fire on a Las Vegas country music festival, from a hotel room window across the street from the open-air venue. Authorities have uncovered neither motive, nor any link to a domestic or international terrorist group, despite a claim of responsibility by the so-called Islamic State.
The attack raises significant questions about how to secure soft targets — public gathering places such as concert venues, nightclubs, hotels, restaurants, or offices that are particularly vulnerable to attacks and that often offer practical or symbolic value to perpetrators.
The gunman — identified as Stephen Paddock, a retiree from Mesquite, Nevada — shot concertgoers from the 32nd floor window of a room at the Mandalay Bay Resort and Casino, a hotel on the Las Vegas Strip. Authorities said the SWAT teams that stormed the hotel found the shooter had killed himself. He had as many as 19 or more guns in the room, and several pounds of ammonium nitrate were found in his car.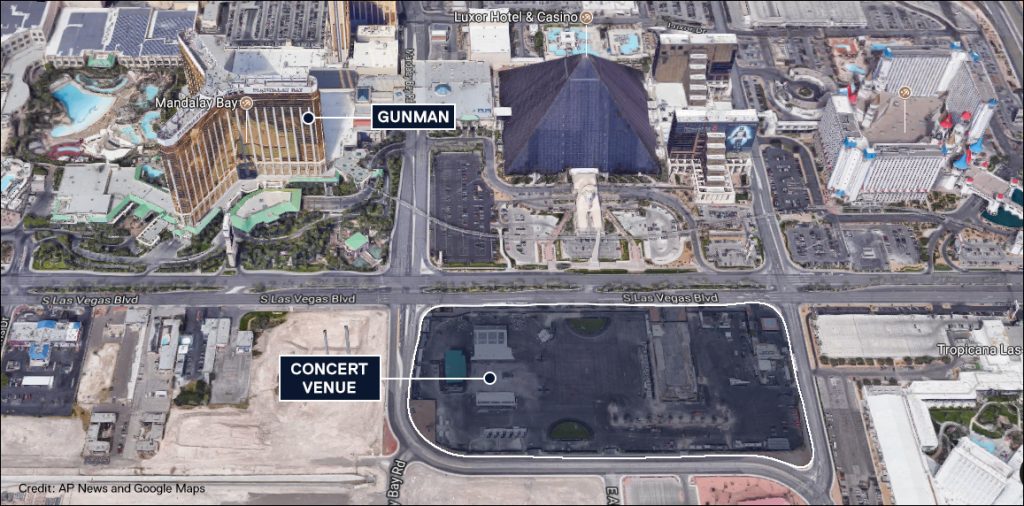 President Donald Trump called the attack "an act of pure evil" on Monday, adding that the FBI and Department of Homeland Security were assisting local authorities. Trump will visit Las Vegas on Wednesday.
ISIS took responsibility for the attack on its Amaq News Agency, claiming the gunman was one of its soldiers and a recent convert to Islam. But the terrorist group provided no evidence, and the FBI said Monday it had found no connection to any terrorist group.
ISIS has made such claims before, like a June attack by a 42-year-old lone gunman at a casino in Manila, Philippines. Local officials said that the man had no connection to terrorism, claiming instead that he had a gambling problem, heavy debts, and had been laid off from his job.
According to an Associated Press report, Paddock's brother said the Vegas shooter was a gambler and multimillionaire.
In Las Vegas, investigators will be piecing together the gunman's life and last days, looking for anything that points to motive, said Bennet Waters, who served in the Department of Homeland Security from 2005-2009 in roles including counselor to the Secretary.
"They will be looking very, very diligently at background, known associates, habits and patterns — anything that might indicate what precipitated this event or more importantly whether or not he truly operated as a 'lone wolf' or was operating as part of a cell or larger group that might be planning similar types of attacks in other venues," Waters told The Cipher Brief Monday.
Retired NYPD officer Joe Giacalone, a criminology professor at John Jay College of Criminal Justice, said those who carry out mass shootings usually have a history of domestic violence or mental health issues, neither of which seem to apply to the Las Vegas attacker.
"From an intelligence standpoint he was pretty much below everyone's radar," he said.
Despite the gunman's apparent lack of ties to any domestic or international group, investigators will be on the lookout for copycat or sympathizer attacks, said Waters who is now at the Chertoff Group. "Law enforcement will continue to be at a heightened state of alert and sharing information and intelligence about individuals they may be concerned about perpetrating things of that nature," he said.
The DHS said in a statement Monday "we have no information to indicate a specific credible threat involving other public venues in the country. However, increased security in and around public places and events may be experienced as officials take additional precautions."
The kind of security precautions that might have helped detect the attacker – say by putting all suitcases of visiting guests through a metal detector as they do in terrorist-plagued cities overseas – would hamper the freedom of movement Americans expect.
"Anything and everything we do from a security standpoint becomes an intrusion to some degree on people's abilities to move about freely," Waters said.
"The challenge in securing soft targets is, first of all, the level of security…and where you establish the outer perimeter of that security regime," he told The Cipher Brief. "There is always an outer edge of any security apparatus. The question is where do you put it? And then how intrusive and invasive are the tactics and the techniques within that perimeter, and how do you ideally balance them with the perceived level of threat?"
The gunman in this case "was at a considerable distance from the venue, outside of what we might consider to be a standard security" area, Waters said.
"This particular incident underscores the complexity of trying to maintain our way of life, our ability to gather together peacefully and enjoy things like music and live entertainment."
This incident in Las Vegas marks another major attack aimed at a soft target in a metropolitan area, following violence in London, Manchester, Orlando, Paris, and elsewhere.
Giacalone called this a "case where it's going to keep a lot of police executives up at night."
"It's virtually impossible to stop this from happening," he said.
Waters said law enforcement organizations maintain field offices in major metropolitan areas and population centers to "surge" them to the scene when needed.
Venues are prioritized on the basis of perceived or actual threat, with an ongoing risk assessment process that takes into account everything from location to past history of association with significant risk.
"Each individual venue is typically assessed at some level and assets are deployed in some type of intelligence-driven and risk-based layered way relative to the perceived threat," Waters said.
Mackenzie Weinger is a national security reporter at The Cipher Brief. Follow her on Twitter @mweinger.