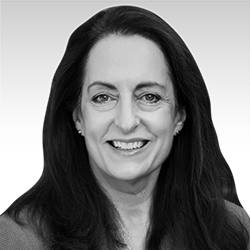 Leslie IrelandFormer Assistant Secretary of the Treasury for Intelligence and Analysis
Leslie Ireland is the former Assistant Secretary of the Treasury for Intelligence and Analysis. She joined Treasury in 2010 after 25 years at CIA where she specialized in Iran, the Middle East and WMD. Prior to joining the Treasury Department, from 2008-2010 Ms. Ireland served as daily intelligence briefer to President. As the first DNI Iran Mission Manager, from 2005-2008, she served as the principal advisor to the DNI on Iran and was responsible for overseeing the intelligence process on Iran for the entire U.S. government.
The Cipher Brief: What is your impression of the President's comments on Iran at the United Nations on Wednesday?  He called Iran out as an enabler in Syria, re-iterated his reasoning behind walking away from the JCPOA and then also thanked Iran, along with Russia and Syria, in slowing expected action against terrorists in Idlib.  Did you hear anything new, or detect any kind of shift in direction or strategy?
This is Cipher Brief Level I Member Only content. It can be accessed via login or by signing up to become a Cipher Brief Member.  Joining this high-level, security-focused community is only $10/month (for an annual $120/yr membership).
Cipher Brief Members engage in high-level conversations about national and global security issues every day. If you're not already a member, you should be.