The New Technology of Humanitarian Assistance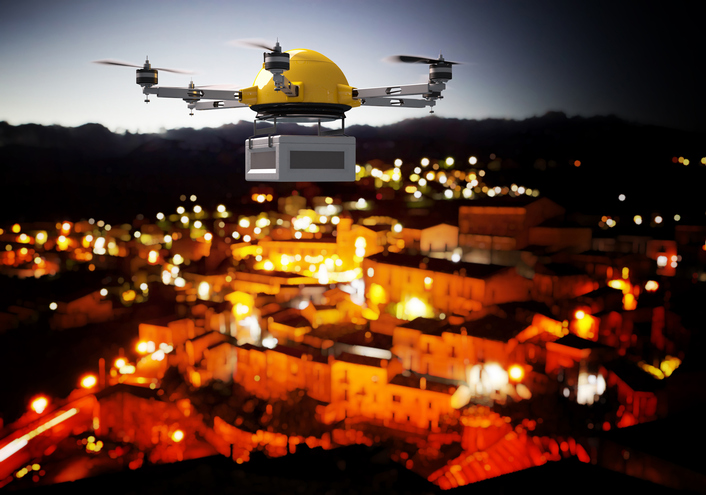 Since the first CIA Predator drone strike in October 2001, the United States, among others, has sought to expand the technology to facilitate remote warfare. UN peacekeeping forces use drones for intelligence gathering in such places as Mali, the Central African Republic, and the Democratic Republic of the Congo. The commercial drone industry is booming and is expected to only grow further with hobbyists using off-the-shelf quadcopters for their scenic vantage points and Amazon's prospective drone deliveries to customers. Even insurgents are beginning to incorporate this new technology into their arsenals, setting their sights on recruitment messaging, intelligence collection, and explosives delivery.
But what if drones could be used for humanitarian purposes? The technology has already transformed the conduct of war; could it also transform approaches to aiding the victims of conflict, disease, and natural disasters?
In fact, the process is already underway, albeit slowly. There are, however, challenges that must be addressed for drone technology to fulfil its potential. This will require persistence beyond the initial hype, and it is not solely dependent on the humanitarian sector to tackle these challenges, but also that of the commercial and public sectors.
To understand how drones could transform the provision of humanitarian aid, it is important to first acknowledge the areas of difficulty humanitarians often encounter. Jack Chow, a former U.S. ambassador and the first Assistant Director-General of the World Health Organization on HIV/AIDS, Tuberculosis, and Malaria, points out that "the barriers to providing humanitarian aid are numerous and evolving. Chief among them are extensive operational obstacles that involve myriads of personnel, assets, and supply chain links. Complications and breakdowns among any operational components will cause delays and losses of aid. Chokepoints and tenuous routes invite corruption and pilferage." Kristin Bergtora Sandvik, a professor at Peace Research Institute Oslo (PRIO) and co-founder and former director of the Norwegian Center for Humanitarian Studies, says that "the humanitarian sector struggles with lots of unresolved challenges with respect to obtaining adequate situational awareness for aid workers; getting sufficient information about the size and whereabouts of crisis-affected communities; and overcoming the logistical problems of timely and appropriately scaled last-mile delivery of cargo."
The issue of supply chain logistics became a major hindrance in the timeliness of the international response to the 2014 Ebola epidemic in West Africa, particularly with fears of the virus spreading internationally. Drones could help alleviate some of these challenges through remote delivery of high-value, low-mass goods such as everyday medicines as insulin, antibiotics, and painkillers, or of communications equipment such as phones and computers, to areas otherwise inaccessible due to hard terrain, natural disaster, or conflict. For example, in Malawi, UNICEF sees drones as a method of transportation for blood work to help HIV testing, while in Rwanda, a humanitarian drone startup known as Zipline is also delivering blood supplies to remote hospitals in the region.
Similarly, the negotiation of humanitarian access in conflict and post-conflict countries often includes tradeoffs between an organization's freedom of movement and concessions made to local authorities operating in a vacuum of formal government control. However, as Sandvik points out, even if drones could potentially replace caravans of trucks to mitigate the problem of access, "most of the models offered by the drone industry are too expensive for the humanitarian sector and the available models often not powerful enough to stay for any significant time in the air," let alone "transport tons worth of relief items."
While larger drones are available to the U.S. military, they require more advanced pilots and could also be targeted by the anti-aircraft systems of belligerents purposely using starvation and medical deprivation as weapons of war. For example, to deliver aid to the Yazidi population trapped on Mt. Sinjar in August 2014, the U.S. military had to first conduct airstrikes on ISIS positions to ensure safe passage of their cargo planes.
Potential advances in artificial intelligence (AI), however, could allow swarms of small drones to slip by air defense systems to individually deliver small packages of cargo—possibly even create impromptu networks for Wi-Fi and establish phone signal availability. Chow asserts that "as costs come down and AI-driven avionics accelerate in power, flotillas of drones over vulnerable regions can provide constant coverage for early detection and rapid response to humanitarian crises." Artificially intelligent drones could also address major impediments to post-conflict reconstruction, such as landmine removal to enable locals to return to an agricultural economy while mitigating indiscriminate casualties largely affecting children. The Mine Kafon Drone seeks to autonomously map a designated area, detect the positioning of mines via GPS and then safely detonate them at a pace unmatched by even skilled personnel.
Drones could also be a source of information for aid workers on developing crisis situations. Chow notes that "on-board sensors will acquire information about conditions on the ground, presence of detectable dangers, and the numbers and locations of affected people," and "in the future they may detect the first stirrings of violence by picking up sounds or flashes from gunfire." Following the 2008 Sichuan earthquake in China that killed over 69,000 and left 18,000 missing, Chinese responders used drones to locate downed bridges, collapsed tunnels, and other chokepoints hindering rescue efforts, while assessing damage to critical buildings such as schools and hospitals. In Nepal, the Humanitarian UAV Network used drones to create clearer photos than existing satellite images while also using 3D modeling of the damage to identify which houses were prone to collapse.
The problem with humanitarian drones monitoring from the skies is that governments and their populations will be uneasy about what the data will be used for. The association of drones with military intelligence collection creates a stigma not easily avoided, and governments may fear footage could be shared with human rights organizations documenting war crimes. Some of this can be addressed through technical solutions such as geo-fencing, whereby drones are only able to gain access to certain airspace, but ultimately, as Chow notes, "expanding drones' powers will also force a need for a regulatory framework at the national and international level in order to establish technical standards and rules for operations."
Sandvik suggests the major criticisms of the humanitarian use of drones now are over "concerns the technology creates distance between beneficiaries and aid workers," "the potential association with military applications" such as intelligence collection, and ultimately, "the lack of added value delivered by the use of drones," whereby the technology is simply not sufficiently developed yet and therefore a "distraction from other work."
While drones would likely augment, not replace aid workers—or other longer-term projects such as infrastructure development—there is still enormous potential for drone technology to change the provision of humanitarian aid. There are, however, numerous steps before such technology becomes meaningful, let alone systematically normalized. While the hype over the humanitarian application of drones may have spurred the discussion, persistence is needed to determine how drone technology will actually contribute to future humanitarian efforts. 
Levi Maxey is a cyber and technology producer at The Cipher Brief. Follow him on Twitter @lemax13.