4 Terrorism Questions for former NCTC Director Nicholas Rasmussen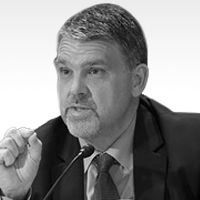 Nicholas J. RasmussenFormer Director, National Counterterrorism Center
This week's release of the Intelligence Community's unclassified Worldwide Threat Assessment made clear which groups the IC believes pose the greatest terrorist threats to the U.S. in 2019.
The list of terrorist organizations includes: ISIS, Al Qaeda, Homegrown Violent Extremists ('likely to present the most acute Sunni terrorist threat to the U.S.') Shia Actors (including groups backed by Iran), Lebanese Hezbollah, and Violent Ethno-supremacist and Ultranationalist Groups.
The Cipher Brief posed four questions to former Director of the National Counterterrorism Center Nicholas Rasmussen, who is currently the Senior Director of Counterterrorism Programs at the McCain Institute.
This is Cipher Brief Level I Member Only content. It can be accessed via login or by signing up to become a Cipher Brief Member.  Joining this high-level, security-focused community is only $10/month (for an annual $120/yr membership).
Skip the extra coffee just once a week and use that money to support The Cipher Brief's mission to feed your need to know.