Starvation Serves as a Weapon for Dictators and Terrorists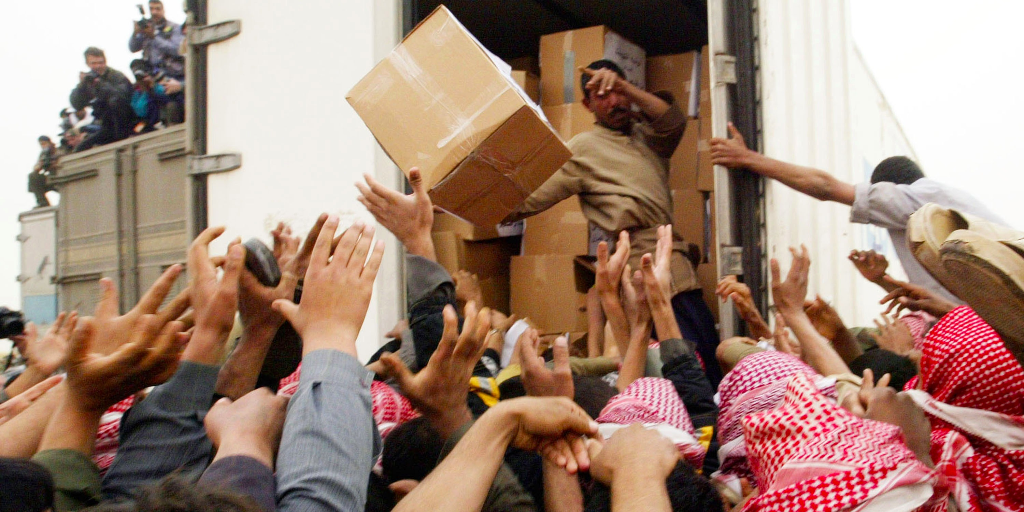 The United States is confronted with security challenges on a daily basis, from unending terrorist attacks to adversaries positioning themselves on the geopolitical and global economic stages. But behind the curtain of all of these problems resides a potentially devastating, long-term issue that demands attention: global food insecurity as both a consequence and driver of conflict.
Militant groups recruit the hungry with promises of the next meal, and states such as North Korea and Syria control food as a mechanism of internal power and psychological warfare. The multi-dimensional problem of feeding the world's hungry is only expected to get worse as climates change, populations grow, and the rural migrate to booming megacities.
Given the complex relationship between conflict and those experiencing food insecurity, those most in need of emergency assistance reside in war-torn countries. "Already at the beginning of the year we are facing the largest humanitarian crisis since the creation of the United Nations," Stephen O'Brien, the United Nations Under Secretary-General for Humanitarian Affairs, told the Security Council in March. "Now, more than 20 million people across four countries face starvation and famine."
All four countries – Yemen, Nigeria, South Sudan, and Somalia – are in the midst of brutal wars, not to mention the conflicts in Iraq and Syria that have forced mass migration to Europe. Of Yemen's 27.4 million population, 18.8 million are in need of emergency assistance, with near 7 million on the brink of starvation. In northeastern Nigeria, where scarcity of food has not historically been a problem, 5.1 million people now find themselves food insecure as a consequence of a devastating insurgency. After the drought that hit Somalia in 2011, claiming the lives of an estimated 250,000 people, the country is now undergoing another, leaving 5.5 million in urgent need of food aid. The South Sudanese government has declared famine in portions of the country, while the UN says that nearly 5.5 million people are staring down starvation.
While natural disasters and severe weather patterns have significant impacts on the availability of food, humanitarian assistance flows have recently shifted from providing global aid to victims of natural disasters, to now primarily assisting victims of violent conflict. The implications are clear: the displacement of persons, disruption of markets, decline of governance, and destruction of infrastructure caused by violent conflict can have a devastating impact on the vulnerability of populations to food insecurity.
With the administration of President Donald Trump proposing major cuts to U.S. food aid programs – that not only facilitate U.S. policy influence abroad, but also help sustain U.S. agricultural and shipping industries – the future of U.S. food aid is in flux. Trump's appointment for executive director of the World Food Programme, David Beasley, has said the organization is "the first line of offense and defense against extremism and terrorism." The reasoning? "If a family can't feed their children, after two or three weeks, they will turn to any available resource they can, and is usually extremism," Beasley said in relation to displaced civilians following the battle to push ISIS from Mosul in Iraq.
In announcing the administration's strategy in Afghanistan last month, Trump declared, "we are not nation-building again. We are killing terrorists." But ignoring the drivers that perpetuate the conflict does little to make tangible progress in advancing Trump's strategic goals of "obliterating ISIS, crushing al Qaeda, preventing the Taliban from taking over Afghanistan, and stopping mass terror attacks against America before they emerge."  The coordinating body of the international community's efforts in the country, the UN Assistance Mission in Afghanistan, has specifically said that "there is a possibility that high food prices may be making young men more vulnerable for recruitment by anti-government elements, including the Taliban."
It is difficult to determine whether food insecurity can alone lead to the onset of violent conflict.  However, there is evidence that food insecurity can prolong internal violence by forcing vulnerable populations to make difficult decisions for their immediate safety during times of war.
Despite the possibility that food insecurity could contribute to militant group recruitment, humanitarian workers don't wish to be viewed as supporting a particular faction because it can undermine the humanitarian principles of impartiality, neutrality, and independence. One role that these principles play is to enable safe passage of aid workers to deliver assistance to those caught in the crossfire of war. Should certain factions view the delivery of assistance as detrimental to their efforts, or seek to take it for themselves, they could turn to violence against aid workers.
Knowing where these populations are and reaching them – whether because of inaccessibility from poor infrastructure and governance or due to the threat of violence – is a constant challenge. At least 79 aid workers have been killed in South Sudan since the beginning of the civil war in 2013. As of March, only 1.9 million of the 5.1 million in need of food aid in northeast Nigeria are being reached, in part, because of the Nigerian military's heavy handed response and restrictions on civilian movement.
To overcome these barriers, aid workers must look to advances in technology to better assess the situation on the ground as well as deliver food aid without fear of violence or the siphoning of aid due to government corruption. Technology traditionally developed by militaries can help humanitarian organizations mitigate these challenges.
"The good news," says Scott Aughenbaugh, a Research Fellow with the Center for Technology and National Security Policy at National Defense University, "is that many of the same types of technologies and techniques the U.S. military has developed or is developing for reconnaissance and intelligence analysis, such as satellites, big data analytics, and drones, are also part of a new generation of tools for monitoring, predicting, and preventing food crises."
Perhaps the most prominent of these initiatives is the U.S. Agency for International Development's Famine Early Warning Systems Network (FEWS NET), which aggregates atmospheric and meteorological data, satellite imagery, and other inputs and then leverages predictive analytics tools to give early warning to emerging or likely crises. Satellite imagery can identify isolated populations, which can then be reached using drones capable of delivering aid and providing farming assistance.
Perhaps further down the road is the impact conflict, population growth, and climate change are having on urbanization. Those fleeing conflict-ridden countrysides are seeking refuge and economic opportunity in cities around the world, placing a cumbersome burden on out-of-date urban infrastructure and food supply.
Some "60 percent of the world's cropland lies just on the outskirts of cities," says Johanna Mendelson Forman, a Distinguished Fellow at the Stimson Center. "China is expected to lose one-quarter of the global cropland because of the expansion of cities into peri-urban areas that once were the source of local farming and food supplies. The disappearance of productive land near urban centers will impact the availability of staple crops like maize, rice, soy, and wheat – the basis of global food security."
With burgeoning population growth and conflict, and climate migrants flooding to cities, governments must turn to technological advances, such as vertical farms and drone farmers, to better enable urban dwellers to produce, store, and deliver the food they need.
"Failure to address these challenges in the short run will create conditions that are ripe for more conflicts and more climate migrants," argues Mendelson Forman. "We could be looking at new era of urban food wars if we do not address the issues of how to feed 9 billion people by mid-century."
While the relationship between conflict and food insecurity is multi-faceted and difficult to pinpoint, it is clear the connection is there. "Using innovative technologies to combat food insecurity is a cost-effective and efficient strategy to reduce political instability abroad and make us safer at home," says Aughenbaugh.
Levi Maxey is a cyber and technology analyst at The Cipher Brief. Follow him on Twitter @lemax13.