Network Take: Death of a Gulf Strongman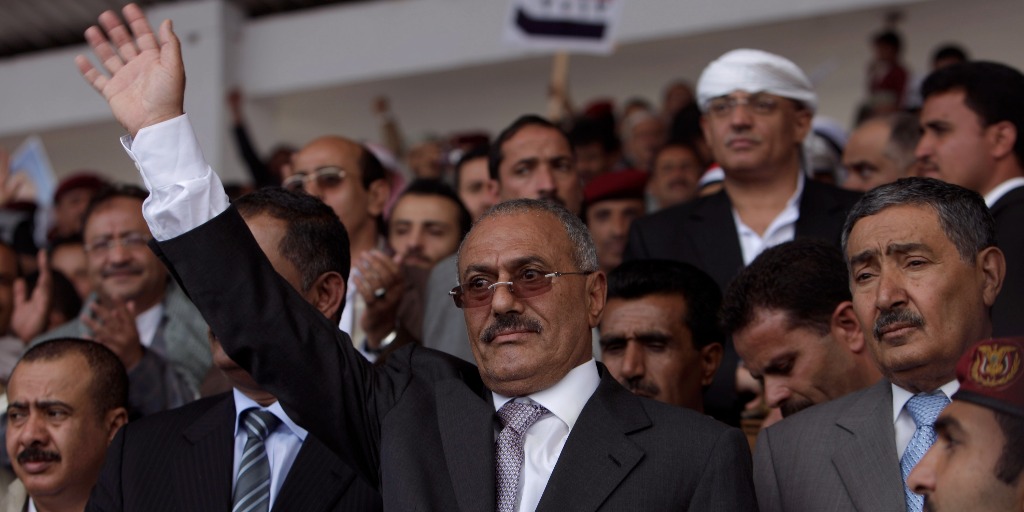 Cipher Brief experts and CIA veterans Norman Roule, Emile Nakhleh and Rob Richer, together with former U.S. Amb. to Yemen Steven Seche, weighed in Monday after Yemen's former president Ali Abdullah Saleh was reported killed by his former allies. Saleh had switched sides over the weekend, in hopes of negotiating an end to the long running civil war, dropping the Iran-supported Houthis for talks with the Saudi Arabia-led coalition. The coalition has been trying to restore the rule of the internationally recognized leader, President Abd Rabbu Mansour Hadi.
Norm Roule: In the wake of Saleh's death, the conflict in Yemen will sadly continue. The drivers for Saudi involvement in Yemen were shaped by the actions of Ali Abdullah Saleh although his recent outreach to the Saudi coalition did offer a slim hope of peace. The Saudis will remain focused on the threat of Iran's influence over Yemen, specifically, Iran's provision of missile technology to the Houthis, and the prospect of long-term Iranian presence on their southern border and along the strategic Bab al-Mandab. For these reasons, I believe Saudi Arabia will therefore continue to press forward with its military and humanitarian operations in Yemen.
As for Iran, I think Tehran has a complicated picture in Yemen, but the trend of its influence is unlikely to change in the near term. Iran and the Houthis will find comfort in Saleh's death. Iran's influence will continue to grow as long as its ability to import personnel (including Lebanese Hizballah) and weapons into Yemen remains unchallenged. We should remember that the Houthis are not Iranian puppets; they may be influenced by Iran but I doubt anyone would say they're absolutely under the control of Tehran. Tehran buys their loyalty with money and arms. Until this flow is cut, peace will be elusive.
Unfortunately, this means the Yemen tragedy will continue. The media will focus on the fighting in coming days and the political ramifications of Saleh's passing, but the ultimate victims remain the Yemeni people who have endured violence, disease and destruction of their infrastructure as the conflict goes drags on. The international community needs to do whatever it can to support the delivery of humanitarian aid to the Yemeni population, but it must also vigorously act to end Iran's malign involvement in this conflict.
Emile Nakhleh: The death of Ali Abdallah Saleh during the fighting with his former allies the Houthis strikes another blow to the Saudi and UAE failing and disastrous war in Yemen. Saleh's death brings to an end the influence of a ruthless and mercurial dictator who terrorized and improvised Yemen and pursued questionable relations with al-Qaida in Yemen and the tribes that supported it. Saleh was ousted during the Arab Spring and escaped to Saudi Arabia.
Before his ouster, Saleh often claimed, mostly falsely, to America counter-terrorism officials that he was fighting al-Qaida. But, in fact, he was cooperating with the terrorist group as long as the terrorists were opposed to the secessionist movement in the south and as long as they were using Yemen primarily as a pathway to Saudi Arabia. American intel officials were often frustrated by Saleh's disingenuous and erratic behavior. We've often underestimated his obsession with his own survival and power structure and overestimated his support of our counterterrorism policies and operations in Yemen.
The Saudis returned Saleh to Yemen in September 2011 as part of a deal with Yemen's new president, Abd Rabbu Mansur Hadi. The Saudis had hoped Saleh would be a dependable partner in the fight against the Houthis, their ally Iran and al-Qaida. He failed to deliver on these goals.
Instead, he joined forces with the Houthis against Hadi's government and the Saudi coalition. After his recent break with the Houthis, which the Saudis had been encouraging him to do, the Houthis turned against him and succeeded in killing him.  Saleh's ouster, return to Yemen, and political and military machinations with the Saudis–and indirectly with Washington–is a sad commentary on [Saudi Crown Prince] Muhammad bin Salman's ambitious anti-Iran proxy war in Yemen and on his (and Washington's) precarious dealings with Saleh.
Amb. Steve Seche: In the short run, I expect Saleh's death to result in a most unwelcome uptick of violence, as his loyalists seek retribution against the Houthis, especially in and around [Yemeni capital] Sana'a, where the now-opposing forces are in very close quarters. In the long run, one can hope this might have a salutary effect, if for no other reason than it disturbs the dreadful stasis that seems to have settled over the war, as the combatants dig in further, even while they continue to profit handsomely from the war economy that has grown up in recent years. But that may be just wishful thinking.
Rob Richer explained why Saleh was central to the Yemeni crisis.
He was an off-and-on ally to the U.S. government. To give you an example, my first assignment in the Agency [CIA] was in Yemen in 1985-87, when we were running…a Saudi-backed war [against] the People's Democratic Republic of Yemen which was a communist southern Yemen.
Ali Abdullah Saleh played a key role in allowing us to take on a communist foe at the time…. On that particular issue, he was a great partner.
He was also a partner in the…80s against some of the radical Palestinian groups, [pushing them out] of a safe haven. So back in those days he was…an off-and-on again partner.
Some of the weapons that were sent to Afghanistan for the Mujahedeen came from Yemen's weapon stores, very famous weapons stores up…in the north parts of Yemen, right south of the Saudi border. So he was an opportunist friend when it was good for him, and he was a friend to us when we needed him, and particularly when there was money involved. He played a pretty major role.
As well, people forgot that he took in a large number of the Palestinians, into several camps down there, gave them safe haven… So, he was a bigger Arab persona in the 80s and 90s than he probably was here in the last 20 years.
Richer said there were significant reactions across the Arab world over his death.
While there are significant tribal and militia leaders in Yemen, there was really only one political guy who actually had the clout that many believed…obviously the Saudis believed…had the reputation and the clout to maybe pull off a deal. And as you've seen in the press in the last three days there's been commentary where he was willing to talk to the Saudis, and was divorcing himself from the Houthis. That probably is what got him killed.
…. But he was in fact the best avenue we had, that the Saudis had, into stopping the horrible war which is going on inside Yemen. His absence is huge…
He was a thug, he had his own issues. His family was corrupt. He caused some pretty serious atrocities in his own country. But at the same time, he had the ability to bring some groups together.
Now that's gone, and I'm not quite sure who takes his place over the next period of time that allows the Saudis and the coalition to come to some type of stalemate, ceasefire or peaceful resolution.
In fact, in the wake of this attack, and in the wake of the [recent] rocket attack against Saudi Arabia, I would imagine we'll see an escalation of coalition and particularly Saudi actions against the Houthis, which means unfortunately against a lot of Yemeni civilians.
There's a huge humanitarian disaster there. Hundreds of thousands are displaced. Infrastructure has been destroyed. Cholera is rampant. Diseases that have disappeared in other parts of the world, polio and that, are coming back because no one can work there. Malnutrition has become a serious problem. So, this is a humanitarian disaster which [Saleh] might have been able to step back from…. I see no one stepping into in his place.
Richer said it's a loss that will likely be celebrated by Tehran.
I think the Iranians see this as a victory for them…. While Iran lost a partner, because he was partnered with the Houthis for a while…they also took away a guy who could probably bring the opposing forces together against him.
I say that 1) it's a win for the Houthis, and 2) it's a loss for the Saudis.
Norman T. Roule served for 34-years at the CIA, managing numerous programs relating to Iran and the Middle East. He was National Intelligence Manager for Iran at the ODNI from November 2008 until September 2017.
Emile A Nakhleh, Ph.D. was a Senior Intelligence Service officer and Director of the Political Islam Strategic Analysis Program at the CIA.  He is a member of the Council on Foreign Relations, a Research Professor and Director of the Global and National Security Policy Institute at the University of New Mexico
Rob Richer was the CIA's Associate Deputy Director for Operations (ADDO), as well as the Chief of the Near East and South Asia Division, responsible for Clandestine Service Operations throughout the Middle East and South Asia.  
Amb. Steve Seche served as U.S. Ambassador to Yemen from 2007-10.
You can hear Richer's interview on Tuesday's episode of The Cipher Brief Daily Podcast. Subscribe to the show here, on iTunes.
This story has been updated to add experts as reaction has come in.