A Coordinated Effort to Combat Wildlife Trafficking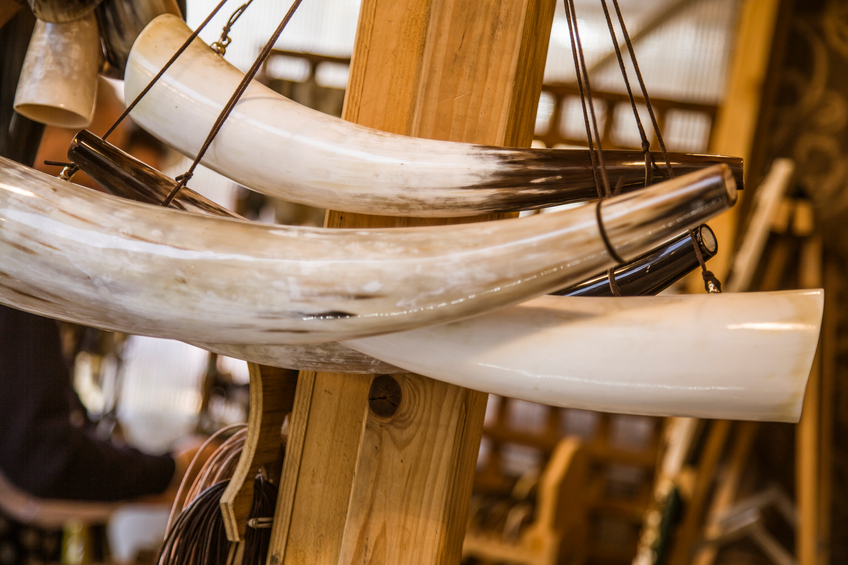 The intelligence community (IC), in coordination with government entities and private organizations, is working together to tackle a growing national security threat: wildlife trafficking. At a conference at the National Geospatial-Intelligence Agency (NGA) last week, Director of National Intelligence James Clapper said that the IC is committed to fighting this "truly global problem."
Current estimates place revenue generated from wildlife trafficking at around $40 billion per year, noted Daniel Foote, Deputy Assistant Secretary of State in the Bureau of International Narcotics and Law Enforcement Affairs. Globalized communication networks, advanced technologies employed by criminal organizations, and an increase in consumer demand for animal goods, such as ivory and rhino horn – particularly from China, Vietnam, and other Asian countries – have all converged to create an "exponential growth in illegal trade of wildlife," Clapper remarked.
Wildlife crime was formally recognized as a U.S. national security issue in 2013, after then U.S. Secretary of State Hillary Clinton ordered an intelligence analysis on the topic. Johan Bergenas, a senior associate at the Stimson Center and a Cipher Brief expert, explains, "The results were pretty straightforward when the National Intelligence Council published its summary report in September 2013. Yes, some terrorist organizations are financing their activities through direct or indirect participation in poaching. Yes, wildlife trafficking networks are probably the same networks that facilitate drugs and arms smuggling in Africa and elsewhere."
In July 2013, President Barack Obama enacted Executive Order 13648, which established a Presidential Task Force comprised of various government agencies, including the Departments of State, Interior, and Justice, along with organizations within the intelligence community such as the NGA, to address the wildlife trafficking threat.
NGA Director Robert Cardillo at last week's conference said the Task Force is charged with strengthening enforcement, reducing demand, and working with local communities to develop public-private partnerships (PPPs) that further the U.S. goal of ending wildlife trafficking.
Several key non-governmental organizations (NGOs) are also aiding the effort. The IC lead on combating wildlife trafficking,  Odean Serrano of the Office of the Director of National Intelligence (ODNI), told reporters the NGA has created an unclassified web portal, where NGOs, government agencies, and others can drop in raw data on trafficking. The NGA can then take that data, overlay it on NGA maps, and conduct analytics to produce a meaningful interpretation of trafficking patterns.
Clapper further stated that the interests of wildlife trafficking groups and those of terrorist organizations often intersect. Both thrive in areas where good governance is lacking and conflict is raging, take advantage of porous borders for transport, and build complex illicit funding networks using technology to make funding streams hard to detect, he explained.
Although evidence that directly connects terrorist groups to wildlife trafficking is often hard to come by, various reports show that, at the very least, some degree of interplay exists. CEO of Maisha Consulting Nir Kalron, who spent more than a decade in the security and defense consulting sector specializing in Africa geopolitics and illicit contraband trafficking, told The Cipher Brief, "From our work in some of the most volatile areas of conflict and conservation, we derive that organizations, such as the Lord's Resistance Army (LRA), al-Shabaab, Allied Democratic Forces, Mai Mai, SELEKA, and Boko Haram, are linked to wildlife poaching and trafficking. These organizations are able to conduct their illicit activity since they control source locations and transit routes."
Within American borders, the U.S. Fish and Wildlife Service's Special Investigations Unit has achieved a certain degree of success in catching wildlife smugglers. One of the most prominent criminal investigations, known as Operation Crash, "focuses on the illegal trade in rhinoceros horn and elephant ivory in response to international poaching and smuggling syndicates" and has led to the convictions of 30 individuals.
However, efforts to combat wildlife trafficking remain strapped by limited resources as well as a lack of international coordination. The Special Investigations Unit currently employs only eight agents and receives minimal intelligence from its foreign counterparts.
Nonetheless, government officials believe progress has been made with the integrated approach to a complex global problem, and this coordination is the only way to effectively combat wildlife trafficking.