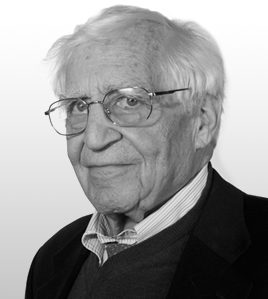 Walter PincusContributing Sr. National Security Columnist, The Cipher Brief
Which Donald Trump will show up tomorrow at Washington's National Press Club to deliver a luncheon speech which, according to his campaign press release, will deal with "the many serious foreign policy issues facing our country and our allies around the world?"
Ben Carson acknowledged back on March 11 that there were "two Donald Trumps."  Will it be the jocular, blustering, superficial, but sometimes vicious campaigner who demeaned opponents over the past 10 months while entertaining political crowds, calling in to talk shows, and tweeting out daily to 7.7 million followers?
Or will tomorrow's Trump be the other, unseen Donald – a man Carson said was "very cerebral" in private and one who "considers things carefully?"
Paul Manafort, Trump's newest campaign guru, fed the "two-Trumps" concept to members of the Republican National Committee on April 21 in what was said to have been a private session during their Hollywood, Florida meeting. "When he's out on the stage, when he's talking about the kinds of things he's talking about on the stump, he's projecting an image that's for that purpose," Manafort said, according to a tape that was distributed to selected reporters.
"The part that he's been playing is evolving into the part that now you've been expecting, but he wasn't ready for, because he had first to complete the first phase," Manafort added.
Not to be outdone, the candidate, himself, also on April 21, called in to Laura Ingraham's radio program and described his own version of the "two-Trumps" story. He said he could be the person who talks about "lyin' Ted [Cruz]" that got him to the top of the Republican presidential nomination race.
But he also said, "I'll be presidential at the right time, and I have my presidential moments, but people are going to be so bored."
Two days later, in Waterbury, Connecticut in the Crosby High School gym before a raucous crowd of 3,000, campaigner Trump warmed them up with his regular tale about how he started running for the presidential nomination against 16 other candidates, comparing it to a game show. "Boom, boom, boom," Trump said, "This one is going home. That one's going home. They didn't know what the hell hit 'em. Right?"
The gym rocked.
Reassuring the crowd that Trump-the-entertainer was back, despite talk of him becoming presidential, he went on to parody any presidential version of himself and the office itself.
Putting on a serious face, turning left and right as if he had a teleprompter, he slowly said in a dull tone, "Ladies and gentlemen, it's a great honor to be with you this morning."  Pausing he then added, "Although most presidents don't work in the morning…It's very easy to be presidential."
The audience howled.
It's clear on the stump, Trump loves to play the entertainer and if Waterbury was any example, that other Trump – if he really exists – will never appear before a campaign audience. As he told the crowd more than once, being presidential is boring and that's not what his supporters want. "If I acted presidential, I can guarantee you this morning I wouldn't be here," he said to his Waterbury audience.
That's what makes an event like Wednesday's foreign policy, Press Club appearance so important. It should be an audience that wants a "presidential" president, a serious Trump prepared to deliver facts, details on policies and plans to carry them out, boring as they may be to his voters and perhaps to him.
Here are controversial foreign policy and national security issues Trump tossed out as one-liners during his Waterbury appearance without context or explanations, every one of which would have drastic impact on America's relations with the outside world.
"We've got to beat ISIS [the Islamic State]," Trump declared, adding moments later the hypothetical problem of having to tell the late World War II military leader, Gen. George Patton, that "the U.S. can't beat ISIS like in less than a week." Trump said he has "a great plan" to defeat ISIS "very, very quickly," but he wouldn't disclose his plan "because we have to be unpredictable."
Who in the Press Club audience will recall for Trump Richard Nixon's 1968 campaign secret plan to end the Vietnam War that took another five years and then ask the candidate why Americans should trust him?
Will someone ask him if he has a plan to defeat ISIS, does it involve more than just U.S. forces, because if it does, will Presidential Trump consult with those other countries before implementation? Will his plan require a new authorization from Congress, since one of his earlier plans involved seizing oil fields in Syria from ISIS and protecting them with American troops on the ground?
Trump at Waterbury also made his routine claim that under him "our military would be so big, so strong, so powerful that nobody is going to mess with us."
Will Presidential Trump on Wednesday put some figures to how big the military ought to be, specifically giving numbers on the increased size he sees for the Army, Navy, Air Force and Marines?
Will he continue the $1 trillion makeover of the strategic nuclear forces? What's his plan for Cyber Command? How much will all this cost and how is he planning to pay for it?
At Waterbury Trump also did his riff on "we need to be reimbursed" because we, the U.S., is protecting Japan, Germany, South Korea, and "we lose a fortune" doing it. His solution was "you have to be prepared to walk" apparently away from these defense commitments, which are bound by treaties, because "they have to pay" for our continuing military presence in Europe and the Far East.
Who will explain to Trump how much U.S. interests are involved in determining the American military presence around the world and what the impact would be if, say Japan did rearm by including nuclear weapons in its arsenal. "I don't want Japan to arm," Trump told the crowd, adding, "It may be that's the result…but we cannot continue to lose our shirts so that we can protect Japan from that maniac in North Korea with nuclear weapons."
Trump also claimed at Waterbury that Saudi Arabia officials "chisel with us" over money and "would pay us a fortune" to protect them, because without the U.S., "Saudi Arabia would not be there for one week."
Does he realize the U.S. has gained benefits from the relationship; that as of January 2016, Saudi Arabia was still the second-largest source of U.S. crude oil imports, according to the U.S. Energy Information Administration?
As important, does Trump know that the U.S. provides minimal funds for the Saudi military, but that since October 2010, the Saudis have been cash-paying customers for fighter aircraft, helicopters, naval vessels, missile defense systems, missiles, bombs, armored vehicles, and related equipment and services, with a potential value of more than $100 billion?
I doubt that old, pre-electioneering Donald Trump—the deal-maker—went into a real estate or marketing negotiation knowing as little about the subject as he has shown in this campaign talking about foreign policy and national security issues.
Wednesday's performance should shed some needed light on those subjects, depending on which of the "two-Trumps" shows up and faces the tough questions he deserves.
At the same time the public should understand, electing a president of the United States is not Fox's American Idol, where the television audience votes for the entertainer they most enjoy. That winner will have little if anything to do with the future of the country and perhaps the world.  The winner of the American presidential election this November will.