Panic as Bomb Attack Rocks London Underground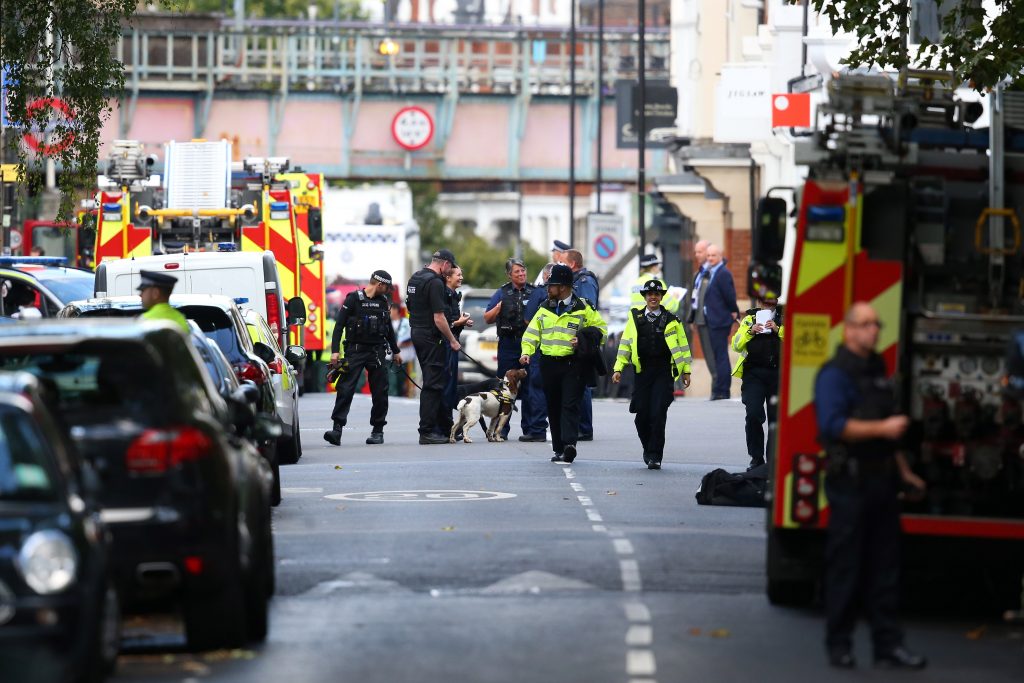 A bomb exploded on a London subway train Friday morning injuring at least 29 people, most of them suffering flash burns from the blast, none life-threatening.
London authorities are calling the bombing at Parson Green Tube station a terrorist attack, the latest in a wave to hit the United Kingdom so far this year. The culprit remained at large as U.K. leaders condemned the bombers. Hours after the attack, ISIS reportedly claimed responsibility.
"What we've seen today is an attempt by evil and cowardly terrorists to kill, to injure and to disrupt our way of life," London Mayor Sadiq Khan said Friday, according to Reuters.  "What we've also seen today is heroic efforts by Transport for London Staff, from Londoners, from paramedics, from the fire service, from the police service showing us at our very best."
A widely circulated picture from the train showed a burning bag next to a bucket with wires hanging out, apparent evidence of an improvised explosive device that sent commuters at rush hour streaming in panic out of the crowded Tube train.
"I was on second carriage from the back. I just heard a kind of whoosh. I looked up and saw the whole carriage engulfed in flames making its way toward me," London commuter Ola Fayankinnu told Reuters news agency.
"There were phones, hats, bags all over the place and when I looked back I saw a bag with flames."
U.S. intelligence and law enforcement sources told Reuters that the apparent failure of the bomb to fully detonate meant that the perpetrator was likely a self-taught bomb builder, perhaps inspired by ISIS but not a member of an organized group.
A suicide bombing in Manchester earlier this year and several attacks in London, including one by a right-wing extremist against Muslims, using automobiles aimed at pedestrians hang over the latest mayhem.
Cipher Brief Expert Nick Fishwick, a former Senior Member of the British Foreign Office, said that the nature of Friday's strike does not mean terrorists are giving up on suicide attacks.
"My sense is that how the attack is carried out is up to the particular attacker – the attacker in this case may not have fancied martyrdom, but the person behind the next attack may be a suicide bomber. I just don't see big shifts in 'tactics' as what is happening these day," Fishwick said.
The information needed to make a small improvised explosive device is already widely available, and future terrorists are bound to get new ideas from others just by watching their modes of attack, said Mitch Silber, former Director of Intelligence Analysis for the New York Police Department.
"Showing that a terrorist attack could be very deadly driving a van and using a knife makes the argument that even if you prevented or blocked the knowledge about how to make these devices, you still wouldn't eliminate and maybe not even reduce the threat. So there is really not much that can be done to take away that knowledge once it's out there, whether it's on the internet or in the library," Silber said. "Once knowledge is out in the public domain, you can't put it back in the box. Law enforcement and intelligence can't monitor everyone who looks at an instruction manual. It's an overwhelming ask."
Carol Rollie Flynn, a former CIA officer, told The Cipher Brief that it was still too soon to draw many conclusions from the attack, but that preventing terrorist violence involves more than just a police investigation and prosecution.
"The roots of violent extremism are very similar to the roots of crime, gang activity, drug use, and the cure to that is good education, good jobs training, public health systems, etc." Flynn told The Cipher Brief. "Right now we're just putting out fires, we're not preventing the root cause of these things."
Flynn also noted that many of the avenues for self-radicalization flow through the Internet, and monitoring all speech would be a challenge, both practical and ethical.  "Unless we want to turn ourselves into a police state, that's the price of a free society. Do we want to start policing what people say? That doesn't fit American values," she said.
"So this is the price of a free society. It's also an allocation of resources issue. Do we want to deplete everything else we're doing with our government funding and throw it all at this problem, when in fact more people are killed in automobile accidents or die from opioid overdoses than are killed in terrorist attacks? Do we really want to take away from public health resources to put them into policing?" Flynn said.  "We live in a world where we have to make tradeoffs, and I think that, particularly with individuals operating alone, these people are just very hard to find."
The attack prompted a response from U.S. President Donald Trump on his Twitter account in a series of four posts. He called for greater restrictions on immigration, specifically his administration's travel ban, and tighter regulation of the internet to stop terrorist recruitment.
"Another attack in London by a loser terrorist. These are sick and demented people who were in the sights of Scotland Yard. Must be proactive!  Loser terrorists must be dealt with in a much tougher manner. The internet is their main recruitment tool which we must cut off & use better! The travel ban into the United States should be far larger, tougher and more specific-but stupidly, that would not be politically correct!" the president tweeted.
"We have made more progress in the last nine months against ISIS than the Obama Administration has made in 8 years. Must be proactive & nasty!" he added.
Later on Friday, the White House made an official announcement denouncing the attack.
"The United States strongly condemns the cowardly terrorist attack in London today that targeted innocent civilians during their commute on the subway," said White House press secretary Sarah Huckabee Sanders.  "We are grateful that no one was killed in this horrific incident and our thoughts and prayers are with those injured and we wish them a speedy and full recovery."
In an interview Friday with Sky News, U.K. Prime Minister Theresa May responded to the president's tweets claiming the suspects were "in the sights" of British authorities.
"I never think it's helpful for anybody to speculate on what is an ongoing investigation," May said.
Wilson Dizard is a national security editor at The Cipher Brief. Follow him on Twitter @willdizard.
Christine Theodorou is an executive producer at the Cipher Brief. Follow her on Twitter @_ctheodorou.