Expert Commentary
London Attacker 'May Not Have Fancied Martyrdom'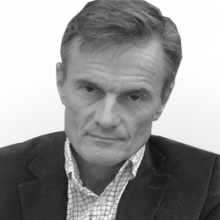 Nick FishwickFormer Senior Member of the British Foreign Office
In an incident the British government has called a terrorist attack, a bomb detonated at Parsons Green tube station Friday morning. 29 people were injured; ISIS later claimed responsibility for the attack. The terrorist group's Amaq news agency released a statement saying "the bombing of the IED in the London tube was carried out by a unit affiliated to the Islamic State." This marks the fifth attack in the UK in one year. The Cipher Brief spoke with Nick Fishwick, a former member of the British Foreign office, about what the attack indicates for the future of counterterrorism in the UK.
 The Cipher Brief: An improvised device exploded on a London underground train, setting off a fire.  There are wires coming from the device and there are reports there was a timing device found. What does that tell you about this attack? 
Nick Fishwick: I think experts are still studying the nature of the explosive device, but it would seem to be a fairly crude homemade IED. The fact that it did not go off would suggest that it was amateurishly put together – unless we were just plain lucky. I think it may be similar in design to devices that have been used in the past.
TCB: Most of the recent attacks involved suicide bomber(s) or the attacker was actively involved at the scene.  This was a bomb left on a train, possibly detonated by a devise.  Do you see this as a change in tactics?
 Fishwick: Of course there is an obvious difference with recent Islamist attacks in the U.K. – in Manchester the killer was a suicide bomber, in London in March and June the killers knew they were going to die during the attacks, whereas in this case the device may suggest that the potential killer hoped to survive.
However, it would be wrong to call this a change in tactics for two reasons. One, we do not know yet who was responsible for the attack, so it may not have been an Islamist attack. Two, I don't think we are seeing big tactical changes as you might have seen when a small group of terrorists were masterminding attacks. If this was Islamist inspired, my sense is that how the attack is carried out is up to the particular attacker – the attacker in this case may not have fancied martyrdom, but the person behind the next attack may be a suicide bomber. I just don't see big shifts in "tactics" as what is happening these days.
TCB: Would this appear to be homegrown terrorism? What will investigators look for in the coming hours to determine whether this was a larger coordinated plot?
 Fishwick: If by homegrown terrorists you mean people living in Britain, then probably- I'd have thought that an attack conducted by non-residents would be more sophisticated, though you never know. Obviously, the priority is to find the person who left the IED on the train – I would expect that CCTV and other capabilities would lead the authorities to the person concerned fairly quickly.
Once that person is found, then investigators can study who he (or she) is or was, his contacts, movements and generally build up a picture that will indicate if he was acting alone, how he was inspired, how he put the IED together; and if he seems not to have been acting alone it should identify other suspects. This will be a joint effort by the police and the security service MI5 with intelligence support.
TCB: U.S.  President Trump tweeted, "The internet is their main recruitment tool which we must cut off & use better!"? What role does the internet play in terrorism and what can counterterrorism forces do to combat it?
Fishwick: The internet is of course a massive subject. Let's just say that it is an enabler for terrorists to recruit, to spread their message such as it is, for research including on how to build an IED, options for covert communication, etc. etc. But it also offers opportunities for terrorists to be monitored.
TCB: Trump also tweeted, "another attack in London by a loser terrorist. These are sick and demented people who were in the sights of Scotland Yard. Must be proactive!  Loser terrorists must be dealt with in a much tougher manner." This seems to suggest law enforcement should have been able to stop this attack.  Is that fair?  What obstacles do British counterterrorism forces face when tracking suspects?
Fishwick: I have no idea what this tweet was supposed to mean but it has not been very helpful and I think has annoyed the London police at a very difficult time for them. As I have said before, a free society cannot always guarantee that it will stop terrorists before an attack is launched. MI5 is a great security service, and the Metropolitan Police have done some fantastic work – see their brilliant response to the last attack here in June.
Most people in Britain know what a great job they do. But people in Britain also have views on how many resources and what sort of powers can be given to security authorities in a free society: how much privacy and individual liberty have to be preserved. These are complex issues that have to be debated in a democracy. So, I think most people would say that law enforcement authorities here do as good a job as our society allows them to do. Remember that you need consent to defeat terror.
TCB: This is the fifth attack this year in the UK.  What does this tell you about the focus of extremists? What does it tell you about the UK?
Fishwick: I am not going to conclude that this was an attack by Islamists or anyone else until it is confirmed by the police. Remember that there was a murderous attack on Muslims in north London earlier this year by a right-wing extremist.
But what we can see – regardless of who is behind the attack – is the preference for a "soft" target and an indiscriminate approach to potential killings. If the IED had gone off properly, it would have killed many people in the train carriage. Terrorists have long known that they can make their nasty "points" by attacking relatively easy targets. At least this point seems to have been rather badly made.
So, it tells me that we are vulnerable in the UK and of course people are worried about the number of attacks, but it will take more than this to make us panic or lose confidence in our security.