How Long will Russia and China Underwrite a Collapsing Venezuela?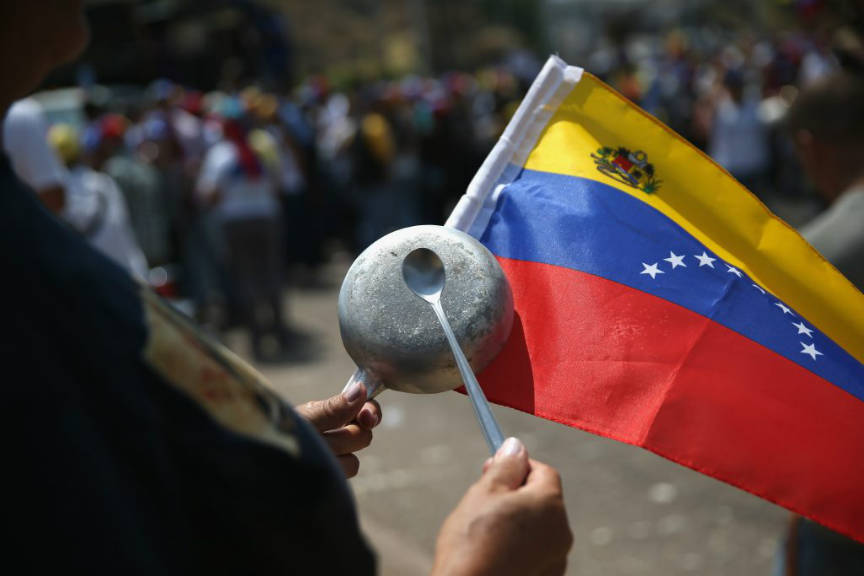 U.S. President Donald Trump and his Venezuelan counterpart Nicolas Maduro are in a tit-for-tat of name-calling. Trump, in his speech before the United Nations General Assembly (UNGA) in New York earlier this month, called Maduro a socialist dictator and said, "This corrupt regime destroyed a prosperous nation by imposing a failed ideology." Maduro, in response, called Trump the "new Hitler." A week later, Venezuelan Foreign Minister Jorge Arreaza in his UNGA speech said Trump is acting "as if he were the world's emperor."
On Tuesday, Trump reiterated his disdain for the Maduro regime, saying at a joint press conference with Spain's President, "Here, in the Western Hemisphere, we have seen the heartbreaking tragedy of Maduro's socialist rule in Venezuela."
The back-and-forth between one of the world's most powerful countries and what used to be Latin America's wealthiest country comes at a time when the latter is spiraling into disarray. Ordinary Venezuelans are starving from lack of food and water, the country claims a triple-digit inflation rate, and many experts question why the Maduro regime hasn't yet failed.
Meanwhile, the opposition is struggling, as "the government largely succeeded in seizing unchecked authority through a farcical 'constituent assembly' and appears poised for a protracted battle to hold on to power," said Michael Shifter, President of the Inter-American Dialogue.
The constituent assembly election in July, which the government held after apportioning representation in such a way that largely guaranteed a pro-Maduro majority, "has powers that supersede those of any of the existing branches of government" in theory, said former U.S. Ambassador to Venezuela (2007-10) Patrick Duddy.
Venezuela's opposition, which has a majority in the national legislature, has not recognized the legitimacy of the constituent assembly. Still, after the creation of the assembly, and "after months of massive protests against the government's attempts to centralize power, the unrest has lost momentum," Shifter told The Cipher Brief. "The opposition… is dispirited, tired, and afraid."
More than 125 people have died in protests against the Maduro regime so far this year.
Trump, in response to the turmoil plaguing Venezuela, included the country in his revised travel ban, which bars certain Venezuelan government officials and their immediate families from entering the United States. The travel ban also states that Venezuelan nationals who are visa holders "should be subject to appropriate additional measures to ensure traveler information remains current." The U.S. has cited lack of proper national security vetting in Venezuela as the main problem.
Foreign Minister Arreaza called the move "political and psychological terrorism."
This comes on top of sanctions that the U.S. enacted against Venezuela in August, which also target regime officials. "The U.S. is still concerned with limiting the impact of any kind of sanctions that we impose on ordinary Venezuelans," noted Duddy, who is Director of the Center for Latin American and Caribbean Studies at Duke University.
The sanctions prohibit any U.S. citizen or entity from buying any new debt of over 90 days from PdVSA, Venezuela's state-owned oil company and the government's main financial supporter. The sanctions against Venezuelan oil are limited because the U.S. imports a significant amount of oil from Venezuela – it was one of the top five source countries for U.S. oil imports in 2016. Broad oil sanctions would hike up gasoline prices in the United States.
Venezuela's current economic and social crisis arose in 2014, after global oil prices, the mainstay of Caracas' economy, plummeted.
Maduro responded to the sanctions by accusing the U.S. of waging an "economic war" against his country. Venezuelan Vice President Tareck El Aissami, who the U.S. has blacklisted for drug trafficking, announced on September 8, "To fight against the economic blockade there will be a basket of currencies to liberate us from the dollar."
Oil traders who deal in Venezuelan oil products have started converting their invoices to euros. But some experts say this anti-dollar policy is perplexing, given that the U.S. is Venezuela's biggest trading partner. Exports of Venezuelan oil, primarily to the United States, account for around 95 percent of Venezuela's hard currency earnings.
So why hasn't Venezuela defaulted yet? "That is the million-dollar question," said Monica de Bolle, a senior fellow at the Peterson Institute for International Economics.
De Bolle, who was named "Honored Economist" in 2014 by the Order of Brazilian Economists, said not all of Venezuela's financial flows are "visible" but her best guess is funds come from "Russia, China, to a point Cuba… for a while it was Brazil too." Cuba is now not in a financial position to help Venezuela much, and the current Brazilian regime has come out against Maduro's government. That leaves Russia and China as the two culprits for keeping Venezuela afloat.
"The P.R.C. [People's Republic of China] has become Venezuela's principal banker. … Since 2005, Chinese banks may have extended Venezuela as much as $62.2 billion, mostly through the previously described lines of credit," said Evan Ellis in testimony before the House Subcommittee on Western Hemisphere Affairs on September 13.
Russia's activities in Venezuela have been "more limited" in terms of "dollar volume and the range of activities," noted Ellis, who is a senior associate in the Americas Program at the Center for Strategic and International Studies. But Russian activity is "still significant" and "has principally concentrated on arms sales, military exercises, and investments in the petroleum sector."
For example, Russia's state-owned oil conglomerate Rosneft has given the Venezuelan regime an estimated $17 billion. And Venezuela has purchased more than $11 billion in military goods through the Russian arms sales and support organization Rosboronexport.
"Beyond arms sales, Russia has collaborated with Venezuela in a manner far more directly threatening to the United States" than China, said Ellis, noting that Russia's use of military exercises and "other activities with Venezuela" send strategic messages to the U.S. "that if the U.S. involves itself in Russia's 'near abroad,' then Russia is willing and able to project military force in the U.S. own 'backyard.'"
Russia has yet to criticize the Maduro regime. In fact, Kremlin spokesman Dmitry Peskov told reporters on Monday that Russia and Venezuela are working to set up a meeting between Maduro and Russian President Vladimir Putin.
"A possibility of a visit [by Maduro] is being worked on as well as a possibility of contacts between the two presidents," said Peskov.
China is also "unlikely to take any action that would support the resolution of the crisis on terms favorable to the U.S.," said Ellis.
Chinese Foreign Minister Wang Yi reportedly told his Venezuelan counterpart on the sidelines of a UN meeting last week that the two countries have an all-around strategic partnership and "China's policy towards Venezuela will not change."
The United States, on the other hand, will maintain – if not ramp up – pressure on Maduro. "Venezuela, in particular, is a priority for this administration, and we will work hard on that topic and bring pressure to bear on [the] Maduro government," said Deputy Secretary of State John Sullivan at a House Foreign Affairs Committee hearing on Tuesday.
At a working dinner with Latin American leaders on September 18, Trump and his counterparts – Brazil President Michel Temer, Colombia President Juan Manuel Santos, Panama President Juan Carlos Varela, and Argentina Vice President Gabriela Michetti – "agreed to continue working together to resolve the Venezuelan crisis," according to a White House readout of the meeting. "President Trump thanked the Latin American leaders for their advocacy in support of the Venezuelan people and condemnation of the Maduro dictatorship."
Trump on Tuesday said, "We hope our friends in the EU will soon follow the United States, Canada, and many Latin American nations in sanctioning the Maduro regime."
Ellis said he supports "the continuation and progressive escalation of sanctions against the current Venezuelan regime and specific individuals who have contributed to, and illicitly profited from the hijacking of Venezuelan democracy," adding that with these actions, the U.S. has a chance of convincing Russia and China "their best option is to cooperate with the U.S. to achieve a stable, rule-of-law regime."
"While they [Russia and China] prefer Maduro stay afloat, they seem unlikely to extend loans that help stabilize the economy unconditionally," noted Michael McCarthy, a research fellow with the Center for Latin American & Latino Studies at American University.
Broadly speaking, the "least-bad strategy," according to Shifter is "a longer-term view that keeps the pressure up on Maduro, supports the possibility of a serious negotiation to help resolve the crisis, and patiently assists relevant actors in Venezuela, who are, after all, the only true possible source for a solution."
This could entail doubling down on U.S. coordination with the region – which Duddy said is what the U.S. needs to do now. "Venezuela has been suspended from Mercosur [an economic and political bloc in South America that promotes free trade and movement of people], we've seen now three major reports from the Secretary General of the OAS [Organization of American States] outlining the deterioration and the evisceration of Venezuela's political institutions… and I think there is genuine concern within the region for what is going on there [in Venezuela]," he told The Cipher Brief.
The U.S. is mindful that the situation is "perilous and that a collapse is possible," as are regional actors, said Duddy.
And if Venezuela does at some point collapse, Duddy pointed out that "the problems of failed states are very difficult to contain."
Kaitlin Lavinder is a reporter at The Cipher Brief. Follow her on Twitter @KaitLavinder.