NATO Debrief with General Philip Breedlove (Ret.)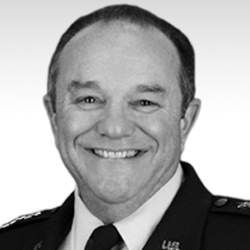 Gen. Philip M. BreedloveFormer Supreme Allied Commander, NATO
As NATO members meet in London this week, The Cipher Brief tapped former NATO Supreme Allied Commander Europe (SACEUR), General Philip Breedlove (Ret.) to help cut through some of the rhetoric and understand the Alliance's strategic importance today to both the U.S. and its allies.
The Cipher Brief:  What needs to happen in London?
Breedlove:  What needs to happen in London is the same thing that should happen every time NATO meets at the senior level. And that is to reinforce the commitment by all of the allies to the alliance, and what the alliance stands for, to its Western values, and to the military commitment that we make to each other. There is essentially a commitment to collective defense, but there are also 28 individual bilateral commitments to defend each other.
When I attended the Wales Conference, I was pleased at the very beginning of the conference, three or four of the senior most leaders, to include President Obama, agreed that the first thing we needed to do was to make a strong statement to the press about our commitment to each other and to our collective defense. They put the whole agenda on hold, worked on their statement, got it out, and then started the meeting. That's the spirit of what needs to happen in London.
The Cipher Brief:  What is the impact of the U.S.' decision to reduce the budget commitment to NATO from 22% to 16%?
Breedlove: I'm worried about it and I think it's shortsighted. If we look at what NATO has given us over the past 70 years, by way of major peace in Europe, it's a penny to the cost of having another World War. Everybody generally agrees that between 40 and 46 million people were lost in two World Wars, including civilians and members of the military. How do you put a cost on that? If we're now being penny-wise and we consider the risk of another conflict in Europe, I think that's the wrong path to take.
The Cipher Brief:  Why is NATO so important right now?
Breedlove: The bottom line is we're living in some of the most uncertain times of our history. We used to understand our opponents, who they were and where the lines on the ground and the lines in the sand were. Now, there are no lines out there for us to understand. There are all kinds of gray zone conflicts going on. Russia is attacking us in cyber every day. They're engineering social media against the West every day. They're interfering in elections, every single one of them including the French, German, U.S., and British elections. Where and how we draw lines and understand what our opponents are doing to us is critical. More than ever, we need NATO. In the last five years, Russia as a major world power, has used its military to cross internationally recognized borders into Crimea and into the Donbass and has changed internationally recognized borders by using their military. I don't know what more we need to look for in order to understand how important NATO is.
The Cipher Brief:  How do you view Turkey's membership in NATO?
Breedlove:  It's incredibly important and we should not give up on Turkey. In the past, we have worked through a lot of challenging and different leadership styles among our NATO countries. I was asked the other day, "How tough is this Turkey situation?" And I said, "Well, it's not as tough as it's been before." Remember in the 1960's when France – a NATO ally – kicked us out of the country. NATO's political headquarters was moved from Paris to Brussels, and its military headquarters moved to Mons, so, it's not as bad as it's been in the past. We have to work through this because Turkey is important to us. We need them. It would be horrible for NATO to lose them as a partner and to have them enter into a whole different sphere of influence. That would be really bad.
The Cipher Brief:  Given the gray zone complexities that you mentioned, would you say we are now living in times that demand a greater level of transparency on Turkey's part, so that NATO members have confidence that Ankara isn't double dealing, wittingly or unwittingly, behind the scenes? And do you have confidence that the U.S. in particular, but also NATO, has sufficient visibility with respect to Turkey's relationship with Russia?
Breedlove:  I think we would be naive if we did not expect that Mr. Erdogan is dealing to both players. I think that Mr. Erdogan is very much using Russia to manipulate the West. One of the things the Turks are known for is skilled statesmanship, and I think they're using every tool they can to try to turn the West toward their point of view on issues like the Kurds and other things. We made a choice years ago to use the Kurds for this fight in Syria.  We talked about it openly and we had meetings about it at the highest levels in Washington about what it would mean when it came to Turkey if we embraced the Kurds like that. And so we have brought some of this on ourselves, and now we need to sort it out because Turkey, geo-positionally and geo-strategically, is an incredibly important ally. We shouldn't be naive and expect that they're not playing both sides of this deck because they are, and they're going to keep doing it until they feel like we're listening and dealing with them on some of these issues.
The Cipher Brief:  Let's talk a little more about Russia.  As NATO leaders gather, how significant is Moscow's recent test of a hypersonic glide missile?
Breedlove:  There are a lot of people out there working in hypersonics. I actually believe the Chinese are beyond where the Russians are, and we have individual companies in our country who are probably beyond either the Russians or the Chinese. But our government and our country hasn't decided to make the next big investment in that technology. But I believe there are companies inside of the U.S. that are technically ready to leap beyond where others are, we just haven't, as a nation, embraced it yet. But the bottom line is that China is farther along than Russia. I worry about China more than Russia on this particular point. I think that Russia is into, what we call, 'technology reveals'. And these technology reveals are probably being used to try to force some policy response from some of the people they're trying to influence, primarily us.
You'll remember back in 2015, a photo was released showing a long-range Russian torpedo submarine they called 'the Kanyon'.  Everybody was so concerned that this technology had been accidentally released. I don't believe for a minute that was an accidental release. It was a technology reveal. It didn't achieve the effect that Mr. Putin was going for, so he came out and talked about it openly, as he talked about other weapons that Russia was building. So, I'm not sure that these recent tests by Russia are not just another series of what we describe as 'technology reveals' in order to try to influence policy.
The Cipher Brief:  In terms of American leadership, many have commented about the decline of the Western-led world order. In terms of U.S. strategy, is it fair to think that right now the U.S. is simply playing defense? Is it time for the U.S. to send a more clear leadership message or a clear strategy for what the U.S. wants for the world?
Breedlove:  I try to remain apolitical. So, I'm going to be a little bit of an equal opportunity criticizer.
In my opinion, for the last 11 years, we have been backing off the world stage. We had one administration for two terms that felt like their job was to close down wars, not to start up wars. And they backed away from almost every challenge that we saw out there because they were not going to start wars. We, the West, in my opinion, made a big mistake with Ukraine. We handled it inappropriately. The bottom line is that we have now, for almost 11 years, been backing away from some of these critical leadership positions. The current administration I think, has tried to employ a strategy to negotiate grand deals between leaders, as opposed to more structured deals with alliances and the United Nations, to try to affect our position in the world. Frankly, I think the U.S. is still seen as withdrawing from the world. So, the bottom line is that all of this could end up potentially putting the U.S. in a very bad place.
Read also NATO's New Mission only in The Cipher Brief
Join Cipher Brief experts March 22-24 in Sea Island, GA for the fourth annual Cipher Brief Threat Conference.  This is an invitation-only event for public and private security and national experts.  Our 2020 focus is Future Threats and how the public and private sectors need to work together to address them.  Seating is extremely limited.  Request your seat today.