Dark Money: How Militants Exploit Hawala to Fund Terror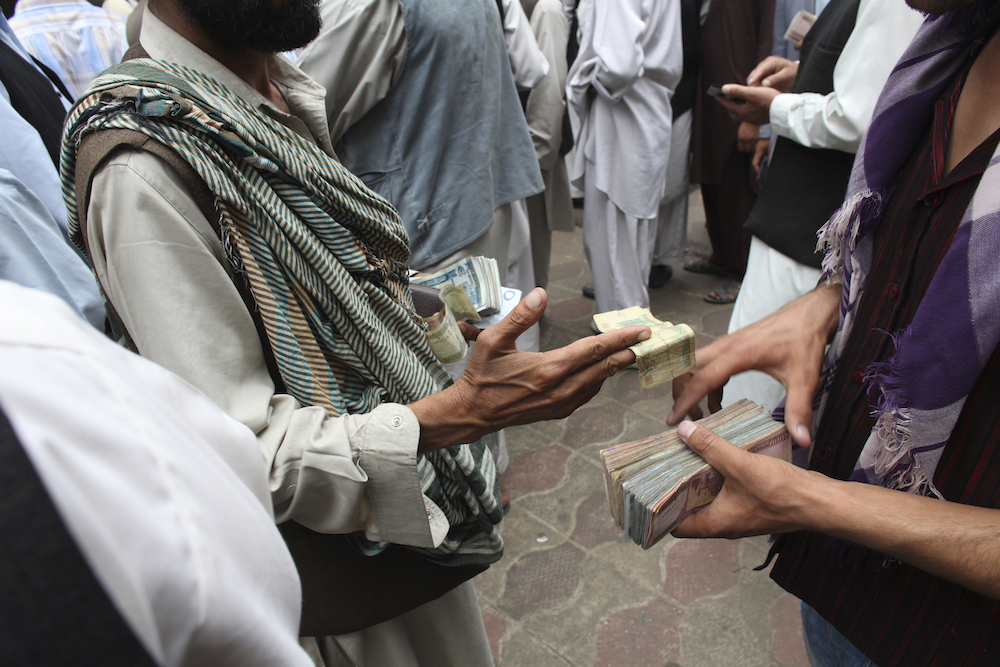 Bottom Line: For terrorists, moving money covertly through hawala networks to circumvent institutionalized banking systems remains one of their leading methods of avoiding detection. The U.S. has managed to unearth and even sanction certain illicit hawala networks, but terrorists continue to exploit this centuries old, nearly untraceable practice to finance their operations around the world.
Background: Hawala, which means "transfer" in Arabic, is an informal transaction system based largely on mutual trust.
The system works as follows: An individual in country A gives money to a hawala broker, known as a hawalader, in country A. That hawalader then contacts a hawalader operating in country B and informs that hawalader to give a certain amount of money to a specific individual in country B. Codes are provided by all parties to ensure that the money is delivered to the proper recipient. The hawaladers themselves do not send physical money; instead, they maintain records of payments and settle debts at a later point, often through the exchange of valuable goods or even through wire transfers. During the transaction, hawaladers charge a fee for their service.
A major reason why hawala networks are appealing to terrorist groups is because they do not leave paper trails. Record keeping amongst hawaladers is not uniform and can be grueling to interpret. This reality presents challenges for law enforcement agencies that are aiming to uncover and crack down on individuals or organizations operating illicit hawala networks.
Hawala networks are a pervasive method of banking in the Middle East, North Africa, South Asia and East Asia. The U.S. Treasury Department estimates that more than $7 billion flows into Pakistan through hawala channels each year. In Afghanistan, "approximately 90 percent of financial transactions run through the hawala system, including foreign exchange transactions, funds transfers, trade and microfinance, as well as some deposit-taking activities," according to the U.S. State Department's 2015 International Narcotics Control Strategy Report.
European officials and researchers contend that roughly 90 precent of migrants flowing into Europe pay for their journeys through hawala transactions, according to The Wall Street Journal. Furthermore, migrants use hawala networks to send approxiamtely $390 billion a year back to their countries of origin, the officials say.
Leslie Ireland, former Assistant Secretary of the Treasury for Intelligence and Analysis
"It is important to understand that hawala networks are a way of life in many countries and therefore an easy and ready avenue for either terrorist organizations or legitimate actors to move money. So, terrorist use of hawala networks is a difficult problem to track because it is such a common, low-cost and in many respects a more trusted way for citizens in a country to move money both domestically or internationally."
Issue: Terrorist groups, including the Taliban, al Qaida, and ISIS employ hawala networks to transfer money to their global affiliates and members. These funds are subsequently used to plan operations, procure necessary resources, and launch attacks against an expansive target set.
The extensive role played by hawala networks in al Qaida's financing came to light in a July 2004 report issued by the National Commission on Terrorist Attacks Upon the United States (also known as the 9/11 Commission). According to the commission's findings, prior to 9/11, al Qaida moved a significant amount of its money via hawala networks. "[Osama] Bin Ladin turned to an established hawala network operating in Pakistan, in Dubai, and throughout the Middle East to transfer funds efficiently." The report also stated that "Hawalas were attractive to al Qaida because they, unlike formal financial institutions, were not subject to potential government oversight and did not keep detailed records in standard form."
Western officials have asserted that hawala networks represent an important "part of the ISIS financial infrastructure" and that ISIS' core in Syria used hawala networks to send money to its Libyan affiliate. Additionally, ISIS managed to procure finances through hawala networks despite facing targeted U.S. air strikes and sanctions.
An October 2016 House Homeland Security Committee report stated that "Gulf-based charitable fundraising networks that have collected hundreds of millions of dollars through regular fundraising events held at homes or mosques and through social media pleas…then use couriers, wire transfers, hawalas, and exchange houses to move those funds to Syria, often to extremists."
Celina Realuyo, former Director of Counterterrorism Finance Programs at the U.S. State Department
"Hawala networks are known to be anonymous, reliable, efficient and inexpensive money transfer systems that do not have a paper trail. All these features make hawalas attractive for the transfer of illicit funds by terrorist and criminal groups. Terrorist groups and their supporters operating in the Middle East and South Asia, including al Qaeda and its affiliates, the Taliban, and ISIS, have been reported to use the hawala system to move funds. According to the U.S. State Department, the 10 members of Lashkar-e-Taiba responsible for the Nov. 26, 2008, Mumbai attacks that left 183 dead and over 300 injured used the hawala system to fund the operation."
John Cassara, former Special Agent at the U.S. Treasury Department
"Hawala networks have been used to finance terror attacks against the U.S., including the 1998 bombing against our embassy in Nairobi, attacks against our troops in Afghanistan and Iraq, and the 2010 Times Square bombing in New York. In 2013, a federal judge in San Diego sentenced three Somali immigrants for providing financial support to al Shabaab, a designated terrorist organization, after evidence presented during trial showed that the defendants conspired to transfer funds to Somalia via a hawala system to wage jihad."
Response: As part of the effort to clamp down on illicit hawala networks, the U.S. Treasury Department has sanctioned several known hawala organizations with links to terrorist groups. However, U.S. unilateral action is only a first step as cooperation with other countries where these networks are located is essential for achieving tangible results.
In 2012, the Treasury Department sanctioned three hawala networks, the Haji Khairullah Haji Sattar Money Exchange (HKHS), the Roshan Money Exchange (RMX), and Rahat Ltd., all of which principally operate in Afghanistan and Pakistan, for sending funds to the Taliban. Two years later, the Treasury Department sanctioned Haji Basir and Zarjmil Co., another hawala group operating in Pakistan, for its connection to the Taliban. Beyond these organizations, several individuals have been added to the U.S. sanctions list for providing material support to the Taliban as well as to al Qaeda and ISIS.
The October 2016 House Committee on Homeland Security report emphasized that there are "gaping weaknesses in reporting and oversight standards for hawala transactions hamper efforts to identify ISIS financiers and hold financial institutions accountable."
To address this shortcoming, the report recommended that the Treasury Department work alongside states that are members of the Financial Action Task Force (FATF) – an inter-governmental body charged with developing measures to combat money laundering, terrorist financing and other related threats to the integrity of the international financial system – "to improve financial regulatory reporting and oversight standards for processing hawala payments."
In late January, the Treasury Department sanctioned Hafiz Mohammed Popalzai who "has served for several years on the Taliban Finance Commission and was in charge of the Taliban's finances for southern and western Afghanistan." Popalzai worked with "businessmen and hawalas to send money to Taliban commanders in Afghanistan."
Other countries have also sought to crack down on illicit hawla acitivity. Earlier this week, India's National Investigation Agency arrested Abdul Samad, a hawala operator, for allegedly transferring funds from individuals in the Gulf to active members in Lashkar-e-Taiba (LeT), a U.S.-designated terrorist group that is based near the disputed territory of Kashmir. Samad is the fifth individual arrested in connection with this case since the NIA launched its investigation into the network in December.
Leslie Ireland, former Assistant Secretary of the Treasury for Intelligence and Analysis
"It is effective when you sanction a hawala network because you ultimately force an organization to find another avenue to move its funds.  You are telling the U.S. and international financial sectors that this is a network or group of individuals to be wary of. But sanctions must go hand in hand with working with local governments and getting them to crack down on the networks because these networks are not in and of themselves part of the formal financial sector. Action has to involve the Treasury Department or other parts of the U.S. government approaching local government and banks, and providing information that will help them act. That is the approach that Treasury took in the past, and I would assume that is the approach that they are taking now."
Celina Realuyo, former Director of Counterterrorism Finance Programs at the U.S. State Department
"Through bilateral and regional engagements, the U.S. has worked tirelessly with allies to identify how terrorist and criminal groups are raising, moving, storing and spending money to fund their dangerous agendas. The U.S. must continue to demonstrate leadership in the campaign to counter the financing of terrorism and crime through all methods including hawalas. This means further researching, developing and disseminating typologies in terrorist financing. While financial technology, like mobile payments and Bitcoin, provide new means of moving money, we must continue monitoring ancient methods, like cash couriers and hawalas, that can just as easily fund possible future terrorist attacks."
Look Ahead: Despite U.S. and international efforts to crack down on illicit hawala networks, they remain a pivotal method for terrorist financing, particularly in countries where law enforcement struggles to clamp down on such networks or prosecute those who abuse hawala systems. Through partnering with local forces and providing important intelligence training, the U.S. can help diminish hawala abuse, but mitigating it entirely is a nearly implausible task.
John Cassara, former Special Agent at the U.S. Treasury Department
"In short, there is no regulatory solution for hawala networks and our adversaries understand this. Osama bin Laden once referred to taking advantage of 'cracks inside the Western financial system.' The hawala system isn't a crack, it's a canyon."
Bennett Seftel is director of analysis at The Cipher Brief.