ISIS Festers and Grows in Lawless Libya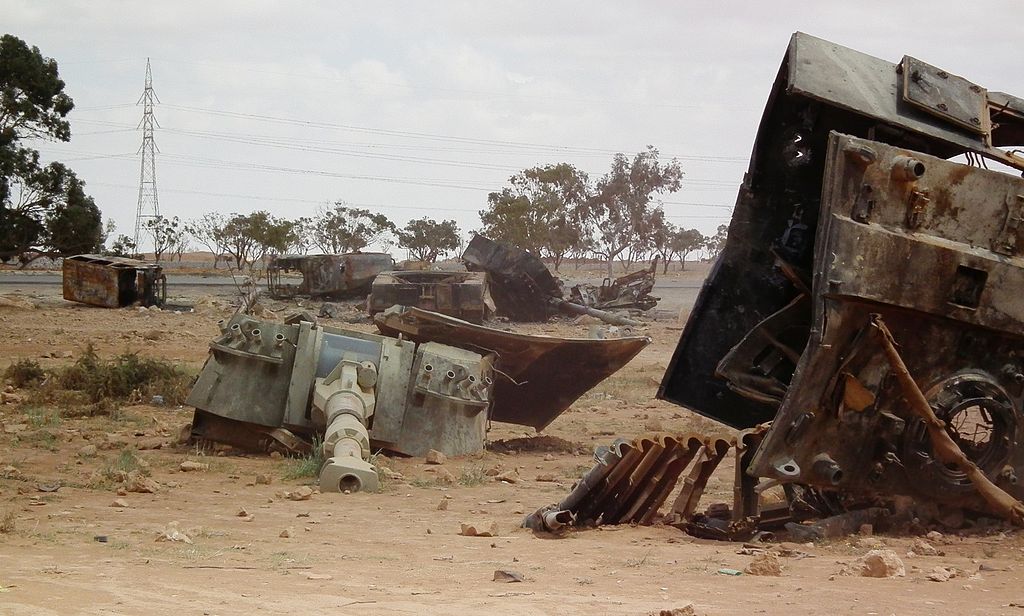 Bottom Line: ISIS maintains a strong presence in Libya and remains a potent regional threat, despite domestic and international efforts to oust the group from its stronghold. After losing their former base of operations along the Libyan coast, ISIS fighters have regrouped and established training centers and operational headquarters in the central and southern parts of the country. Unless Libya can make headway toward forming a unified government, its lawless border areas will continue to provide fertile ground for ISIS and other terrorist groups to foment instability across North Africa.
Background: ISIS has seized on civil war and instability in Libya to establish one of its most crucial bases outside its former self-declared caliphate in Syria and Iraq.
ISIS first appeared in Libya mid-2014 in the eastern town of Derna. At its peak, ISIS maintained a stronghold in the coastal city of Sirte, the hometown of former Libyan strongman Moammar Gadhafi. It controlled nearly 125 miles of the Libyan coast. The group also expanded to the town of Abu Grein, located to the south of Sirte, and occupied the towns of Nawfliyah and Bin Jawad, which are about 25 miles from Libya's main two oil terminals.
In June 2015, Libyan forces ousted ISIS from the city of Derna, and they finished clearing the last ISIS holdout in the coastal city of Sirte in December 2016. ISIS had taken over Sirte in early 2015, establishing its most important base in North Africa, but brigades from the western Libyan city of Misrata launched a counterattack against the jihadist group beginning in May 2016, and the U.S. carried out more than 490 air strikes in support of the effort.
ISIS' Libyan offshoot is currently led by Abdul Qadr al-Najdi. He assumed the position after the group's previous leader, Abul-Mughirah al-Qahtani, also known as Wissam Najm Abd Zayd al Zubaydi, was killed in a November 2015 U.S. drone strike.
Libya has been mired in civil war since the overthrow of Gadhafi in 2011. The country is administered by three governments – the United Nations-backed Government of National Accord (GNA), which was created in December 2015 and is based in the western Libyan city of Tripoli; the National Salvation Government, also based in Tripoli; and the House of Representatives, based in the eastern city of Tobruk.
Fayez Sarraj, the head of the GNA, and Field Marshall Khalifa Haftar, the powerful head of the Libyan National Army who has thrown his support behind the House of Representatives in the east, met last year in Abu Dhabi and Paris to discuss a roadmap toward a unified government. During these discussions, the two agreed to hold a new round of elections by March 2018.
Mohamed Eljarh, Non-Resident Fellow, Atlantic Council
"Since its defeat in its northern strongholds of Derna, Sirte and Sabratha, ISIS' militants took refuge in Libya's vast southern desert. ISIS militants have been active in the central region of Libya, especially in the areas south of Sirte and the Jufrah region. Some of the activities of ISIS militants include setting up checkpoints in remote areas to intercept goods, fuel or money shipments."
Issue: The destruction of ISIS' so-called caliphate in Syria and Iraq may spur an exodus of fighters traveling to Libya. The reinforcements, combined with a lack of central authority in Libya, create conditions that are ripe for ISIS to expand.
The U.S. State Department, in its 2016 Country Reports on Terrorism, released in July 2017, called the Libyan conflict "the most pressing regional problem" in North Africa. "Although more than 1,700 ISIS terrorists were killed during the Sirte counterterrorism operations, many members of the terrorist organization fled to Libya's western and southern deserts, abroad, or into neighboring urban centers," the department said. In addition, "other terrorist organizations, including Ansar al-Shari'a Darnah, Ansar al-Shari'a Benghazi, and al Qaida in the Islamic Maghreb (AQIM) retained a presence in Libya."
In April 2016, General David Rodriguez, then-commander of U.S. Africa Command (AFRICOM), estimated that ISIS maintained a force of 4,000 to 6,000 fighters. This figure represented a substantial increase from a U.N. report issued in November 2015 that put ISIS' numbers in Libya in the range of 2,000 to 3,000.
As many as 7,000 Tunisians may have traveled to Syria and Iraq to join ISIS, forming the largest foreign fighter contingent in the organization. Now, these fighters are returning home, and there is significant concern that they could join ISIS' branch in neighboring Libya.
The number of ISIS-orchestrated attacks across northern Libya has increased in recent months. Earlier this week, two car bombings outside a mosque in the eastern city of Benghazi left at least 33 people dead and more than 50 wounded. Although no group has yet claimed responsibility, the attack bears the hallmarks of ISIS and comes only a couple of weeks after Libyan security forces foiled an ISIS car bomb attack on a checkpoint in the western city of Abu Grein.
In early January, U.S. AFRICOM Spokeswoman Robyn Mack warned that ISIS may be aiming to strike Libya's oil sector. "At the moment, we believe that the organization (ISIS-Libya) is likely to give priority to the restructuring of security forces and infrastructure, and to launch strikes, which may include targets in the Libyan oil crescent," she said.
Mohamed Eljarh, Non-Resident Fellow, Atlantic Council
"Libya's vast desert and the lawless Sahel region represents a perfect option for the retreat of ISIS militants escaping Syria and Iraq. As a result, we can expect an increase in the counterterrorism efforts of the U.S., France and Italy in Libya and the Sahel region."
Frank Archibald, former Director, CIA's National Clandestine Service
"Given that Libya and Tunisia share a common border, it would be reasonable to expect either Tunisians fleeing back to Tunisia who want to remain active in ISIS from the now-defunct caliphate, or new Tunisian recruits to ISIS, to enter Libya to replenish ISIS' strength."
Response: The U.S has demonstrated a willingness to conduct air strikes in support of counterterrorism operations in Libya. The U.S. also tries to promote peace and stability in Libya by supporting the ongoing UN-led peace initiative.
In September, U.S. forces, in coordination with Libya's internationally recognized GNA, conducted its first air strikes in Libya under the Trump administration, killing 17 ISIS militants and destroying three vehicles at a desert camp located about 150 miles southeast of Sirte. Less than one week later, U.S. forces conducted an additional two strikes on ISIS fighters attempting to retrieve weapons from a cache, killing five militants. U.S. forces also conducted two airstrikes near the central Libyan city of Fuqaha in mid-November.
In November, U.S. Secretary of Defense Jim Mattis met with GNA Prime Minister Fayez al-Sarraj at the Pentagon and reaffirmed the U.S. commitment to the U.N.-led peace process and the ongoing counterterrorism effort against ISIS and other terrorist groups in Libya.
Sarraj also met with U.S. Secretary of State Rex Tillerson, who pledged full support for Sarraj, the Government of National Accord and the Libyan Political Agreement, according to the State Department. The "Libyan Political Agreement remains the only viable framework for a political solution throughout Libya's transitional period," according to the statement.
Frank Archibald, former Director, CIA's National Clandestine Service
"Advancing the U.N.-led Libyan political agreement will require effort from a number of countries in the region and in Europe and will also require an end to  the increasing Russian adventurism with Haftar. Absent significant success in this first line of effort, all following lines of effort will be significantly hampered. A second line of effort is to continue to identify, grow, mentor, advise and assist Libyan civil sector cadres who can provide governance and rule of law. Third, it is important to continue to identify, grow, mentor, advise and assist to security forces that are responsive to a legitimate national authority. Finally, it is critical to assist Libya's neighbors with security force development and governance to degrade the mobility of and support for ISIS and other terrorist movements based in Libya."
Mohamed Eljarh, Non-Resident Fellow, Atlantic Council
"The only effective way to combat the threat of ISIS in Libya is through armed Libyan actors that have been engaged in the fight against ISIS in Libya, and these include the Libyan National Army led by Khalifa Haftar, and some of the armed groups in Misrata and Zintan. However, engagement with these players must be carefully designed so that it does not have negative consequences on the U.N.'s peace efforts. Additionally, the U.S. should engage the governments of Libya's neighboring countries and set up a joint mechanism for cooperation between them in the fight against ISIS."
David Shedd, former Acting Director, Defense Intelligence Agency
"The most effective way of going after ISIS in Libya is to provide western assistance, including from the U.S., to root out ISIS elements wherever they emerge in Libya. At minimum that approach will keep ISIS fighters on the run, making it far more difficult for them to plan and execute terrorist attacks from Libya as a potential safe haven."
Anticipation: Until Libya forms a cohesive, central governing body and a unified military that incorporates the various militias operating in the country, it will remain a breeding ground for ISIS and other terrorist organizations. To push the country in the right direction, the U.S., its allies, and others, including Russia, may have to assert themselves more forcefully with the parties they influence.
Frank Archibald, former Director, CIA's National Clandestine Service
"There is a need for a political process than can build an inclusive, truly national government as well as the institutions that can serve the Libyan people. Any counterterrorism success of clearing a city or a village of ISIS or other other terrorist groups in Libya will be undercut if there is not a government of the day to do the hard work of governance the day after military success. The process of creating an effective and inclusive government of the day will be an extraordinary challenge for the international community and the Libyan people.  It will require sustained effort and resources over time and will suffer setbacks along the way. To fail at this, however, creates an ungoverned space that will significantly enable terrorism, crime and human suffering."
Bennett Seftel is the director of analysis at The Cipher Brief. Follow him on Twitter @BennettSeftel.