Gulf Crisis Still Smolders as Washington Searches for Options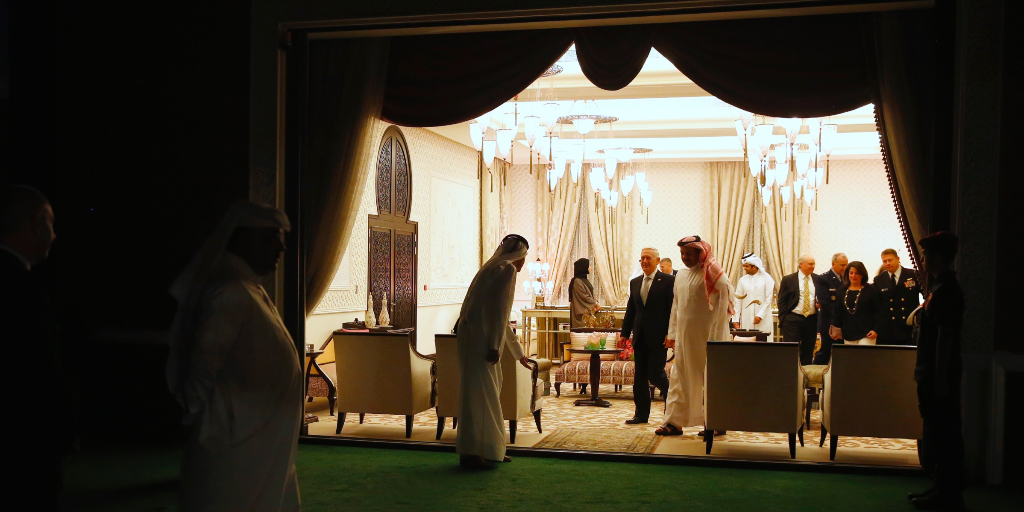 Well into its fourth month, the tense standoff between Qatar and the four Arab nations that severed diplomatic ties with Doha – Saudi Arabia, Bahrain, Egypt, and the United Arab Emirates (UAE) – shows no signs of resolution, as both sides remain reluctant to earnestly negotiate or offer any concessions.
"After 100 days, it's clear that if there are any expectations from the four countries supporting the boycott that they produce quick and decisive results, they failed," Anthony Cordesman, the Arleigh A. Burke Chair in Strategy at the Center for Strategic and International Studies, told The Cipher Brief.
Events began to unfold on June 4 when the Arab nations abruptly cut ties with Qatar, citing Doha's support for Iran and the Muslim Brotherhood, as well as for U.S. designated terrorist groups such as Hamas, Hezbollah, al Qaeda, and ISIS, which they said destabilizes the region. The countries then subsequently provided Qatar with a list of 13 onerous demands for Doha to meet for relations to be normalized. The list was later scaled back to six main principles, which Qatar has adamantly rejected.
The four Arab states imposed a land, air, and sea blockade on Doha, which Qatari Emir Sheikh Tamim bin Hamad Al Thani declared as "unjust" during a speech before the United Nations General Assembly (UNGA) on Tuesday. However, Cordesman pointed out that despite the blockade, Qatar has seemingly managed to avoid any major economic setbacks as it has "reached out not only to Iran and Turkey, but it's major trading partner has shifted from the UAE to Oman." In fact, earlier this week, Qatar's economic minister, Ahmed Bin Jassim Al-Thani, stated that Qatar's finances are faring "better than ever" despite the blockade, and that this crisis has created an "opportunity" for Qatar to develop new trade routes with Turkey, Kuwait, and Oman.
"Qatar is not in trouble in any visible dimension, and there is no feeling among western observers that there is some concealed set of problems," says Cordesman.
For U.S. policymakers, one of the most concerning aspects of this conflict is how it will impact the future of the Gulf Cooperation Council (GCC), a regional alliance viewed by many in Washington as an important counter to Iranian influence in the Middle East. But as the dispute drags on and tensions increase, the potential for a GCC reunification has diminished.
"For all intents and purposes, the GCC has fallen apart," says Emile Nakhleh, Cipher Brief expert and a former member of the CIA's Senior Intelligence Service. "As an organization, the GCC, in reality, has been more hype than a collective functioning organization. Even as an organization, it's hanging by a thread."
The U.S. has refrained from taking a strong stance on behalf of either side. Initially, U.S. President Donald Trump reaffirmed his support for critical allies Saudi Arabia and the UAE, calling Qatar a "funder of terrorism" but has since maintained an open dialogue with Qatari Emir Sheikh Tamim, who Trump referred to as a "friend." The U.S.-Qatar relationship is particularly important to the U.S. as Qatar hosts America's largest military base in the Middle East at al-Udeid.
Mediation efforts have been spearheaded by both Kuwait and the U.S. but have thus far failed to deliver tangible results. It is certainly in the United States' interest to see this issue resolved as quickly as possible to boost U.S. ties with critical allies, thwart Iran's escalating regional aspirations, and prevent other world powers from asserting themselves and outmuscling the U.S. in the Gulf.
"The longer the crisis continues, the greater the threat to American interests in the region," warns Nakhleh. "Iran, Turkey, Russia, and China will use the crisis to boost their relations with Qatar and other states opposed to Saudi ambitious adventurism in the Gulf and the continued bullying of Qatar."
This week, while meeting with regional leaders at the UNGA, President Trump claimed that the crisis could be "resolved quickly," but experts caution that each failed attempt at reconciliation could further weaken the United States' already waning stature and influence across the region.
"When added to the list of other areas where the U.S. has experienced diminished stature and role — such as in Iraq, Syria, Yemen, Lebanon, and Libya — reduced influence in the previously American-dominant Gulf and the concomitant rise of an Iranian presence will reduce U.S. standing and power in the region as a whole," Gary Grappo, former U.S. Ambassador to Oman, told The Cipher Brief.
Bennett Seftel is deputy director of analysis at The Cipher Brief. Follow him on Twitter @BennettSeftel.