Bridging the Gulf: Kuwait Mediates the Latest Dispute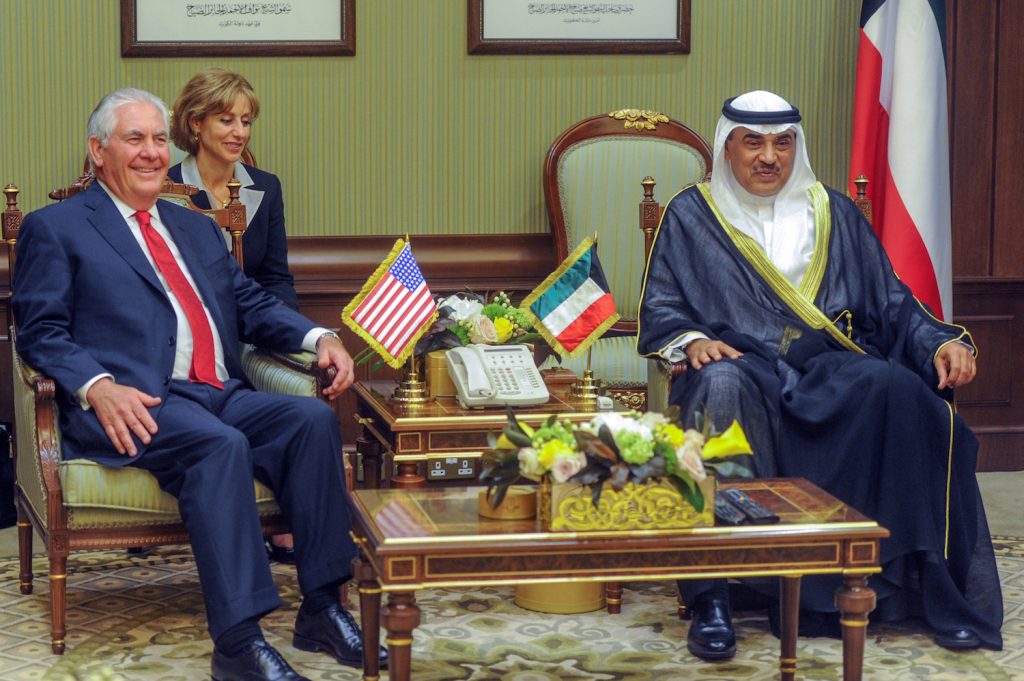 The ongoing diplomatic confrontation between Qatar and four Arab nations – Saudi Arabia, Bahrain, the United Arab Emirates, and Egypt – has exacerbated regional tensions and created a deep rift within the Gulf Cooperation Council (GCC), one of the most important organizations in the Middle East. As part of the effort to mediate the standoff, another GCC member, Kuwait, is working tirelessly to bridge the gap between the two sides.
The Arab nations abruptly severed ties with Qatar on June 4, citing Doha's support for Iran and the Muslim Brotherhood as well as for U.S. designated terrorist groups such as Hamas, Hezbollah, al Qaeda, and subsequently provided Qatar with a list of 13 demands to meet for relations to be normalized. Kuwait Foreign Minister Sabah al-Khalid al-Sabah has shuttled back and forth between Doha, Riyadh, and Cairo and has met with leaders from around the world, including U.S. Secretary of State Rex Tillerson, to help facilitate a constructive negotiation.
"Kuwait's foreign minister is making efforts to mediate between our countries. We support this effort and our choice is resolve this through dialogue," said Sheikh Mohammed bin Abdulrahman al-Thani, Qatar's Foreign Minister.
But why is Kuwait uniquely positioned to assume the role of a middle man in this dispute?
First, Kuwait's Emir, Sheikh Sabah al-Ahmad al-Sabah, is a well-respected regional broker. As Kuwait's former Foreign Minister, al-Sabah played a crucial role in resolving previous conflicts in the Arabian Gulf, including the 1968 Yemen war between Egypt and Saudi Arabia, the 1972 clashes between North Yemen and South Yemen, and the 1984 Oman-Yemen crisis. His successor, Sabah al-Khalid al-Sabah, helped mediate the 2014 row between Qatar and its neighbors, a dispute that appears to have boiled over once again. Based on these experiences, Kuwait's intervention may help facilitate a viable solution that is agreeable to both Qatar and its neighbors.
Second, Kuwait aims to strike a delicate balance in its dealings with the region's two leading powers, Saudi Arabia and Iran, who have taken opposite sides in this dispute. It would seem as though Kuwait would fall under the Saudi sphere of influence and join Riyadh in cutting off ties with Qatar since Kuwait maintains longstanding ties to the Kingdom, particularly since the early 1990s when the Kuwaiti leadership sought refuge in Riyadh after Iraq invaded the small Gulf country. However, the Iraqi invasion also resulted in a gradual Kuwaiti orientation towards Iran, which at the time called for a complete withdrawal of the Iraqi troops from Kuwait and implemented economic sanctions against Iraq. Therefore, as with other smaller Gulf countries such as Qatar and Oman, Kuwait aspires to carve out its own path with respect to both Saudi Arabia and Iran and not merely bend to Saudi-dominated policies.
"The small state also must walk a fine line between maintaining its own independent political approach and sovereignty while preserving its security alliance with the Gulf peninsula's political center of gravity, Saudi Arabia," writes Lori Plotkin Boghart, Gulf expert at the Washington Institute for Near East Policy. "There is concern in Kuwait about whether neutral countries in the Gulf crisis, like itself and Oman, are next in line to be pressed to undertake major policy reorientations."
Third is the issue of Kuwait's counterterrorism record, which has been "mixed" according to Richard LeBaron, former U.S. Ambassador to Kuwait.
"Kuwait has several large Islamic charitable organizations that are sometimes not monitored thoroughly or that have turned a blind eye to where their funds are going," says LeBaron. "On the other hand, Kuwait's cooperation in terms of trying to protect U.S. troops based in Kuwait against terrorist threats has been very good."
By taking a neutral approach in the current altercation, Kuwait can avoid being lumped in with either side and preemptively deflect attention away from its own counterterrorism inefficiencies.
Last week, Kuwait took a bold step when it expelled Tehran's ambassador to the country and 14 other Iranian diplomats for their alleged connections to an Iranian-backed spy and terror cell known as Al Abdali. The dismissals were quite unusual for Kuwait and came approximately one month after a controversial court case overturned the death sentence of an Al Abdali member who was convicted of spying for Iran and working alongside the Islamic Republic and Hezbollah to destabilize Kuwait. The case, which has spanned the last couple of years, has resulted in increased tensions between the Gulf state and Iran, which claims to have no connections to the cell. These actions suggest Kuwait may have seen the opportunity to slightly distance itself from Iran as an important strategic move to boost its mediation credibility.
Although the dispute between Qatar and its neighbors remains mired in a stalemate, on July 19, the four Arab nations backed off from their original list of 13 steep demands and instead sent Qatar a set of six principles that it must accept for relations to be restored. And while tensions are still high, it's a position sign that the parties continue to exchange messages through Kuwait and that no further aggressive actions have been taken, such as kicking Qatar out of the GCC.
Bennett Seftel is deputy director of analysis at The Cipher Brief. Follow him on Twitter @BennettSeftel.