Xi Jinping Proclaims China is Entering a 'New Era'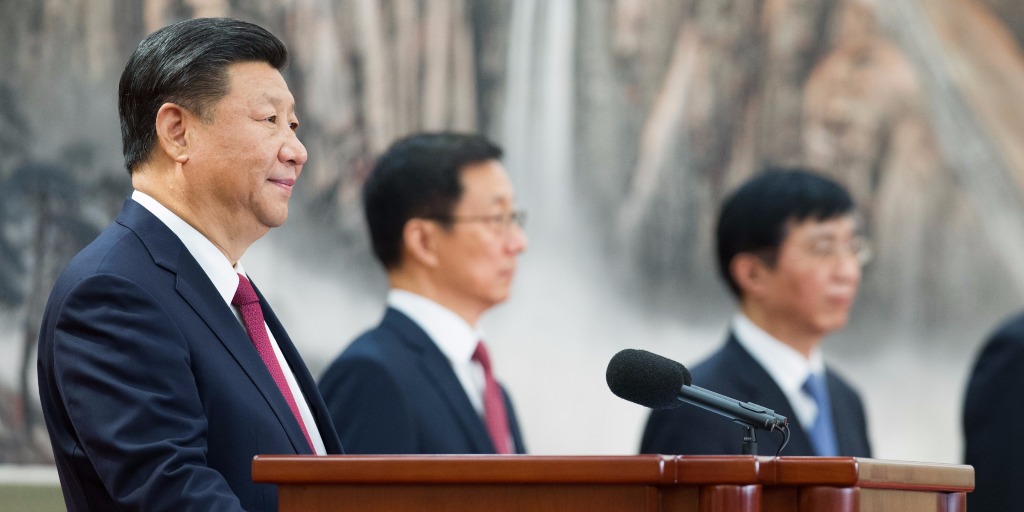 On Wednesday, Chinese President Xi Jinping revealed the six other members of the Standing Committee of the Politburo (PBSC) of the Chinese Communist Party (CCP). The world had waited to see how the selected men might offer insight into Xi's priorities for China – and for his own rule. Last week, The Cipher Brief laid out what to watch for. Here's where we stand:
The unveiling of the Politburo: Xi's Standing Committee has five new members: Li Zhanshu, Wang Yang, Wang Huning, Zhao Leji and Han Zheng. Only Li Keqiang, the current premier of China, and Xi Jinping himself served on the PBSC previously. While these five newcomers do not include some of Xi's closest allies – for example, Chen Min'er, closely watched as a potential heir to Xi, remains one rung below the PBSC – all have one major similarity: they fully support the rule of Xi Jinping. Despite the "first among equals" set up of the PBSC, there is no question about who is driving the agenda in Beijing.
"A new era needs a new look," said Xi Jinping during his hours-long speech to the 19th Party Congress. And indeed, one particular face was not present in his new Standing Committee: that of Wang Qishan, a key ally of Xi during his anti-corruption campaign of the past five years. At 69, Wang has passed the unofficial – but observed – age of retirement of 68, as dictated by the Party. Suspicions remained that Xi would keep Wang by his side regardless, and that doing so would signal a willingness to subvert long-held rules and traditions of the CCP, but Wang will likely retire.
No Heir Apparent: All members of the new PBSC are in their 60s, meaning all will either be beyond or near the unofficial retirement age by the next Party Congress in five years. The selection of the PBSC is highly scripted, so this was no coincidence. The absence of a younger (in his 50s) leader could indicate Xi does plan to buck the long-held rules of the Party and rule beyond his two terms.But he has not done so yet, as demonstrated by Wang's absence from the PBSC. Xi may be simply testing the political waters for a potential extension of his rule and observing how key stakeholders react to the lack of a successor, while still leaving the door open to name one later. Or, Xi may simply be undecided on who he wants to take the mantle of China in five years, wants to limit palace intrigue and minimize the time under which he will be considered a "lame-duck."But one key signal that Xi may be preparing China for an extension of his power was the enshrinement of his "thought" in the Constitution of the CCP.
Xi Joins Mao and Deng in the Pantheon of Chinese leaders: "Xi Jinping Thought for the New Era of Socialism with Chinese Special Characteristics" is now a written part of the constitution of the Chinese Communist Party, an honor previously only given to Mao Zedong – the founder of modern China – and Deng Xiaoping, responsible for its economic prowess. This means that elements of his political philosophy will have a definitive, permanent presence in information spread throughout China: media reports, government policy and school curricula. Equally important, it also raises the cost of disagreeing with Xi. Contradicting his policies or philosophy is now equal to challenging those of Mao and Deng – political blasphemy in China. If China has existed under two distinct periods so far – that of revolution and creation under Mao, and economic opening and modernization under Deng – Xi is saying: now begins the third era.
What does "Making China Strong Again" mean? Xi's vision for China – called "the Chinese Dream" – aggressively pursues not just a modernization of all aspects of Chinese culture, but invites China's population to aspire to be a leader, rather than mere participant, in the international system. His "Work Report" to the Congress, titled, "Secure a Decisive Victory in Building a Moderately Prosperous Society in All Respects and Strive for the Great Success of Socialism with Chinese Characteristics for a New Era," spoke repeatedly about the "new era" in which China would take its rightful place as a major world power."It will be an era that sees China moving closer to center stage," Mr. Xi told the Congress. He also referenced – albeit obliquely – a growing rivalry with the United States in terms of soft power, remarking, "[China] offers a new option for other countries and nations who want to speed up their development while preserving their independence."Xi has underlined this global view with, "a restructuring of the military aimed…at strengthening its ability to limit access and maneuver by the U.S. and other powers in the Asian theater," said Cipher Brief Expert John McLaughlin, former Acting Director of the CIA.

Xi's "thought" on the importance of a modern and professional Chinese military was also written into the Party Constitution during the Party Congress.

"A military is built to fight," Mr. Xi stated, and the Chinese armed forces "must regard combat capability as the criterion to meet in all its work, and focus on how to win when it is called on." He also referenced the "absolute authority of the party over the people's army" – which, in truth, means his absolute authority over the military, given his comprehensive purges of the armed forces over the last five years and his role as not only Chairman of the Central Military Commission, like his predecessors, but also his more recent additional title: Commander-in-Chief.

Economic Reforms Remain Elusive: Though Xi promised economic efforts to reduce financial risk and paid lip service to ending monopolies and "[supporting] the growth of private businesses," no true indication of major economic reforms – particularly of state owned enterprises (SOEs) – was apparent in his report. Rather, he noted that the SOEs would be "stronger" and "bigger."According to The New York Times, the word "market" appeared in Xi's speech only 19 times. Hu Jintao, his predecessor, used it 24 times in 2012, and Jiang Zemin said it 51 times in 1997. While this may seem like semantics, economists have routinely noted the increasingly urgent need for market-based reforms as incomes rise and the Chinese export-led growth model falters."China's [economic] model is a victim of its own success," said McLaughlin. "On the economy, Xi and the party are still struggling."
Callie Wang is vice president of analysis at The Cipher Brief.