What's Next for Business After U.S. Eases Sanctions on Myanmar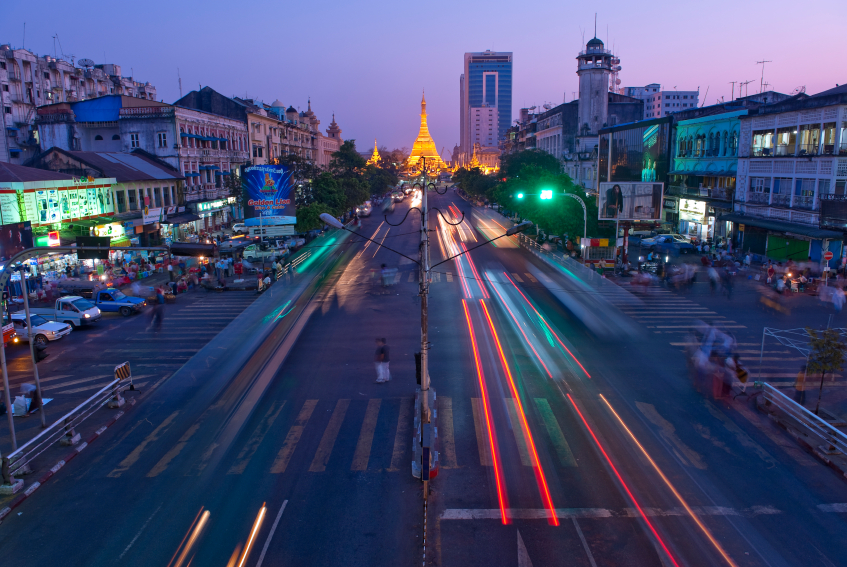 The United States this week eased some sanctions against Myanmar to support political reforms in the country and try to open up opportunities for American businesses and investors, although most of the broader restrictions remain in place.
The U.S. removed seven state-owned enterprises and three state-owned banks from its blacklist, giving American companies and investors the ability to work with them on business ventures and engage in financial transactions. While the Treasury Department will maintain the bulk of its measures, the relaxing of several key economic sanctions took effect on Wednesday.
The moves — which allow most transactions with the country's financial institutions and make it easier for Americans to live and travel in Myanmar, among other changes — come in the wake of the new, freely-elected government taking power last month. The National League for Democracy (NLD) party of former political prisoner Aung San Suu Kyi swept the elections last November in the country, also known as Burma.
"Myanmar is still a place where there is a high degree of risk in doing business, but you have a government in there now that was freely elected for the first time in decades and is committed to the type of political-economic reform that can lay the foundation for businesses to contemplate investing on a larger scale," Vice President of Bower Group Asia, Dr. Rafael Frankel told The Cipher Brief.
For American companies and investors interested in Myanmar as a potential business opportunity, the first step is to check the Specially Designated Nationals and Blocked Persons (SDN) list to make sure they are not dealing with people on the blacklist, Frankel said. Step two, once that threshold has been passed, is to "do your political-economic due diligence to make sure that the companies that you might be doing partnerships with or the close family members of people aren't themselves involved in untoward activities," he noted.
In its sanctions announcement, the Treasury also made changes to try to tackle the challenges of trade in Myanmar.  The changes permit shipments to go through trade and transport infrastructure like ports and highways even if they are owned by sanctioned individuals or companies, as long as the transaction isn't for or for the benefit of someone on the SDN list. Additionally, the U.S. made it easier to help Americans live and work in the country by allowing for everyday transactions, like paying rent.
Looking ahead, the U.S. has noted it intends to raise the aggregate reporting threshold for investment from $500,000 to $5 million after that proposal goes through administrative review.
But the U.S. is maintaining most restrictions in an effort to push for more reform.  It has also added six companies that are owned 50 percent or more by blacklisted businessman Steven Law and his company Asia World onto its list of entities barred from conducting business with Americans.
Adam Szubin, acting undersecretary for terrorism and financial intelligence, said in a statement that the easing of sanctions this week demonstrates "our strong support for this political and economic progress while continuing to pressure designated persons to change their behavior."
Deputy National Security advisor Ben Rhodes said on Tuesday, at a Center for New American Security event, that the administration's actions "are emphasizing that constructive economic engagement with Burma is not just allowed, it is encouraged." A number of companies, such as General Electric and Coca-Cola, have already made moves into the country, Rhodes pointed out.
"I heard from government officials, entrepreneurs and activists in Burma that our sanctions were too often an obstacle," he said. "The very people we wanted to help, in some cases, were being hurt – denied access to capital and opportunity. We listened, and we are taking key steps to make it easier for U.S. and international businesses, non-profit organizations, and educational institutions to be fully engaged in supporting Burma's democratic transition."
Yet sanctions aren't the only issue U.S. businesses must consider before thinking about investing in the country, according to Frankel.
"Infrastructure remains a really big challenge, skilled labor remains a really big challenge, the financial system still has to be developed to a greater degree to allow really large-scale investment to flourish," Frankel said. "And even though they're not running the government anymore, the role of the military in specific institutions is still very prominent."
The key thing to remember for doing business in Myanmar is to "know who you're dealing with," Frankel said.