View: Taiwan Teeters Amid Chinese Threats and Lukewarm U.S. Backing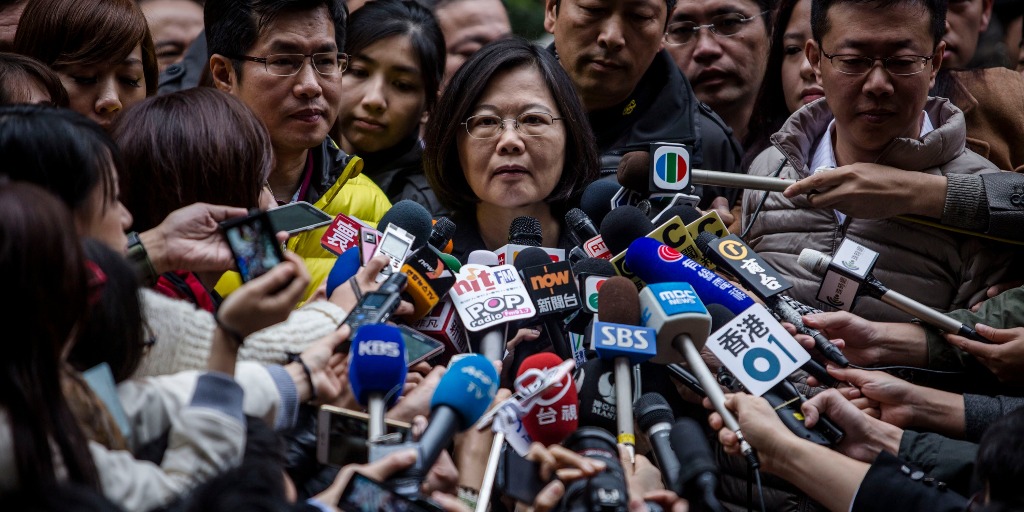 TAIPEI, Taiwan – The recent public threat by a senior Chinese diplomat to invade Taiwan, should U.S. naval vessels dock on the island, illustrates the increasingly precarious position of one of the region's few democracies. Mixed signals from President Donald Trump, his administration and the U.S. Congress have only escalated the risks and eroded the influence of Washington in the eyes of its "unofficial" ally.
Chinese diplomat Li Kexin issued the invasion threat at a Chinese Embassy event in Washington, D.C., this month, according to Chinese media reports, apparently in response to the latest U.S. Defense Authorization Act. A provision in the act, adopted by Congress in September, authorizes mutual naval vessel visits between the U.S. and Taiwan. The contested island, considered by the People's Republic of China as a renegade province but by Taiwanese as wholly separate, has long been an important American partner in the Asia-Pacific.
China has filed a formal complaint to the NDAA naval vessel provision, protesting both the prospect of visits as well as all official exchanges, military contacts and arms sales between Taiwan and the U.S.
Military exchanges have been limited, but the U.S. has assisted Taiwan in defense through arms sales since the administration of President Jimmy Carter. Threatening remarks about Taiwan from Beijing are not unheard of, but a senior diplomat making this sort of statement at an official event in Washington is a clear escalation in rhetoric.
While Beijing has become more assertive and influential in the region, the Trump administration has sent mixed signals to Beijing and Taipei alike. After Trump's election last November, he pleased Taiwan by accepting a phone call from Taiwan President Tsai Ing-wen, though leader-to-leader talks between the two nations have been taboo since Washington switched diplomatic recognition from Taipei to Beijing in 1979. Trump subsequently called into question the "One China Policy," long adhered to by the U.S. and the rest of the world, that acknowledges that Taiwan is part of China.
But Trump quickly changed tack after meeting with Chinese President Xi Jinping in February, promising to "honor" the policy. Trump's flip-flop on the issue raised questions about his understanding of its importance in the first place, as well as his ability to handle the nuanced and complicated diplomatic circumstances in Asia. Not only does this apparent blunder on such a sensitive relationship make Trump appear less than capable in the eyes of Chinese leadership – it also undermines confidence among others across the region in the U.S. administration's ability to lead internationally.
Trump's immediate withdrawal of the U.S. from the Trans-Pacific Partnership (TPP) also played into the hands of Beijing. Without American influence in the trade bloc, the TPP lost much of its luster in the eyes of Asian nations. They likely will turn instead to China-backed Regional Comprehensive Economic Partnership (RCEP) and the "One Belt, One Road" initiative.
In turning away from the TPP, the U.S. arguably handed Beijing economic dominance in the Asia-Pacific. The move was doubly bad for Taiwan. With American backing, Taiwan stood a chance of being accepted as a member under the "Chinese Taipei" moniker with which it participates in the World Trade Organization and other international bodies, independent of Beijing. Without support from Washington, Taiwan almost certainly will be excluded from the less ambitious iteration of the trade bloc and left economically isolated relative to its neighbors.
All of this comes as relations between Beijing and Taipei reach their lowest point in a decade. With the election of President Tsai of the independence-leaning Democratic Progressive Party in 2016, China severed all formal communications with Taiwan's government. Beijing also has moved forcefully to limit Taiwan's crucial international ties and to intimidate Taipei. Training exercises "encircling" Taiwan are increasingly common, Beijing has begun to block Taiwanese participation in international organizations like the World Health Assembly, and a number of diplomatic partners have abandoned relations with Taipei in favor of Beijing.
Taiwan's increasing isolation and security challenges call for reliable support from its strongest and most influential ally, the U.S. However, Trump's "America First" policy has meant that support is in question.
The Trump administration's apparently single-minded focus on zero-sum trade at the expense of diplomacy leaves Taiwan vulnerable to Beijing's growing influence. China will punish neighbors that treat Taipei favorably and force Taiwan to conduct as much economic activity as possible with the Mainland, further limiting Taipei's options and increasing Taiwanese dependence on China-Taiwan trade.
Beyond the damage the Trump administration's hands-off foreign policy could do to Taiwan, it could also send a signal that the U.S. is ceding the trade and diplomatic field to China, and American allies will lose confidence in Washington's ability to protect them and their interests.
Should Beijing obtain control over Taiwan, China could use the island to project greater dominance of the Pacific. In reaching that point, the chances for miscalculation and confrontation are many. The Taiwan Strait has been relatively quiet for at least a decade, but it remains a profoundly sensitive geopolitical flashpoint.
What Taiwan needs is comprehensive and reliable leadership that engages the region multilaterally to balance Chinese influence and to ensure the peaceful development and sovereignty of U.S. allies in the Asia-Pacific.
Adam Hatch holds a Master's in Asia-Pacific Studies from National Chengchi University and a degree in geography from UC Berkeley.