Expert Commentary
Wary NATO Eyes Turn to Moscow's 'Zapad 17' in Belarus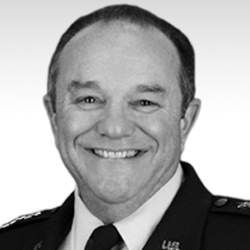 Gen. Philip M. BreedloveFormer Supreme Allied Commander, NATO
Zapad 2017, the week-long joint Russian-Belarusian military exercise beginning September 14, has raised concerns in the West over its size and intent. Some say there will be more than 100,000 troops participating. Belarus has said only 12,700 will be involved – just under the 13,000 limit, at which point a country must notify other nations in advance and make the exercises open to international observers. Belarus said it has invited observers from seven countries. NATO Secretary General Jens Stoltenberg said NATO is sending two experts, but he also said this is not enough, and Russia is using "loopholes" to minimize the number of NATO observers.
The bigger question is, what is the intent behind Zapad? And will Russian troops be left behind in Belarus, in preparation for potential incursions in the future? The Cipher Brief's Kaitlin Lavinder spoke with General Philip Breedlove, who served as NATO's Supreme Allied Commander in Europe (SACEUR) and Commander of U.S. European Command until May 2016, about what to expect from Zapad 2017. 
The Cipher Brief: What is the Zapad exercise? Will there be any major differences this year from past iterations?
General Philip Breedlove: Zapad is not new. It's a recurring exercise that Russia typically does in its central and western districts. The word Zapad means "west," and the orientation of the exercise has been to Russia's west, which has caused great consternation in the past and consternation now, and I'm sure it will in the future. This exercise, like others, will do all manner of things and occur across a broad spectrum of training areas. It's not one huge conglomeration in one location. It's rather a grouping of exercises at multiple places in the central and western districts.
This year is a little different in that it is going to be accomplished largely in Belarus, and a large [Russian] force will move into Belarus. I have no personal sources other than repeating the things I have heard from Belarusians and from others in the eastern NATO nations that this exercise can be between 70 to 100,000 troops – that is a large number. As I said, it's probably not all in one location, but it will be a grouping of exercises in the west that would come to some numbers like that. There also have been numbers used that say there are over 4,000 railcars being ordered for this year's exercise.
So there is some chance that this year's exercise will be much larger than others in the past.
TCB: There's been reporting in American media that the railcars and the troops in Belarus could be used as a kind of Trojan horse to leave equipment and people in Belarus – potentially in preparation for some kind of attack. What are the similarities and differences that can be drawn from past experiences with Russia when they've done something similar – like before the invasions of Georgia and Crimea?
Breedlove: This is exactly what has been talked about. And some even point back to the late 1930s and how Russia comported itself there before World War II. So this is a concern.
Now Zapad is not a snap exercise; it is an announced exercise. But snap exercises, and especially large snap exercises, in the recent past have been used to cover movements of troops, movements of equipment, set preparations for things like Crimea and the Donbas. So many share concern that this might happen. I don't personally use the Trojan horse analogy – but what I have heard is that there's great concern in several areas about the fact that a lot of force may come forward and it may not all go home.
There has been a continuing conversation between Russia and Belarus about forward basing, and the government of Belarus has opposed some of those, and so that also raises concerns.
TCB: What would be the goal of forward basing in Belarus? I've heard the major difference between Crimea and Georgia – compared with Estonia, Latvia, Lithuania, and Poland – is that the latter are all NATO members, and the Trump Administration has made clear now its commitment to Article 5.
Breedlove: [Russian President Vladimir] Putin is a pretty smart man. He understands what a NATO border is, he understands what Article 5 means, and he understands that also part of Article 5 is that we have bilateral responsibilities, and the inclination is to include the United States in the defense of our allies. I do believe Mr. Putin understands that. I do not believe that Mr. Putin wants to start a war, but that doesn't mean that it couldn't happen. But I think he understands that that would be costly to all sides, and I would hope that cooler heads and better judgment would prevail. But we can't live in this way. The glib saying you often hear is 'hope is not a strategy.' We have to be prepared for all contingencies, and so we have to be serious in our inspection of what we think is happening in Zapad, and look at it for what it could be.
TCB: Speaking of our inspection of what is happening, what are the U.S. and NATO doing to monitor the situation – especially since Russia has not allowed international observers?
Breedlove: Russia has offered to allow some observers, and NATO is in the process of trying to have a couple of observers go. NATO Secretary General Jens Stoltenberg spoke about this issue and said that he didn't think that it was a completely open arrangement and that he may be less than satisfied with what is being offered for the observation.
But there is so much swirling right now about who is invited, what they're invited to see, are there limitations and things, that I think the news needs to settle a little bit before we become judgmental or have a positive outlook on this. There's a lot of talk right now about the possibility of observers and where they might be and what they might be able to observe.
TCB: What are your thoughts on the broader strategy toward Russia and what the U.S. should do moving forward?
Breedlove: It is a great travesty that in the United States of America right now, we are unable to have an intelligent conversation about moving forward in our conversation with the Russians because of the political swirl that is surrounding what is going on with our recent election. Everyone is so, I think, myopically focused on just that, that we have our eyes down on the ground, on our feet, looking at a small problem, when there is a much larger problem in the background. We need to be concerned much more broadly about what Russia is doing – in the world and, frankly, in the United States. It goes well beyond what happened in that election [the 2016 U.S. presidential election].
Let's just remember that some nations, and certainly ours, have tried to influence elections in the past. It is not staggering that the Russians would try to insert themselves into our election. I think it's serious, and we need to understand what happened and try to stop it in the future. But what I think is wrong is that we're so focused right now on that, that we are not addressing a much larger problem that is in the background. And we need to move out on that.
With that as context, we have to begin a conversation with Russia in the future. Right now the vector of our relationship is as bad as I've ever seen it. And I've been looking at this for a long time – I stood my first time on general defense positions in West Germany in the early 1980s. It will not get better unless we take affirmative action to try to make it better. So we need to get past this political logjam that we're in over this small issue, and start to look at all the huge issues that are standing behind it. To address those huge issues, we're going to have to establish communications and try to reestablish some measure of trust with Russia.
TCB: Is that deterioration of the relationship between the U.S. and Russia, and NATO and Russia, part of the reason why we're seeing so much angst coming from NATO, especially eastern European countries, like Poland, about the upcoming exercise? Or do we always see a period of heightened angst in the West before the Zapad exercises?
Breedlove: Anytime we see a large exercise like this, Zapad being announced and planned, but even more so with the large snap exercises, these are going to cause angst, no matter the state of our conversation with Russia.
Even with what I just said, it is important that we begin to have a high-level conversation to resume more normal relations and to try to reestablish the lost trust relationship with Russia.
TCB: Do you have any other thoughts on this?
Breedlove: I would just like to reiterate that we are in a bad place in our relationship, and our conversation with Russia has to change. The vector is not good, and we're going to have to make an affirmative decision to get past some of these concerns that have us in a logjam now, in order to move forward in that conversation.