Moscow Takes U.S. Meddling Tactics to German Vote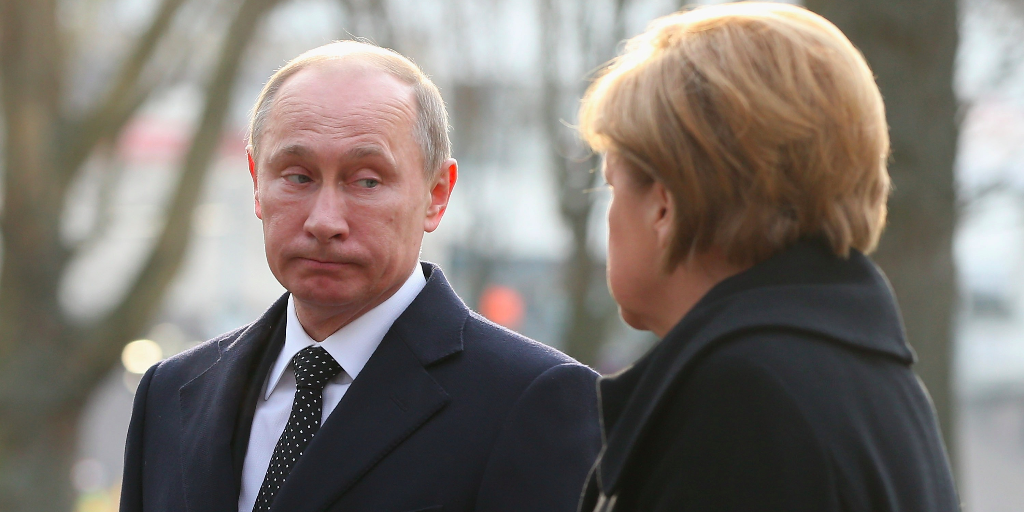 In less than a week, on September 24th, the German public will vote in the country's general elections – not only to determine who will sit in the country's parliament, known as the Bundestag, but also who will become – or remain – Chancellor. As the economic and political European heavyweight, Germany has been seen as the anchor for an EU in crisis, making it a prime target for those seeking to undermine European unity and stability.
Russia has shown a propensity for taking subtle, and not so subtle, measures to sow confusion and undercut political opponents in the West – most prominently in last year's U.S. elections that may have helped bring the administration of Donald Trump into power. Russia's cyber-enabled influence campaigns seek to exacerbate societal divisions by disseminating false narratives and leveraging hack-and-leak tactics that promise compromising and salacious material on critical voices.
The anticipated target of Russian subversion: Chancellor Angela Merkel's centrist Christian Democratic Union. The resoluteness of Merkel – who is seeking her fourth term as Chancellor – against Russian adventurism in Ukraine, Kremlin intimidation of the eastern most NATO members in the Baltics, and her uniting efforts for a Europe resilient against Russian subversion, has likely put her on the radar in Lubyanka, the Russian Federal Security Services' (FSB) headquarters in Moscow.
Germany, with its influx of Arab migrants fleeing a devastating war in Iraq and Syria, as well as a three million strong Russian-speaking population reliant on Kremlin-controlled media, is vulnerable to such active measures, the Russian term for covert action. And after nearly two decades of American military assertiveness abroad – now exacerbated by a reactionary and bombastic president – there is considerable anti-American sentiment in Germany. Russia, which portrays itself as reining in the United States around the world, is well placed for influence.
With considerable success at weaving misinformation into the narratives of discontent within the United States and little reprisal beyond the shame of failure to accomplish the same in the recent French elections, Russia is likely emboldened to take such action against Germany.
Moscow has already been able to insert itself into controversies regarding sensitive issues such as refugees, same-sex marriage, terrorism, and NATO. The most notorious example being what has become known as the Lisa case, where Russian media outlets began circulating a false story in January 2016 about a 13-year-old Russian-German girl who was reportedly abducted and raped by Arab migrants. After two weeks, German officials debunked the story and directly accused Moscow of engaging in propaganda.
How the false story was propagated gives insight into the multiple avenues Russia leverages to amplify disinformation. Russian media outlets such as RT and Sputnik first reported the news, giving right-wing groups social media fodder that was seemingly bolstered by a series of false online accounts known as bots. This was followed by reporting of demonstrations in German cities and statements by top Russian officials – in this case Russian Foreign Minister Sergey Lavrov – about concerns over the German legal system and the country's ability to absorb the influx of refugees.
Similar to the modus operandi demonstrated in the U.S. and French elections, German intelligence officials fear a trove of leaked emails and documents promising salacious and compromising content – particularly regarding Merkel's political party – could be released on the eve of the elections. The material could potentially come from the 16 gigabytes – enough for over a million emails – that was siphoned from the computer networks of the Bundestag in 2015. The hackers, unsurprisingly, were identified as APT 28 – also known as Pawn Storm and Fancy Bear – which is the same group behind last year's breach of the Democratic National Committee. The U.S. intelligence community and numerous private cybersecurity firms have concluded that this entity has ties to the Main Intelligence Directorate (GRU), Russia's military intelligence branch.
By leveraging cyber capabilities to create doubt and confusion in the minds of the German public, Russia also does not risk major escalation beyond sanctions and public condemnation. Russia's hand in the subversive campaign even enjoys the protections of plausible deniability by working through criminal and private proxy hackers. Public attribution firmly implicating Russian officials is risky, as it could reveal Western intelligence sources and methods. But without such evidence provided, a democracy's political will to respond assertively is limited by skeptics. This dynamic is on display in the United States today.
Despite the prospect of Russian efforts to undermine German democracy, it is unlikely that the effects will have the impact as those seen in the United States for a number of reasons. Merkel maintains strong support among a German electorate that is now well versed in Russian disinformation and influence campaigns in fellow Western democracies. German intelligence has long warned the public of Russian cyber operations "mostly interested in delegitimizing the democratic process" and causing "political uncertainty."
The country has also passed legislation in June that would impose massive fines on social media companies, such as Facebook and Twitter, that fail to remove fake or defamatory content from their sites. While the law will be implemented in October, companies will be keen to quickly remove suspect content early. Furthermore, both the German media – which for the most part has not surrendered to the polarization and sensationalism of others – and the country's multiparty, parliamentary system limit the effects Russian smear campaigns could create.
But while Russia interference is unlikely to unseat Merkel, it could give fringe parties friendly to Moscow seats in the 600-member Bundestag and potentially force Merkel's party to seek a coalition with others that would hamstring assertive efforts against Russia.
"While Russian action is unlikely to outright determine the selection of the German chancellor, it can explore German Chancellor Angela Merkel's weaknesses while strengthening opposition groups, such as the right-wing populist party, Alternative for Germany, who seek to undermine the political system," says Stefan Meister, the head of the Robert Bosch Center for Central and Eastern Europe, Russia and Central Asia at the German Council on Foreign Relations. "This will strengthen Putin's relative position and ability to act in the future."
However, the ultimate goal of Russian President Vladimir Putin and his security services is not limited to merely influencing policy in Germany – or any Western country for that matter. It is undermining the system of democracy itself. "The most obvious force Putin fears is democracy and open society, and the possibility of their spread," says Steven Hall, a former CIA Senior Intelligence Service member. "So while the Kremlin will most certainly try to influence Western elections that could result in a candidate with favorable views towards Moscow winning, this is mostly tactical."
Undermining democracy serves the dual purpose of weakening adversaries and simultaneously appeasing resentments within Russia so that Putin's autocratic and quasi-criminal government remains in power. "As a bonus, Russian citizens will be encouraged to positively compare the Russian system of government – despite it being authoritarian plutocracy – to Western democracy, with the conclusion being that the Russian system is no more flawed than any other," says Hall.
The upcoming elections in Germany – and the possibility of Russian meddling in them – could determine the direction of the country, the EU, and the West in the years to come. Because of this, all eyes will be on the German elections, and how the German electorate and their political institutions weather the storm of potential Russian disinformation and influence.
Levi Maxey is a cyber and technology analyst at The Cipher Brief. Follow him on Twitter @lemax13.