Awkward Family Dinner: Blunt Talk in Brussels Targeting Trump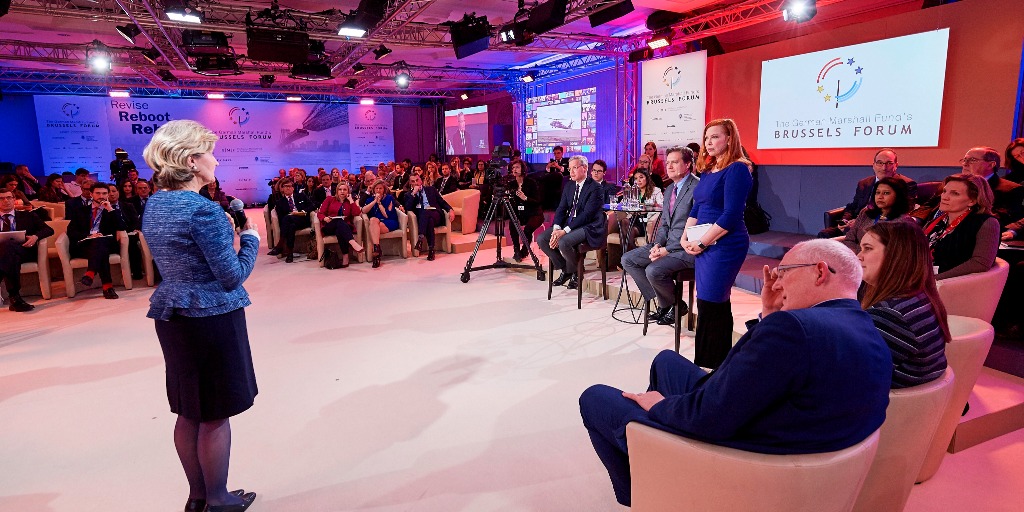 BRUSSELS – European officials are still going through the stages of grief, more than a year after President Donald Trump was elected, stuck somewhere between anger and denial. They took out their frustrations over the latest Trump tariff moves on the few administration officials who braved the German Marshall Fund's annual forum in Brussels.
The meeting, held in the grey fleur-de-lis-covered Wiltcher's Steigenberger Hotel in the heart of the European Union's de facto capital, used to be a must-attend destination for the Obama administration: a forum synonymous with NATO, Transatlantic defense against the rising threat of Moscow and robust trade cooperation.
Not so in for the America-First, anti-globalist, and increasingly protectionist Trump administration, headed by a president who has tread carefully in his public comments about Russia despite its carelessly overt hacking campaign against U.S. democracy in the 2016 U.S. presidential election. At least, that's how Team Trump is seen by many European officials in Brussels, despite protestations to the contrary by U.S. officials based here.
Only a handful of Trump administration officials turned up for the event to argue against that negative take, though many were invited. The handful that did attend were bluntly challenged by top European officials – and some former Obama and Bush officials – on their panels.
The Europeans' main complaint? Why is their U.S. ally treating them like an enemy at a time when a rising threat from a revanchist Russia and a nuclear-armed North Korea requires more, not less, trust and cooperation? Their latest reminder of being treated as more friend than foe is Trump's threat to impose stiff tariffs on steel and aluminum. The European Union is seeking an exemption akin to the one being offered to Canada and Mexico.
Even the top chief at Boeing took a careful poke at the Trump administration, praising multiple defense projects his company is working together with European defense companies.
"A world that had broadly lower barriers to conductivity and trade is a world that creates more efficiencies, and thus prosperity and thus innovation," said Marc Allen, whose company was also a sponsor of the event. "Higher barriers across the world go the other direction." He softened that by adding that "the real question now" is how to get to "an even playing field that everybody agrees to."
Mixed with the European anger over Trump's trade moves is the lingering bitterness over how long it took Trump to publicly confirm his commitment to NATO's Article 5, which states NATO allies will come to each other's defense – something he openly questioned on the campaign trail. That was combined with no small measure of continuing resentment over Trump's public rebuke last year – with grim-faced NATO leaders standing shoulder to shoulder with him – that not enough NATO members are paying enough for their own defense.
So, like an abused spouse recovering from an affair, the Europeans are tetchy and remain suspicious, no matter how many Trump officials in this European capital tried to reassure them.
"There is no question that there is a lot of attention now to NATO in Washington, which I welcome very, very much," said NATO Deputy Secretary General Rose Gottemoeller, who held senior roles in previous U.S. administrations.
"When I was preparing to take this job back in 2016, I often heard in Washington, 'The biggest problem you're going to have in that job is getting Washington's attention.' And, therefore, I have reason to thank President Trump, because…there's a lot of attention across the NATO alliance to issues to do with burden sharing," she said, carefully sidestepped the fact that much of that attention is negative.
Those kind of in-person assurances did little to sway an audience of Europeans who griped privately that they'd been told what U.S. policy would be before by senior Trump officials, only to wake up to a Trump tweet or get a news alert from a rambling presidential press conference that upended the supposed existing U.S. policy – about trade, Russia or most recently, North Korea.
German Bundestag member Norbert Roettgen savaged what he called the Trump administration's withdrawal from international institutions – and the whiplash-inducing mixed messages of first telling Europe it has to do more for its own defense, and then complaining that fledgling European plans to do so better not harm U.S. defense companies.
"Clearly, the process of retreat and withdrawing by the president of the United States, withdrawing from the different international systems… withdrawing from TPP [the Trans-Pacific Partnership], the unilateral tariffs…the climate change regime from the Paris Accord, putting into question the validity of the nuclear Iran agreement," "All this means the…
"The United States is going into a direction, led by its president, to give up the role of international leadership within the international system," said Roettgen, a senior official in Chancellor Angela Merkel's Christian Democratic Union party. He ticked off as proof the Trump administration withdrawal from the Trans-Pacific Partnership, the Paris climate accord, the recent threat of unilateral steel and aluminum tariffs and questioning "the validity" of the Iran nuclear deal.
U.S. Ambassador to NATO Kay Bailey Hutchison challenged that, saying her presence at the conference – and in Brussels – shows the U.S. is serious about its international role.
"America is here….We couldn't do by ourselves what we do in NATO, and the Europeans could not do in the EU what we do in NATO," she said, adding that "part of that is the appointment of me, a very strong NATO supporter" throughout her time as a U.S. senator.
But she also expanded on her concerns first expressed publicly at this year's Munich defense conference that the new European cooperative defense initiative known as PESCO (Permanent Structured Cooperation) should not be preferential to European companies.
"PESCO is something that we have questions about…because some of the things that were said early on were that the Europeans would have an advantage in any kind of a bid for products or equipment," she said. "Everybody should have the ability to compete on a level playing field."
Roettgen countered that the U.S. had asked NATO, and the larger European Union, to do more for its own defense, so it needed to give the Europeans time to work out what is what he termed a project still in its infancy.
Republican Congressman Michael Turner of Ohio defended the Trump position, pointing out the U.S. had increased investment in Europe by pre-positioning extra military equipment and helping to supply some of the troops to the four countries near Russia – a message from NATO that there should be no repeat of Russia's invasion of Ukraine.
"We need to look to our allies and say, 'Well, what will they do?' Because the American taxpayer no longer wants the bill for defending Europe or NATO sent to it," he said.
And on that, there was fairly sanguine acknowledgment by Roettgen and other officials that some European nations haven't pulled their weight – a complaint issued by multiple U.S. presidents and Pentagon chiefs.
"Europe of course needs to step up," said Sweden's Ambassador Diana Janse, currently foreign policy advisor of the pro-NATO Moderate Party. "It's a fact that U.S. plays an unproportional role and burden in their operational capabilities of NATO, and it's good that this issue is finally addressed."
Trump State Department economic official Manisha Singh pleaded for "open-mindedness."
"I hope that people on this side of the Atlantic…in the EU are willing to listen to Washington right now, willing to listen to President Trump about what he thinks we need to do with the world," Singh said to an icily hostile room during her panel.
"Sorry, we can't trust the Trump administration, at least until you can put that gentlemen, Trump, under control," said Ana Gomes, a member of the European Parliament – echoing what may European officials were saying in private asides. "Especially when it comes to Russia, we can't trust him."
"The message I'm gonna take back home to Washington generally, is to say that we need to continue these open and frank conversations," Singh said, not winning over too many people in the audience with her arguments, but impressing that she dared to venture into the room at all.
It was left to former presidential candidate Hillary Clinton's Defense-Secretary-in-waiting Michele Flournoy to offer comfort – and a path for those bewildered by the age of Trump.
"President Trump is not the problem in and of himself. He is a symptom of larger forces at work on both sides of the Atlantic," said the former senior Obama defense official and Cipher Brief expert. Flournoy listed those as the ills of polarization and economic disruption that have fed a rise of anti-globalization and anti-immigration sentiment.
"Let's not treat this period of uncertainty and anxiety as something that is necessarily going to define our entire future," she said, trying to move the crowd well beyond grief to action. "Let's fight that. Let's push back against it."
Cipher Brief Executive Editor Kimberly Dozier moderated a panel at the Brussels Forum that included: NATO Amb. Kay Bailey Hutchison; Rep. Michael Turner, R-Ohio; Boeing President Marc Allen; Amb. Diana Janse, of Sweden's Moderate Party; and Norbert Roettgen, chairman of the German Bundestag's Foreign Affairs Committee.