Trump Vows to Win in Afghanistan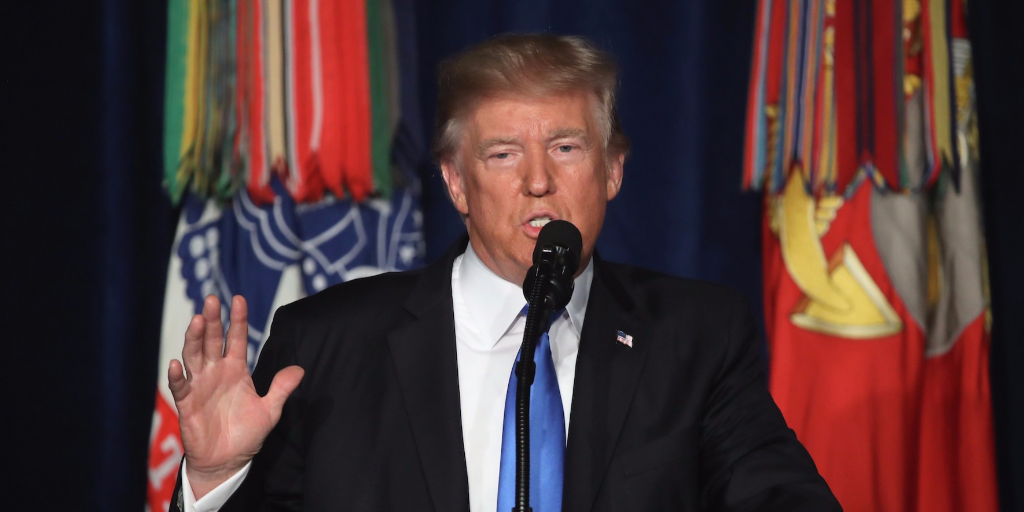 President Donald Trump had promised to outline the "path forward in Afghanistan and South Asia" during his prime-time address on Monday night. Although he announced the United States would deepen its commitments to the nearly 16-year-old conflict, the president did not address troop numbers or lay out specific benchmarks for the American people to assess his strategy's success.
"Our troops will fight to win. We will fight to win," Trump said during his speech from Fort Myer, Virginia. "From now on, victory will have a clear definition. Attacking our enemies, obliterating ISIS, crushing al Qaeda, preventing the Taliban from taking over Afghanistan, and stopping mass terror attacks against America before they emerge."
General Michael Hayden, former Director of the NSA and CIA, said Trump made clear his objective for Afghanistan with a speech that was "presidential in style." The decision emerged from the typical process that an administration would undergo to devise a foreign policy decision, Hayden noted, saying he would "give this good marks for following what I call regular order."
As for the strategy, Hayden said Trump "talked about victory, he talked about destroying ISIS, destroying al Qaeda, preventing the Taliban from taking over Afghanistan. I think those are all worthy, strategic goals."
With this speech, Trump "did not make clear his objective other than 'winning,'" according to former Acting CIA Director John McLaughlin.
"It's not clear what his standard is for that other than maybe preventing the Taliban from 'taking over.' This is not much different from his predecessors and it implies the Taliban would still be there but not running the country," he told The Cipher Brief. "That could mean support for a political agreement giving the Taliban a less than dominant share of governing power — but that is not clear. So the main result is that Trump has taken ownership of the war."
Retired four-star General and Former Vice Chief of Staff of the U.S. Army Jack Keane, meanwhile, said he was impressed with Trump's "very direct, very honest" speech.
"He clearly committed the political and moral will of the United States to succeed in Afghanistan, as part of the much larger conflict with radical Islam," he said.
A "core pillar" of his strategy, Trump said, was the shift from a time-based approach to a conditions-based approach that would be tied to the larger region, including Pakistan and India. And transparency about troop numbers and military activities will now be off the table, the president said.
"We will not talk about numbers of troops or our plans for further military activities. Conditions on the ground, not arbitrary timetables, will guide our strategy from now on. America's enemies must never know our plans or believe they can wait us out," he said. "I will not say when we are going to attack, but attack we will."
Then-President Barack Obama in 2009 ordered about 30,000 additional forces sent to Afghanistan in an 18-month "surge," a time-limited approach that drew harsh criticism.
Keane said he applauded Trump's decision to scrap the timeline approach. "What President Trump is clearly saying is that we're going to conduct operations based on the reality on the ground, and we're also going to hold the Afghan government accountable. He didn't lay out how, and I think it would have been inappropriate for him to do so," he told The Cipher Brief.
The long-awaited announcement, following months of debate within the administration, marks a shift away from Trump's rhetoric before coming into office, when he repeatedly called for the U.S. to withdraw from the country. During his address, the president said his "original instinct was to pull out," but that after taking office and studying Afghanistan, he saw that approach would leave open a vacuum that terrorist organizations like al Qaeda and ISIS could "instantly fill."
Among the options that had been on the table for the president included the military's recommendation for deploying more troops, withdrawing U.S. forces, and using private contractors in the place of U.S. troops.
Currently, there are about 8,400 U.S. service members in Afghanistan. Trump left the door open for increasing the number of U.S. forces, but said a key part of his strategy would be to cease talking "about numbers of troops or our plans for further military activities." Trump had previously given Secretary of Defense Jim Mattis the authority to set Afghanistan troop levels. Mattis reportedly had plans on the table to send about 4,000 more service members to the country.
The president said on Monday evening that his administration would make sure U.S. troops "will have the necessary tools and rules of engagement to make this strategy work, and work effectively, and work quickly." He called for Afghanistan to "to take ownership of their future, to govern their society, and to achieve an everlasting peace," stating that although the U.S. will support the country economically, militarily, and diplomatically, "we are not nation-building again. We are killing terrorists."
Trump also leveled a warning against Pakistan, saying the U.S. would no longer tolerate its "safe havens for terrorist organizations, the Taliban, and other groups that pose a threat to the region and beyond."
As part of his promise that this would be a broader regional policy, the president addressed India's role. "India makes billions of dollars in trade with the United States, and we want them to help us more with Afghanistan, especially in the area of economic assistance and development," he said.
The president also said the U.S. will be asking NATO allies and global partners to "support our new strategy, with additional troop and funding increases in line with our own. We are confident they will."
Trump said that after he had "studied Afghanistan in great detail and from every conceivable angle," he arrived at three fundamental conclusions about the United States' core interests in the country: that the U.S. "must seek an honorable and enduring outcome worthy of the tremendous sacrifices that have been made," "a hasty withdrawal would create a vacuum for terrorists, including ISIS and al Qaeda, would instantly fill just as happened before September 11th," and "that the security threats we face in Afghanistan and the broader region are immense."
"When I became president, I was given a bad and very complex hand. But I fully knew what I was getting into, big and intricate problems," he said. "These problems will be solved. I'm a problem-solver. And in the end, we will win."
Following the speech, Mattis released a statement saying that he has directed the Chairman of the Joint Chiefs of Staff "to make preparations to carry out the president's strategy." Mattis added, "I will be in consultation with the Secretary General of NATO and our allies—several of which have also committed to increasing their troop numbers. Together, we will assist the Afghan Security forces to destroy the terrorist hub."
Afghan Ambassador to the U.S. Hamdullah Mohib said in a statement that "like America, Afghanistan also wants an 'honorable and enduring outcome' to this fight, for all the Afghan, U.S., and NATO soldiers who have served and sacrificed to advance the cause of peace." He said Trump had "embraced a strategy that gives Afghanistan what it needs."
In February, the top U.S. commander in Afghanistan described the security situation in the country as a "stalemate" to Congress. Telling senators he wanted several thousand more troops from the U.S. and its allies, General John W. Nicholson Jr. also warned of Russian involvement bolstering the Taliban and undermining the U.S. and NATO.
According to the most recent Special Inspector General for Afghanistan Reconstruction (SIGAR) report, as of May 2017 there were 45 districts under insurgent control or influence, or about 11 percent of the country's districts. The Afghan government, meanwhile, controls or influences about 60 percent, the report stated.
And the Department of Defense's June report to Congress stated that "faces a continuing threat from as many as 20 insurgent and terrorist networks present or operating in the Afghanistan-Pakistan region, including the Taliban, the Haqqani Network, ISIS-K [Islamic State-Khorasan], and al-Qaeda, in what is the highest concentration of extremist and terrorist groups in the world."
Mackenzie Weinger is a national security reporter at The Cipher Brief. Follow her on Twitter @mweinger.