Philippines Faces Long Slog Against ISIS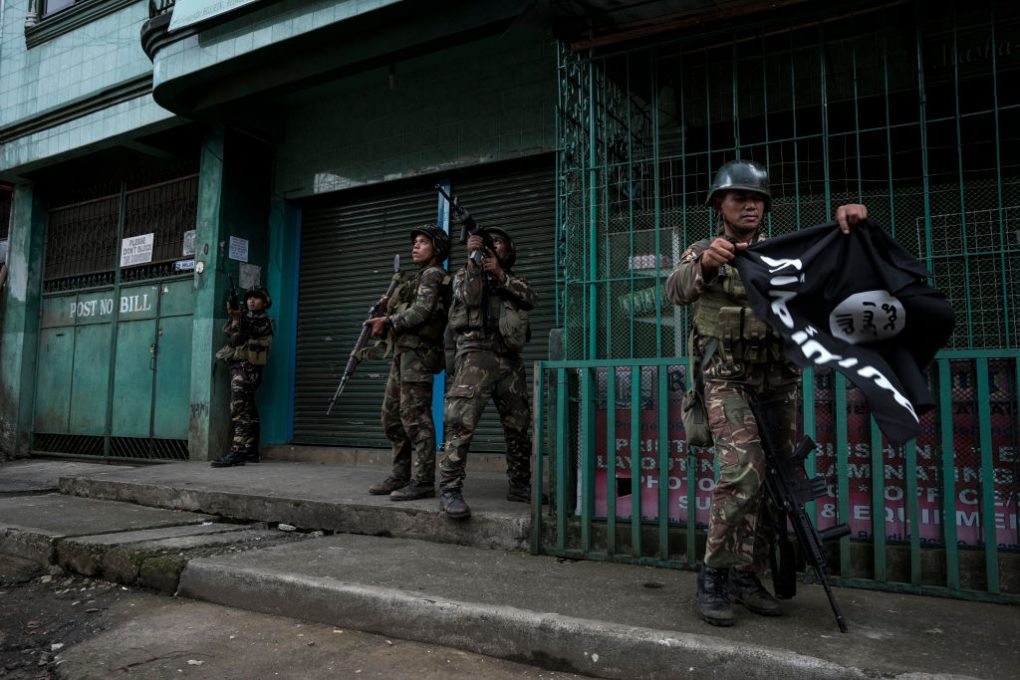 Now into its fourth month, fighting between Philippine forces and pro-ISIS militants in the Philippine island of Mindanao has nearly subsided, with only a handful of terrorists continuing to hold pockets in the city of Marawi. But despite this apparent victory, questions linger over the broader extremist threat facing the Philippines as well as southeast Asia in its entirety.
The battle for Marawi began on May 23 after Philippine forces raided the house of Isnilon Hapilon, the head of a terrorist organization known as the Abu Sayyaf, which pledged allegiance to ISIS leader Abu Bakr al-Baghdadi in July 2014. However, the Philippine army encountered fiercer than expected resistance as Hapilon's supporters, aligned with another pro-ISIS brigade called the Maute Group, managed to overrun the city and free prisoners from local jails.
Over the last few months, the Philippine military has slowly retaken areas of Marawi. Philippine officers have tracked down ISIS militants in door-to-door battles that has resembled the Iraqi army's arduous offensive in Mosul.
"Nearly 700 Filipino and foreign fighters that embraced ISIS ideology and practice have been killed by government and coalition forces in four months of intense combat," Rohan Gunaratna, Head of the International Centre for Political Violence and Terrorism Research at the S. Rajaratnam School of International Studies at Nanyang Technological University in Singapore, told The Cipher Brief.
"After 130 days of combat, less than 70 ISIS fighters now dominate a battle space of less than ten hectares," says Gunaratna.
Efforts to recapture Marawi have been hampered by the militants' seizing hostages, some of whom have turned and joined the group and whom, according to the Philippine army, are now being treated as enemy combatants. Latest reports estimate that 43 hostages are still being held in the small-ISIS controlled area of Marawi.
"What delayed us before is just the same. As much as possible, we do not want any of the hostages taken by the terrorists harmed or killed," said Philippine President Rodrigo Duterte at a news conference in Marawi during a visit to the city in late September. Duterte also acknowledged that the operation was nearing its conclusion and that there will be no celebration once Marawi is fully liberated since "no one really won here."
Abu Sayyaf commander Hapilon remains at-large with some claiming that the ISIS leader was still hiding in Marawi.  However, Philippine government sources have said that he has sought refuge in the island of Basilan, which is part of the Autonomous Region in Muslim Mindanao and is located about 190 miles southwest of Marawi.
While the Philippine army was ultimately able to suppress the rebellion, it remains unclear why it was ill-prepared to face such stiff opposition. The threat posed by the Abu Sayyaf group is nothing new, as the group has been active in the Philippines since the 1990s, was designated by the U.S. as a terrorist organization in 1997, and was responsible for carrying out the country's largest terrorist attack in February 2004 when it bombed the passenger ferry, SuperFerry 14, shortly after it departed the Philippine capital of Manila, killing 116 people. The military has repeatedly cracked down on the group as part of its counterinsurgency strategy that has been implemented over the last few decades, indicating that the Philippine army would be well-equipped to tackle such a challenge.
Part of the problem can be attributed to the country's island geography, which has complicated Manila's centralized authority, particularly over the southern province of Mindanao where Marawi is located. Within Mindanao, mounting tensions between the Catholic majority and Muslim minority, which comprises around 20 percent of the population, have generated religious strife and have cultivated the rise of several insurgent groups who ascribe to Maoist or militant Islamist ideologies and have grown increasingly bold in recent years.
According to Michael Kugelman, senior associate for South and Southeast Asia at the Woodrow Wilson Center, when comparing this most recent insurgency to past uprisings, the Philippine army faced an "unprecedented threat" in Marawi because "both the composition and location of the enemy was very different this time around."
"This was not a rag-tag group of local rebels rising up against the state; these are well-armed and well-trained militants aligned with ISIS and well-versed in its tactics" says Kugelman. "Also, these fighters were not launching an uprising in the jungles of Mindanao or other rural areas well-known to Philippine counterinsurgency forces; they were taking over a major urban space," he explains.
Perhaps most concerning about the events that have transpired in Marawi over the last few months is that they may embolden pro-ISIS sympathizers.
"The very presence of ISIS in Mindanao threatens not only the Philippines but its neighbors," says Gunaratna. "ISIS created its East Asia division with the intention of expanding from the Philippines to parts of Northeast and Southeast Asia."
And with conditions that attract extremist groups more prevalent in Southeast Asia, prospects for the emergence of even more dangerous movements in the region are rising rapidly. Myanmar's Rohingya Muslim minority has faced persecution at the hands of the country's government, pro-western bloggers have been stabbed on numerous occasions in Bangladesh, and a poll taken in June demonstrated that 9 percent of Indonesians believe that their democratic system should be changed to an Islamic caliphate.
"The bottom line is that when it comes to future extremist threats, the trend lines are not good for the Philippines – or for some of its neighbors," Kugelman concludes.
Bennett Seftel is deputy director of analysis at The Cipher Brief. Follow him on Twitter @BennettSeftel.