Chinese Communist Party Conference: Certain Present, Uncertain Future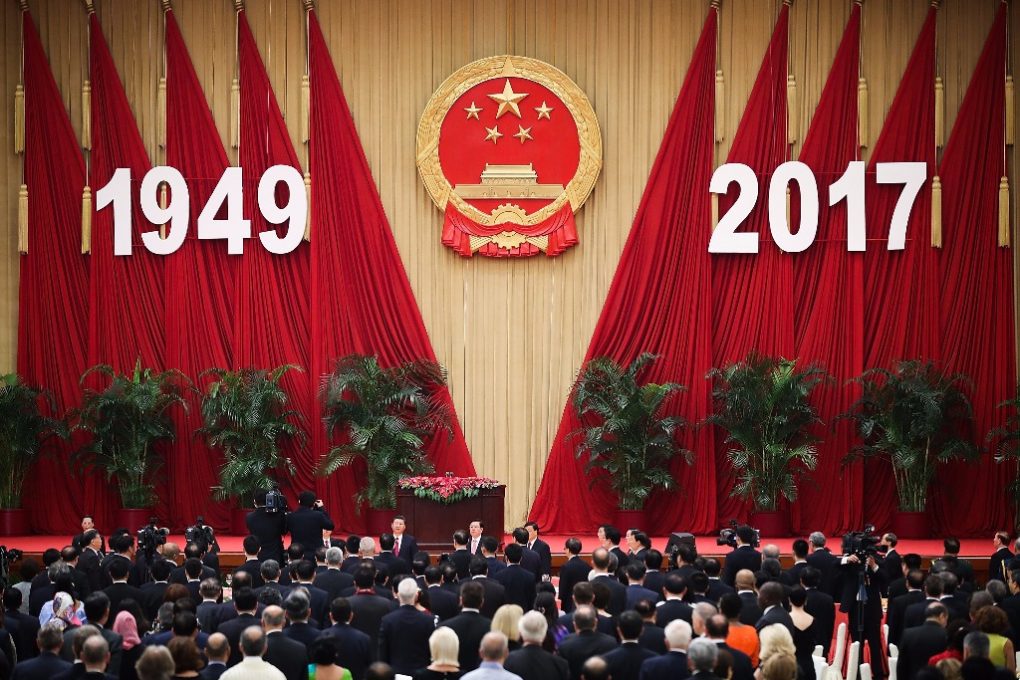 All eyes are on Beijing Wednesday as the 19th Party Congress of the Chinese Communist Party (CCP) begins. Carefully choreographed by the most central players in Zhongnanhai, the Chinese Communist Party's headquarters just off Tiananmen Square, the Congress meets every five years to select key leadership throughout the party. This time, it is about one man and one man only. But is the grand show of the party conference a reflection of Xi's power or a sign of a shaky grip on a turbulent political system?
Current President Xi Jinping is expected to be named for a second, five-year term as General Secretary of the CCP, the most powerful position in China. He will also cement his position domestically through appointments of key allies to the Standing Committee of the Politburo, an elite group of five to nine individuals, including him, who together steer China.
Just as U.S. President Donald Trump and Russian President Vladimir Putin define – at least to the outside world – their respective country's direction, priorities and global role, so too will Xi Jinping shape China not only across the next five years, but well into the future.
He is already mentioned alongside Chinese leaders of the highest order – Mao Zedong and Deng Xiaoping, whose influence is still felt in China today. Experts believe the course set by this week's Party Congress will determine whether Xi ultimately stands in the shadow of, or directly alongside, Mao and Deng.
The Party at Home
The last five years under Xi's leadership saw China's international influence flourish. But during that same period, watchers of China's economy were disappointed by Xi's minimal attempts to implement necessary reforms and a clumsy and overbearing state intervention in the Chinese stock market in 2015.
"China's [economic] model is a victim of its own success," said John McLaughlin, former Acting Director of the CIA and Cipher Brief expert. "On the economy, Xi and the party are still struggling."
As incomes rise, the Chinese export-led growth model has faltered, unable to produce goods as cheaply for the global market.
But through his philosophy named the "Four Comprehensives", the leadership of Xi has fundamentally reshaped China. His anti-corruption effort has seen roughly 300,000 officials thrown out of office, and ensnarled as many as 1.3 million others, according to some estimates. He has also upended the military as part of this campaign, including removing some of the People's Liberation Army's most powerful generals. Indeed, as Gordon Chang, Cipher Brief expert and the author of The Coming Collapse of China, writes, "the turnover is also evident from the fact that 90% of the military delegates at the 19th Congress will be first-timers."
This has roiled China, but allowed Xi to consolidate his power – a dynamic the Party Congress will likely formalize. Some even suspect he may decline to name a successor – a first step toward plans to stay beyond his two terms.
The "black box" of Chinese politics prevents anything from being assured, but McLaughlin notes that a key sign to watch for will be whether Xi is – as Mao and Deng were before him – "enshrined in the constitution by name for his 'thought' or 'theory.'" This, to McLaughlin, will be a signal that Xi may be "laying the groundwork" to extend his power even further.
China's International Dream
From his major speech at Davos in 2016, articulating the advantages of global trade at a time when the United States seems ever more isolationist, to the opening of China's first overseas military base in Djibouti, to China's continuing pursuit of its "One Belt, One Road" initiative, it is clear Xi is painting on a global canvas.
Xi's vision for China aggressively pursues not just a modernization of all aspects of Chinese culture, but something more far reaching altogether. In his notion of a "Chinese dream," he invites China's population to aspire to be a leader, rather than mere participant, in the international system.
And, as U.S. President Donald Trump prepares to visit China later in the fall, many are wondering to what extent Xi will present China at the Congress as ready to challenge the United States for its global leadership.
In McLaughlin's view, China already rivals the United States, and seeks "to limit U.S. influence and access in Asia in particular." McLaughlin notes that Xi will want to unify China behind his leadership ahead of the meeting, to "ensure that he can portray to Trump his image of strength, control, and confidence."
But China's foreign policy, according to Chang, "will, for the most part, be domestically driven" and reflective of moves to assuage Xi's political base.
A Turbulent Powerhouse
By centralizing power and tying so many critical variables in China to himself, Xi may be injecting more instability into the Chinese system rather than less. The "first among equals" dynamic in Chinese leadership was instituted by Deng for a reason – to limit the potential destruction that the power of personality affords a leader, as demonstrated by Mao. In a speech in 1980, shortly after Mao's death, Deng stated, "over-concentration of power is liable to give rise to arbitrary rule by individuals at the expense of the collective leadership."
After Xi's consolidation of power, Chang believes that the international system will in fact be more volatile should China try – and fail – to assert itself on the global stage.
Xi, according to Chang, is beholden to hardliners in the military and has stoked flames of nationalism and international grievance.
"Xi's political base in the Communist Party is composed of its most hostile elements, especially a young officer corps un-tempered by the horrors of war and apparently itching to fight," he writes. "As these officers, due to their unexpected promotion, are beholden to Xi, Xi has become beholden to them."
Xi's anti-corruption campaigns have also created internal enemies who are more than ready to pounce should the opportunity present itself.
Meanwhile, China – despite all its achievements – is still a nation still plagued by economic, social, and demographic issues. How Xi answers to the people of China should any one of those elements reach a tipping point could be the true defining feature of his rule.
So perhaps, the true fear for the international community should not be of Xi's supremacy, but rather fear of Xi's failure.
Callie Wang is vice president of analysis at The Cipher Brief.