Boko Haram Stalks Region Despite Territory Loss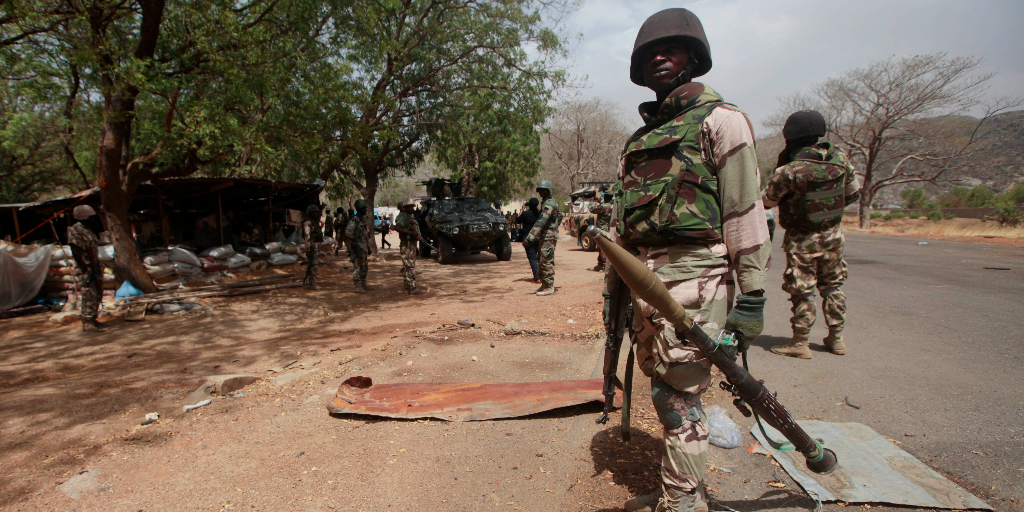 Suicide attacks and deaths attributed to the Nigerian terrorist group Boko Haram have been increasing over the first half of 2017. Nigerian President Muhammadu Buhari, who recently returned to the country after spending most of the year in London receiving medical treatment, vowed to escalate the campaign to defeat Boko Haram.
"We are going to reinforce and reinvigorate the fight… against elements of Boko Haram which are attempting a new series of attacks on soft targets," said Buhari.
The group has shifted its strategy to rely heavily on suicide bombers hitting marketplaces and other soft targets in Nigeria and surrounding countries. On August 15, suicide bombers linked to Boko Haram attacked a camp for internally displaced people and a nearby market in northeast Nigeria, killing at least 20 people and wounding dozens more.
Over the past six months, there have been at least 100 Boko Haram attacks in the city of Maiduguri, the capital of Borno State in Nigeria's northeast and where Boko Haram was founded in 2009, according to Nigerian intelligence officer Lieutenant Aliko Ibrahim El-Rasheed.
Last week, residents in Cameroon said suspected Boko Haram militants killed at least 16 people and burned homes in two villages in the country's north, near the border with Nigeria.
"Boko Haram is… fairly active in northern Cameroon, as well as Diffa in Niger," said Hilary Matfess, a Nigeria expert and Boko Haram researcher, who recently spent time on the ground in Nigeria. But, "Borno definitely bears the brunt of it still," Matfess said.
Boko Haram "no longer sees interest in occupying territory," like in 2012, at the height of Boko Haram attacks and territorial control, said former U.S. Ambassador to Nigeria John Campbell. Now, Boko Haram "instead carries out essentially hit-and-run attacks on relatively soft targets," Campbell told The Cipher Brief.
This shift in strategy is partly practical – surges by the Nigerian government against the terrorist insurgency in 2009, 2013, and when Buhari came to power in 2015 have helped to push Boko Haram out of some of its territorial strongholds in northeast Nigeria.
Moreover, at its core, "Boko Haram has indicated no particular interest in state building," according to Campbell. "It's stated intent is essentially the achievement of justice for the poor through the rigid implementation of sharia… It doesn't want to recreate the Nigerian state. It wants to destroy the Nigerian state." Suicide bombing of soft targets is one relatively inexpensive way to achieve this goal.
What is the Nigerian government doing to respond? In Maiduguri, the hotbed of this year's attacks, efforts are underway to secure the city – with a relocation of military chiefs to the city and heightened security at the University of Maiduguri, where there have been staff abductions and multiple suicide bombings.
The U.S. State Department recently approved the sale of 12, A-29 Super Tucano light-attack aircraft to Nigeria, which suggests a more military-focused approach to defeating the insurgency.
The Obama Administration had scrapped the sale due to human rights concerns, but the Trump Administration reinstated the nearly $600 million sale.
Matfess told The Cipher Brief this is the wrong approach. "It's not insufficient air power that has made Boko Haram such a persistent issue," she said, adding that "the Nigerian government has committed gross human rights abuses and has gone so far as to bomb an IDP [internally displaced person] camp in Rann a few months back." According to U.S. legal code, the U.S. can't sell military equipment to foreign militaries that commit human rights abuses.
However, a U.S government official told DefenseNews that "these aircraft offer improved targeting capabilities, allowing Nigeria to more effectively lead the fight against Boko Haram and the ISIS West Africa branch, while also potentially reducing risks of collateral damage and civilian casualties."
The sale still needs congressional approval.
Nigeria is the largest African country and has been an important U.S. ally. Trump's fight against what he calls "radical Islamic terrorism" falls in line with the sale of Super Tucano planes to Nigeria.
Boko Haram, which traditionally has been a regionally focused Islamic terror group, has ties to the more international Islamic State (ISIS). Boko Haram's leader, Abubakar Shekau, pledged allegiance to ISIS in 2015.
There have been multiple reports that the Nigerian military killed Shekau. However, in July, Nigerian army chief of staff Lieutenant General Tukur Buratai issued a 40-day deadline to capture Shekau, dead or alive. It is disputed whether Shekau is still a leader of Boko Haram.
Last year, ISIS announced that Boko Haram has a new leader, Abu Musab al-Barnawi, a former spokesman for Boko Haram. Some analysts said ISIS rejected Shekau due to Boko Haram's deadly attacks on Muslims. Meanwhile, there are doubts that Boko Haram as a whole is truly aligned with ISIS. "It was Shekau who pledged allegiance to ISIS. It has never been clear what authority Shekau has over Boko Haram, or in the particular case of the oath of allegiance, whether that meant anything beyond a personal oath of allegiance," noted Campbell.
Regardless, the Boko Haram insurgency has managed to launch a series of deadly attacks across northern Nigeria and surrounding countries this year, after a relative decline in Boko Haram-related deaths in 2016.
Some are hopeful that with President Buhari's return from medical leave in London, the crackdown on Boko Haram will intensify. Governor Kashim Shettima of Borno State, where the insurgency is concentrated, said Buhari's return will be a big boost to ending terrorism in northeast Nigeria.
"He [Buhari] made the insurgency problems bedeviling the northeast as his administration's topmost priority and made the region the bride of his administration in terms of appointment of national representatives. … We the people of the northeast should be congratulated for President Buhari's return," Shettima said in a statement.
Kaitlin Lavinder is a reporter at The Cipher Brief. Follow her on Twitter @KaitLavinder.