Sending Russia A Maritime Message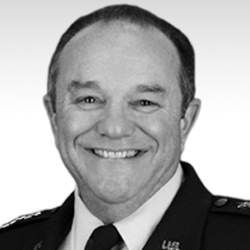 Gen. Philip M. BreedloveFormer Supreme Allied Commander, NATO
The U.S. Navy sailed the USS McCampbell close to contested waters in the Sea of Japan on Wednesday, according to CNN.   A U.S. Pacific Fleet Spokesperson, told the television network that Moscow lays claim to areas that 'far exceed' the 12 miles outside their internationally-guaranteed coastline, saying "The USS McCampbell sailed in the vicinity of Peter the Great Bay to challenge Russia's excessive maritime claims and uphold the rights, freedoms, and lawful uses of the sea enjoyed by the United States and other Nations." The USS McCampbell is a guided missile destroyer
Meanwhile, Russian Television broadcaster RT called the move a 'stunt' and reported "The last time a FONUP was conducted in this area was 1987, at the peak of Cold War tensions with the Soviet Union.'
This comes amid additional reporting from CNN that the U.S. is taking diplomatic moves to clear the way to send a U.S. ship into The Black Sea, after Russia recently fired on, and seized three Ukrainian ships and is still holding Ukrainian sailors, claiming the ships were sailing in Russian waters.
This is Cipher Brief Level I Member Only content. It can be accessed via login or by signing up to become a Cipher Brief Member.  Joining this high-level, security-focused community is only $10/month (for an annual $120/yr membership).
Cipher Brief Members engage in high-level conversations about national and global security issues every day. If you're not already a member, you should be.
If you are experiencing any issues with signing up or signing in, please drop an email to [email protected].
We look forward to welcoming you to the community!