Network Take: "Without a Doubt" Charlottesville an Act of Terror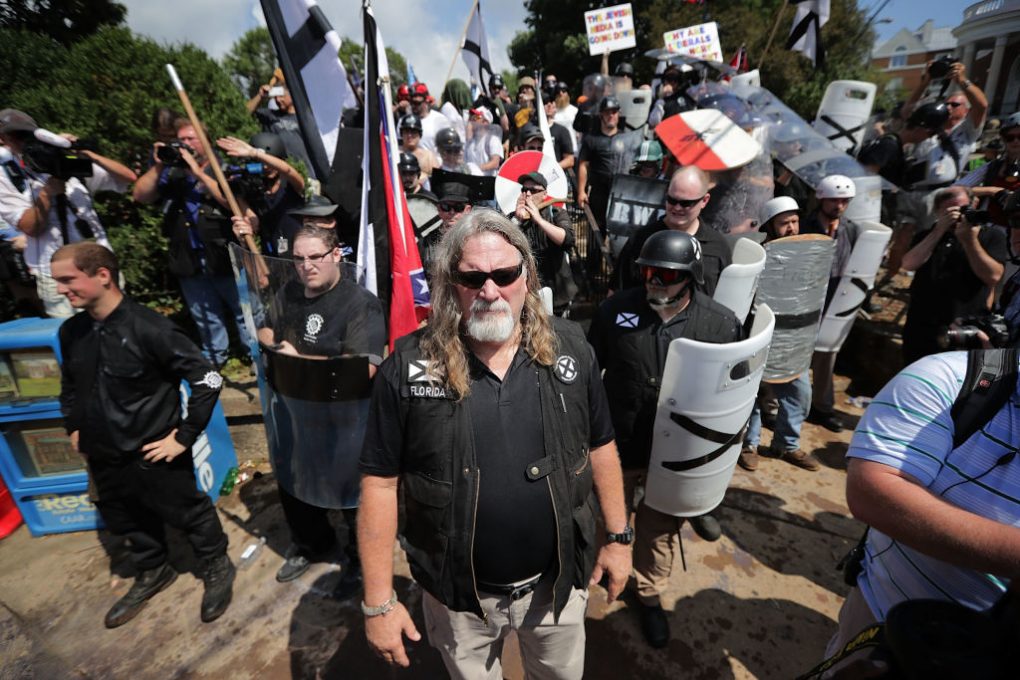 Three days after the deadly violence in Charlottesville, Virginia, President Donald Trump said "racism is evil" and called out the KKK, neo-Nazis, white supremacists, "and other hate groups" as "criminals and thugs."
A 20-year old Ohio man believed to be a Nazi sympathizer has been charged with second degree murder, malicious wounding, and hit-and-run for slamming his car into a crowd, killing one woman and injuring 20 others, during an outbreak of violence between white nationalists and counter-protestors on Saturday.
Over the weekend, Trump condemned "hatred, bigotry and violence on many sides," but did not directly name white supremacists.
On Monday, Trump — reading scripted remarks that began with a discussion of his economic agenda — did not label the killing of Heather Heyer as domestic terrorism, but said the Department of Justice had opened a civil rights investigation into the car attack. Earlier in the day, Attorney General Jeff Sessions said Heyer's death met the definition of domestic terrorism.
The Cipher Brief's Mackenzie Weinger spoke with Michael Leiter, the former Director of the National Counterterrorism Center and Mitch Silber, the former Director of Analysis at the New York Police Department, to discuss the threat of white nationalism and terror in the United States.
The Cipher Brief: Would you describe this as domestic terrorism?  
Michael Leiter, Former Director of the National Counterterrorism Center: Without a doubt.  Although there are numerous definitions of terrorism in the U.S. Code, the basic idea is politically motivated violence (or threats of violence) against non-combatants.  Given the setting (a political rally) as well as early reports of the alleged attacker's ideological tendencies, I don't think there is any argument that this isn't domestic terrorism.
Mitch Silber, Former Director of Analysis, NYPD: Yes.
TCB: How does what happened in Charlottesville fit into the context of the United States' domestic terrorism problem? What is important to note here about the process of domestic radicalization that might help bring some insight to readers?  
Leiter: This attack is largely consistent with the largest trends in U.S. domestic terrorism, which has been driven by extreme right wing groups often associated with the White Supremacy movement or offshoots such as Neo-Nazis.  Although there have been other ideological domestic terrorism threads such as anti-abortion violence and left-wing environmental terrorism, over the past decade-plus, what we saw in Charlottesville has been the dominant, purely domestic terrorism movement.  And it is worth noting that, with the exception of 9/11 (a very significant exception), such terrorists have caused more deaths in the United States than have Sunni-inspired Islamic terrorism.
With respect to radicalization and its process, the basic dynamic is quite similar to what we see in Islamic-inspired terrorism: an individual goes through some type of crisis, finds a message that both explains—in their minds—why they are being disadvantaged or victimized and identifies those that are causing the problems, and in the most extreme cases, also provides a justification for violence to help right the perceived wrong.  Of course, the specific drivers of radicalization can vary significantly for any one individual and it is impossible to know at this point what specific personal or environmental factors might have contributed to this terrible act.
Silber: The attack in Virginia shows that spontaneous right wing terrorism is a threat, despite being a topic that the federal government has, and continues to have, difficulty discussing.
TCB: President Donald Trump said Saturday he condemned "in the strongest possible terms this egregious display of hatred, bigotry and violence on many sides. On many sides." What's your reaction to this statement?  
Leiter: Like many others, I found the President's statement deeply disturbing and striking—especially given his predilection toward assuming the worst in other cases, namely those involving Sunni-inspired terrorism. Whether some counter-protesters were aggressive or not, there was a clear driver of this event and I would hope that we all—and certainly our President—would be quick to strongly and quickly condemn the message and actions of the neo-Nazis and white supremacists. And again, the contrast with the President's almost impulsive rapid tweeting in other circumstances is stark. It also, in my view, further highlights the President's continued failure to address anti-Muslim terrorism in places like Minnesota and London. In short, I think the President failed badly in this instance and his history in similar situations only worsens the mistake.
Silber: Consistency when discussing terrorism is important for credibility and for promoting what will look like an evenhanded approach, regardless of the origins of the ideology behind the attack.  When it is clear what ideology underpinned the attack, the administration should condemn it in the same uncertain terms it uses when discussing Islamist terrorism.
TCB: What do you make of the use of a vehicle to ram a crowd, particularly given this has become a repeated tactic of recent terrorist attacks?  
Leiter: I tend to think this was an attack of opportunity and not particularly well-planned – if planned at all. But as we have seen in many other instances, when there are crowds, a vehicle makes for a weapon of significant, if not mass, destruction.  Although questions have been raised about the police response to some of the protests, protecting against this low-tech, likely spontaneous attack is largely impossible for any police force.
Silber: It is a low-tech attack– and yes, certainly a mode of attack that acolytes of ISIS have used in France, the UK and Germany.  Given the low threshold in terms of capability to carry out an attack like this, I am not surprised by its use here.
Mackenzie Weinger is a national security reporter at The Cipher Brief. Follow her on Twitter @mweinger.