We Need An Insurrection Investigation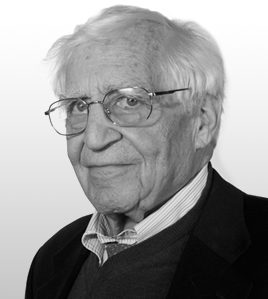 Walter PincusSenior National Security Columnist, The Cipher Brief
Walter Pincus is a contributing senior national security columnist for The Cipher Brief. He spent forty years at The Washington Post, writing on topics from nuclear weapons to politics.  In 2002, he and a team of Post reporters won the Pulitzer Prize for national reporting.
OPINION — Was the January 6, attack on the U.S. Capitol the result of a White House initiated plot to undo the 2020 election and perhaps more?  What should be done about President Trump?
Serious answers to those two questions can only come after a thorough investigation and the gathering of evidence.
As Historian Michael Beschloss speculated on Monday, "January 6, 2021, may well have been an attempt at assassination or hostage-taking of some of our leaders, overturn of Presidential election and overthrow of United States government. Essential to fully investigate, punish everyone involved, make sure it never happens again."
I would add that any investigation should look at Trump's pre-election activities, particularly any dealings with U. S. Post Office policies, considering his focus on potential fraud associated with mail ballots.
Another key element has to be an understanding of what took place between Trump and Vice President Mike Pence as they discussed what the latter's role would be on January 6, when, as President of the Senate, Pence was to preside over Congress' Constitution-ordered, receipt of the certified votes of the opening and counting of each state's Presidential Elector ballots.
On Monday, January 4, Pence met Trump in the Oval Office with senior aides in attendance, according to press reports. Trump was said to have had Attorney Thomas Eastman there as well, who had represented him in the Texas election dispute case that was rejected by the Supreme Court.
Eastman, a professor of Constitutional law, argued that Pence had wide authority in his role presiding over the certification of the votes. Trump's personal lawyer, former New York Mayor Rudy Giuliani, talked about the meeting in a podcast interview, saying that on Monday, they were "going through all of the research" and that a decision would be made about what Pence would do when the two had their regular lunch on Tuesday.
On Tuesday, January 5, according to the Associated Press, after lunch with Pence, Trump said, "He (Pence) can decertify the results or send them back to the states for change and certification…He can also decertify the illegal and corrupt results and send them to the House of Representatives for the one vote for one state tabulation."
On Wednesday, January 6, during Trump's 70-minute, rambling remarks made just before his followers marched up to Capitol Hill, the President said, "I hope Mike is going to do the right thing. I hope so. I hope so, because if Mike Pence does the right thing, we win the election. And I actually — I just spoke to Mike. I said: 'Mike, that doesn't take courage. What takes courage is to do nothing. That takes courage."
But what actually went on during those January 4 and January 5 meetings? Only a complete and thorough investigation can answer that question. It's clear that Pence did not do what Trump wanted him to do, and according to press reports, the two have not talked since.
Tomorrow is not the time to rush something as important as impeaching, or even censuring President Trump, although there are some polls that show a majority of public support for one or other of such moves. More than a majority of House members, including some Republicans, have said they will vote for the impeachment resolution.
Remember, however, on January 6, after invaders of the Capitol had done their damage and been cleared from the grounds, more than 120 Republican House members still voted in favor of two resolutions that supported looking into President Trump's unsupported, post-election claims that he had won the election.
One reason Democrats uniformly opposed those pro-Trump resolutions was because in state after state, Trump and his supporters had been unable to back up their claims of election fraud or other unlawful acts. That was because they did not produce provable or relevant evidence.
Provable and relevant evidence is also needed for any action against President Trump that is to succeed if an impeachment resolution reaches the Senate.
Real success, however, requires also convincing a large portion of the 74 million Americans who voted for Trump in 2020, that wrongdoing occurred, not just convincing those who voted against him.
Evidence and the facts they reveal of what has gone on may help somewhat to heal the divide that Trump's actions have caused in the body politic of the United States.
In the draft impeachment resolution circulated by Democrats on Monday under the name of Rep.David Cicilline (D-R.I.) and others, the first article of impeachment charges Trump with "Incitement of Insurrection."
Legally, incitement is defined as actions of someone who "urges another person or persons (the "incitee(s)") to commit a criminal offense." In this case, Cicilline's draft refers to Trump's January 6, noontime speech to thousands of his followers as part of the incitement acts during which he "reiterated false claims that 'we won this election, and we won it by a landslide.'" It also said Trump "willfully made statements that encouraged—and foreseeably resulted in—imminent lawless action at the Capitol," such as, "If you don't fight like hell you won't have a country anymore."
The impeachment resolution also includes reference to Trump's January 2, phone call to Georgia Secretary of State Brad Raffensperger when the President asked "Raffensperger, to 'find' enough votes to overturn the Georgia Presidential election results and threatened Secretary Raffensperger if he failed to do so."
"American political life is full of harsh and highly charged statements, including threats of all kind. Here, the actual words Trump used were ambiguous and could be read as political exhortations," as Washington Attorney David Kendall, who defended President Clinton in his impeachment case, wrote Monday in The Washington Post.
Sadly, I believe that four years of Trump's lies have affected millions of Americans so deeply, that in order to restore their faith in government they have to be convinced that Trump's words and the horrific action on Capitol Hill were more than just politics. More evidence is needed to convince the majority of Republican House and Senate members who served as Trump enablers these past four years, that the time has come to realize their mistake.
Trump, if he lost, had always planned to challenge what he denounced as a "rigged" election from the beginning. Any serious investigation should start, as I suggested above, with the Post Office before the election, and Trump's actions after the election to include his part in convincing groups to file lawsuits in key swing states (Nevada, Arizona, Michigan, Pennsylvania and Georgia); his calls to swing state Republican governors and state legislators in swing states to challenge and/or replace Biden electors; and his calls to individuals around the country such as Georgia's Secretary Raffensperger and Georgia's election investigator, in his attempt to upset Biden's win.
Finally, investigators must gather all details about Trump and White House plans for January 6's "March for Trump." What groups were contacted to arrange the events? Who was financed them and what did the schedule include? An unidentified Trump supporter in a Gateway Pundit story claimed that Trump was to speak at 1 p.m. from Capitol grounds after Pence invalidated electors. He said the Trump crowd grew angry after being "lied to by someone as cowardly as Mike Pence." Was that the plan?
Infowars' Alex Jones claimed on his January 7 show that "three days before" the March for Trump, the White House told him "We're going to have you lead the march" up to the Capitol. Earlier in his broadcast, Jones had said he and a donor had paid "close to a half-a-million-dollars" for the stage and equipment for the Trump Ellipse event. Is that true? Only a thorough investigation can find out.
Before January 20, House and Senate Democrats should get together and plan establishing a special, Joint House-Senate Committee to investigate the events of January 6, and what led up to them. The Democrats should avoid separate committee investigations into intelligence and security failures, which need to be looked at, but wrap those issues into one broad inquiry that also takes in pre-January 6, activities by Trump, Vice President Pence, their White House and other administration staffers.
After January 20, when the two new Georgia senators have been sworn in and the Democrats take over the Senate, the joint committee's staff could start its work while members focus on getting President Biden's nominees approved and his early legislation passed.
Have thoughts to share?  Send them to [email protected]
Read more expert-driven national security insights, perspective and analysis in The Cipher Brief