Sue Gordon on Speaking Truth to Power, Including the President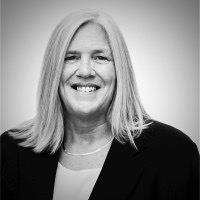 Susan GordonFormer Principal Deputy Director of National Intelligence (PDDNI)
Editor's Note: This article was originally posted in April, 2018 and has been slightly edited for clarity
Principal Deputy Director Susan Gordon spoke for a second year at The Cipher Brief's annual Threat Conference. The 25-year CIA veteran challenged the crowd to "ask anything." They did – asking tough questions about being a senior U.S. official in the Trump era. And she answered.
Threats from the orbit: "The 2010s is where things really started heating up in terms of the players…did you know that in 2017, in terms of the players, China launched more vehicles—more satellites—than the U.S. and Russia? And they now have 250 satellites in orbit compared to 10 in 2000.
"We see that people have intention to fight us in space, but what is the policy that is going to govern that? How close can we get to each other? How pre-emptive can you be with each other?
"What's the intersection between the intelligence community and the Defense Department about how we govern space? Who builds systems? What's the ground look like? Do you want to fight war in space – or do you want to do the same cross-domain thing we're talking about in cyber where even if I have adversaries that attack me in space, what I really want to do is use cyber to attack on the ground?"
The power of artificial intelligence: "We'll need humans. Judgement is really important, but humans cannot get through all the information that is available to us…patterns will allow us to infer intent. Intent is the holy grail…if you want to know what I will do this weekend, you can look at the data of what I have done."
On transparency: "Because of the technology that is available to us, it is really hard to keep secrets. Now what is exciting about this is that it presents a great opportunity for an open society, because it is found mainly in the direction of what we believe. So all of that stuff that is now visible to us is beneficial to an open society and detrimental to the authoritarian society. But the challenge that is placed on us is that it finds the seams in our system, as we have seen. The advantage that it provides to authoritarian societies is that they without the same norms can use that same technology – that is potentially for good – for evil."
On leadership: "This is the moment, where we have used up our opportunity to draft off of the advances of our predecessors. This is the moment of creation. We are going to have to find new ways and develop new policies, new technology, new advances, new ways of thinking, new ways to work between the government and private sector. This is the dawn of creation. And all of us – government and private sector – are finding that this is hard.
"We have had a demographic shift of people leaving our organizations that were wise. We have mission growth where we have had people sucked up into leadership positions without all the experiences. Their presence has been good, but now, when we need to find differential value, they are struggling to know how to take an idea and turn it into an action. We are going to have to get back to that."
Gina Haspel as CIA Director: "Gina is one of my dearest friends and favorite colleagues. For those of you who don't know her, she is so solid, true and not breathless. She will be an amazing leader of the CIA, particularly following [Secretary of State nominee] Mike Pompeo, whose aggressiveness and assertiveness actually established a really good beachhead for intelligence. [Director of National Intelligence] Dan Coats plays a different role. He is the voice of reason. Pompeo and Coats had a really good relationship. I think Pompeo and Haspel get along exceptionally well. She will secure the seriousness and purpose and go back to the CIA and lead it. I would be so disappointed in America if she doesn't make it through the confirmation. This woman is the right person at the right time."
North Korea's Nuclear Arsenal: "The intelligence we have on North Korea is the intelligence that we have. It has limitations for two reasons. One, because the North Koreans have gone to school on capabilities against them and they have challenged our capabilities to see their actions. Two, they have built a system that is underground and mobile, which challenges our ability to be certain about what they have."
Intelligence Community and the President (When asked by a member of the audience what she tells her staff about working for a president "who lies"):  Gordon said she didn't agree with the premise of the question and when on to say "First, everyday it's about who we are, are we true, and are we prosecuting our responsibility the way we know it must be. Second, there are two lines. The first is if our work being represented truthfully. If our work is being represented truthfully then that's one path."
"If our work is not being represented truthfully, then we have an obligation, as we always have, to make sure they cannot, without our voice being part of it, be used differently….I would tell the intelligence community to do our job and for us as leaders to ensure that it cannot be misrepresented."
Follow The Cipher Brief for the latest on the changes at the top of ODNI.
Engage directly with the experts at The Cipher Brief Threat Conference March 22-24, 2020.  The focus for this premiere three-day meeting is on national security issues, not politics, so come prepared to engage on how to understand and address threats from a government and private sector perspective.  Seats are limited.  Request your invitation to attend here.