Reset Ahead for Iran and U.S. in Iraq after ISIS Fall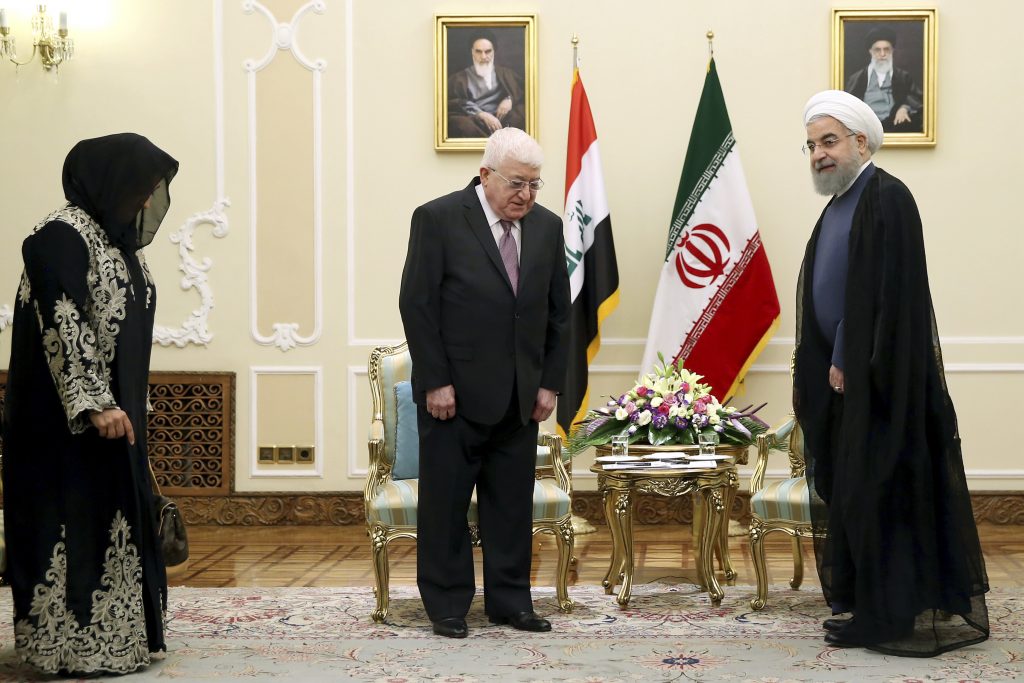 Until 2003, Iraq and Saddam Hussein posed perhaps the most direct military threat to Iran in the region. Haunted by the memory of bitter trench and chemical warfare during the eight year Iran-Iraq war in the '80s, both countries eyed each other warily for decades. The 2003 U.S. invasion, which toppled Saddam Hussein and allowed Iraq's Shiite majority to play a more dominant role in the Iraqi polity, changed all of that.
Since then, Iran has played an ever more powerful and intrusive role in Iraqi domestic policy, foreign policy, and even military strategy. In the battle against ISIS, Iranian Revolutionary Guard Corps (IRGC) commanders and trainers have played a pivotal role, standing up powerful Shiite militias called Popular Mobilization Units (PMUs), which are now salaried, and sanctioned irregular forces of the Iraqi state. Meanwhile, Iranian actors have penetrated nearly every level of Iraqi government.
One of the strongest forces holding Iran back from exerting even greater influence in Iraq is the United States and its military presence in the country – some 5,800 troops. But, now that ISIS' presence in Iraq has been beaten back to a few beleaguered pockets, how long will the United States stay, and what does the future hold if the Trump Administration decides to leave?
Looking at the numbers, it's not immediately clear that Iran's influence runs so deep in Iraq. Compared to the 5,800 U.S. personnel in the country, Iran's 95 officially reported military advisers seem relatively superfluous. However, the Islamic Republic wields a great deal of power through the wide range of PMU militias that it helps train and fund. Not all of these irregular units are directly linked to Iran, but according to Michael Knight, an expert on Iraq at the Washington Institute, "Abu Mahdi al-Muhandis, a U.S.-designated global terrorist who is wanted for terrorist attacks on U.S. and Kuwaiti personnel, is now the operational commander of the Prime Minister's Commission of the Popular Mobilization Forces (PMF)," with a state budget of nearly $2 billion.
Muhandis is also the founder of Kata'ib Hezbollah, a U.S.-designated terrorist organization with direct ties to General Qassem Soleimani, commander of the IRGC Quds Force. These types of links are rampant throughout the different PMU militias, while Soleimani himself is consistently spotted across the country in the company of high-level Iraqi officials. Although PMU groups agreed to stay back from the fight in Mosul – amidst concerns that they would commit atrocities against the local Sunni population – they have been highly active in the battle against ISIS in northwestern Iraq at Tal Afar and surrounding areas stretching to the Syrian border. Critically, this presence has now allowed Iran to establish a land-based supply route through Iraq to Syria and Hezbollah in Lebanon. That route is not yet stable, and it crosses through territory controlled by the Kurds in northern Syria, but this supply lane is a critical strategic asset for Tehran.
Iran's strategic and military accomplishments are also accompanied by deep political links with the Iraqi federal government, the ruling Dawa Party, and a number of regional governorates. Dawa in particular, says Knights, has benefited from "Iranian media support and political funding," which helped them to secure political control over the parliament, cabinet, and Shia governorates for years. In addition, economic relations now closely link the two countries with a total trade of roughly $12 billion in 2015, predicted to increase to $25 billion.
Fritz Lodge is a Middle East and international economics analyst at The Cipher Brief. Follow him on Twitter @FritzLodge.