North Korea's Dictator is 'Bent on Survival'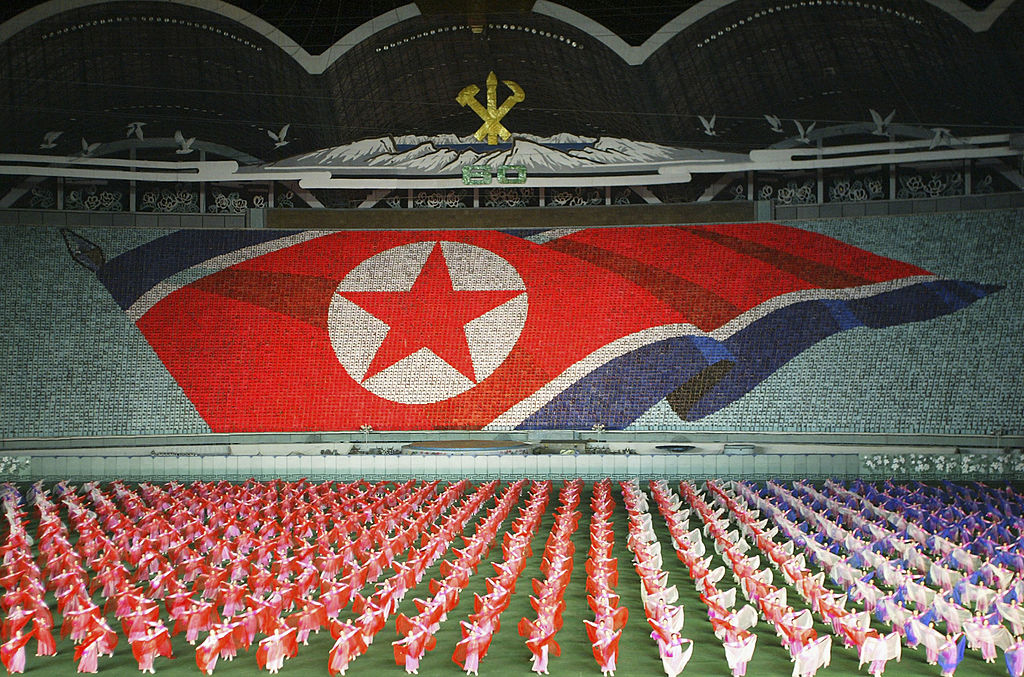 President Donald Trump has called North Korean leader Kim Jong-un suicidal, but the CIA's top Asia analysts said Wednesday that he's a "rational actor" bent on survival.
"Waking up one morning and deciding he wants to nuke" Los Angeles is not something Kim Jong-un is likely to do, said Yong Suk Lee, Deputy Assistant Director of CIA for the Korea Mission Center. "He wants to rule for a long time and die peacefully in his own bed," Lee said, in rare public remarks in Washington.
That doesn't make him any less dangerous. "With each increasing escalation, they're raising the threshold for the United States and others to accept or press back against that," said Michael Collins, Deputy Assistant Director of CIA for East Asia Mission Center. The officers were speaking at the CIA's annual Ethos and Profession of Intelligence Conference at George Washington University.
The gulf between Trump's public remarks and the CIA's assessment highlights the struggle U.S. officials face convincing their commander in chief to engage more diplomatically with a leader who has only stepped up nuclear bomb and ballistic missile testing in response to increased sanctions and Trump's rhetoric.
At a speech before the United Nations General Assembly, President Donald Trump said that Kim "is on a suicide mission for himself and for his regime." Trump added that if the U.S. is "forced to defend itself or its allies, we will have no choice but to totally destroy North Korea."
Without directly mentioning the president, the currently serving CIA officers warned miscommunication with Washington could trigger direct conflict, or at the very least, empower the regime.
North Korea is "a political organism that thrives on confrontation," Lee said.
Retired Ambassador Joseph DeTrani was more blunt. "The possibility of stumbling into conflict is very great," especially with the added provocation from Trump's rhetoric, he said, speaking on the same panel.
"When they hear what's coming from the president, I think it resonates with them," said DeTrani, the former special envoy for Six Party Talks with North Korea and the former director of the National Counterproliferation Center. "But they also know we have a process and I think right now they're probing."
Trump is still new on the scene and each actor in the region is still trying to grasp what this administration has in store, Collins said.
"Right now, we're in the early stages of a new administration and the region is watching for how everybody responds to provocations North Korea takes. That will significantly inform the extent to which North Korea or others have the resolve or not to continue their behavior," he said.
The White House has been leaning heavily on China to put pressure on Pyongyang, with little tangible results. Yet Beijing still has the most leverage, a consensus view held by current and former intelligence officials.
"I don't think there's a solution to the North Korea problem without China," former Assistant Attorney General for National Security John Carlin said Wednesday at a Cambridge Cyber Summit panel moderated by The Cipher Brief's Suzanne Kelly.
China has joined in the recent round of stepped-up sanctions passed by the U.N., but U.S. officials say it hasn't gotten tough enough, so Pyongyang is doing as it pleases.
"What's bound North Korea's behavior is fear of Chinese abandonment on one end, and fear of a U.S. strike on the other end," Lee said. "And right now…he's not afraid of China's abandonment and he's not afraid of a U.S. strike. So then it begins tolerance of will — how far will Kim Jong-un go?"
The Kim regime's long-term goal is to come to some kind of a big power agreement with the U.S. and remove U.S. forces from the peninsula, Lee said. As for the risk of North Korea firing nuclear-tipped ICBMs at the U.S., Lee reiterated that as a rational actor, it would not be conducive to Kim's regime interests or his longevity to do so.
But he uses the threat to "keep us out of his sandbox."
As for how the U.S. should approach North Korea, DeTrani said that despite decades of failed negotiations, talks are essential, since Pyongyang must stop launching missiles, having nuclear tests, and manufacturing fissile material. "I don't know how you get there if you don't talk to them," he said.
But if the U.S. pulls out of the Iran nuclear agreement — which Trump has repeatedly called a bad deal for the U.S. and threatened to pull out of or renegotiate — that could make it much more unlikely for North Korea to even contemplate coming to the table, he said.
"That would be a message to Pyongyang that the U.S. could be fickle, that the U.S. may sign into agreements and walk away from those agreements," DeTrani said, adding that North Korea may understand "enhancing the agreement, rather than cutting it."
In the meantime, Lee predicted more nuclear provocations, referring to North Korea's penchant for testing bombs or missiles on U.S. or North Korean major holidays. He told the crowd to "stand by your phones" next week for the annual commemoration of Party Foundation Day in North Korea on October 10, or Monday, Columbus Day in the U.S., for a possible provocation.
Another window of opportunity to grab Washington's attention will come in November, when Trump travels to South Korea, China, and Japan.
Mackenzie Weinger is a national security reporter at The Cipher Brief. Follow her on Twitter @mweinger.
Kaitlin Lavinder contributed to this report.