ISIS' Reach Extends to Southeast Asia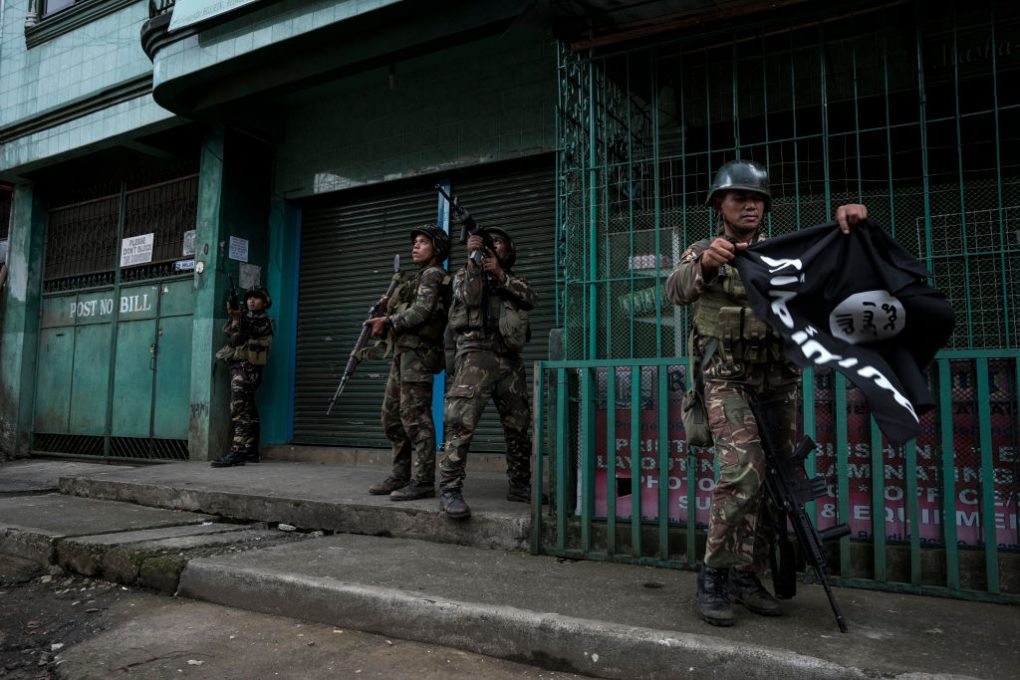 Just days before Indonesia's Independence Day celebration, Indonesian police foiled a chemical bomb attack on Tuesday that targeted the presidential palace in Jakarta. They arrested five suspects belonging to Jemaah Ansharut Daulah, an Indonesian Islamist terror organization with ties to ISIS that is responsible for several recent attacks against Indonesian police.
Meanwhile, in the Philippines, the fight between government forces and militants from the ISIS-linked Maute and Abu Sayyaf groups in the city of Marawi has claimed more than 700 lives and has entered its third month. Authorities believe that militants came from as far as Saudi Arabia and Chechnya to join the ISIS affiliate, though a majority of the foreign fighters hail from Indonesia and Malaysia.
The growing terrorist threat in Southeast Asia has sent ripples throughout the region. At an ASEAN summit on August 11th, Indonesian President Joko Widodo said, "The attack in Marawi is a wake-up call for all of us – it requires a swift, timely response. We must unite to build cooperation and strengthen our synergy to combat terrorism."
In both Indonesia and the Philippines, the ISIS network has provided the training, funding, and fighters to facilitate these attacks. Terrorism has always been a transnational problem, but in Southeast Asia, a transnational solution has been slow in the making.
Recent cooperative initiatives among Southeast Asia nations show promise, but successful communication and policies will take time. Beginning this summer, Indonesia, Malaysia, and the Philippines began joint naval patrols in the Sulu Sea—a waterway shared by all three countries—to combat kidnappings and piracy perpetrated by the Abu Sayaaf Group, an ISIS-affiliated group based in the Philippines.
While naval patrols have shown early promise, their joint efforts still have yet to develop key elements that could lead to long-term success. Zachary Abuza, a professor at the U.S. National War College, told The Cipher Brief that the patrols lack a "centralized fusion center where real time information is shared."
A larger, more comprehensive regional framework for cooperation on counterterrorism is in the works. In late July, representatives from six nations—Australia, Brunei, Indonesia, Malaysia, New Zealand, and the Philippines—agreed to form the Foreign Terrorist Fighters Strategic Forum, which will facilitate intelligence sharing among the nations to track the movements of individuals suspected of affiliating with terrorist organizations.
The forum would also coordinate on tracking social media chatter to reduce recruitment and communication among members of terrorist groups. For example, Indonesian police believe the militants behind the attempted chemical bomb attack used the encrypted messaging service Telegram to coordinate and to call on others to commit attacks ahead of Indonesia's Independence Day celebrations.
Further, the forum will work with the Global Internet Forum to Counter Terrorism—a partnership between Microsoft, Twitter, Youtube, and Facebook, where the companies create software engineering solutions and share best practices to improve efforts to detect and counter extremist content—to develop Southeast Asia-specific solutions.
While the Marawi attack has provided a wake-up call to Southeast Asian nations that terrorism is an increasing regional threat, there are many barriers to stronger cooperation that these nations will have to overcome.
Intelligence sharing efforts will likely be complicated by a number of factors, such as mistrust between nations, alternate intelligence priorities, and differing stances on human rights.
Malaysia and the Philippines have had a longstanding territorial dispute over the region of Sabah (North Borneo), which resulted in violence as recently as 2013 when Philippine nationals attempted to independently retake the area. The incident resulted in the deaths of 56 Filipinos and 16 Malaysians. This dispute has complicated the relationship in other areas.  And territorial disputes exist between other nations in the region as well.
An additional obstacle is human rights policy as countries have taken different approaches to confronting extremists and their ideology. For example, Indonesia has employed reeducation and lenient sentencing of extremists in tandem with strong security and intelligence services, while the Philippines under President Rodrigo Duterte has taken only a hardline approach to its extremist problems. Aligning these disparate ways and means with the shared goal of counterterrorism will take time and effort.
And the fact Southeast Asian nations encompass a variety of government types, from democratic to authoritarian, and they often have different intelligence and security priorities. Abuza says "Sadly, the primary focus of many is regime survival, not national security."
The attempted attack in Indonesia and the ongoing battle for Marawi have demonstrated the need for transnational cooperation among Southeastern nations. Whether these nations can overcome their differences and work towards a cooperative solution will be critical for combatting the terrorist threat in the region.
Will Edwards is an Asia-Pacific and defense analyst at The Cipher Brief. Follow him on Twitter @_wedwards.