Missile Defense: Blocking Threats or Blocking Diplomacy?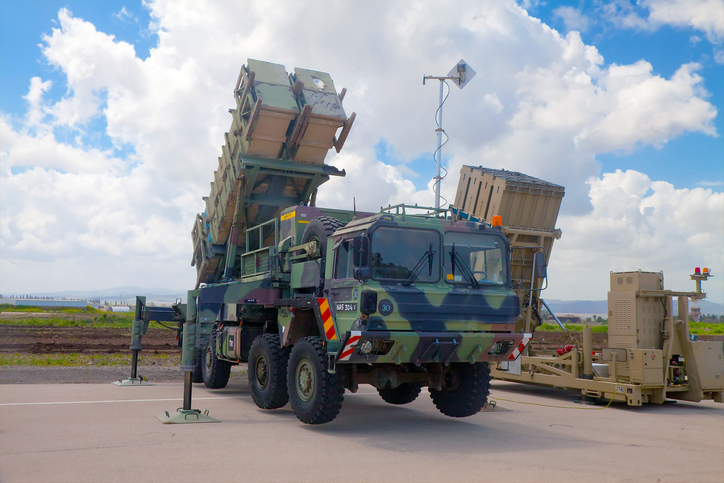 North Korea's latest test on Sunday of a nuclear capable Pukguksong-2 intermediate range ballistic missile displayed its inexorable advance in acquiring missile technology.  The test disrupted a dinner between President Donald Trump and Japanese Prime Minister Shinzo Abe and has earned North Korea further rebuke not only from the United States and Japan, but also South Korea and China.  And the UN may levy more sanctions on Pyongyang.
North Korea has become the first national security test of Trump's presidency. The overall threat posed by North Korea has prompted the U.S. to deploy missile defense systems, including the Terminal High Altitude Area Defense (THAAD) system in Asia. The fear of Iranian missiles has garnered similar deployments across Europe. While the deployment of these defensive systems by the U.S. is meant to defend specifically against nuclear tipped missiles, they can also be disruptive to regional stability and obstruct diplomacy.
History
Military strategists and scientists have pursued missile defense for as long as there have been ballistic missiles. In the early days of the Cold War, the threat of a nuclear attack made achieving such a capability an existential priority. However, policymakers soon realized the disruptive implications of having both a nuclear deterrent and missile defense. Possessing both "sword and shield" could compel one's adversary to develop a "bigger sword." This was then-U.S. Secretary of Defense Robert McNamara's rationale when he suggested to his Soviet counterpart they should agree to limit the deployment of anti-ballistic missile systems. The two countries eventually signed the Anti-Ballistic Missile (ABM) Treaty in 1972, which, in its final form, limited each country to one battery around each nation's capital (though the U.S. never deployed one).
Ten years after the fall of the Soviet Union, President George W. Bush withdrew the United States from the ABM treaty in 2001, citing the need for a freer hand to develop national missile defense against the future threat of rogue states with nuclear weapons, such as North Korea or Iran. This withdrawal paved the way for the creation of the Missile Defense Agency which has the mission of creating a multi-layered system of missile defense for the United States and its allies in Europe and Asia. However, the original concern over an adversary possessing both "sword and shield" remains, and today U.S. missile defense is a contentious diplomatic issue in several locations.
Today
In response to North Korea's advancing ballistic missile and nuclear programs, the governments of the United States and South Korea have agreed to deploy the THAAD system, but this move has been met with rebuke from both North Korea and China. While North Korea's reasons for objecting are easy to understand, China's are more complicated. It believes that THAAD could undermine its own strategic nuclear deterrent, and its sensitive radar could be used for surveillance.
To show its displeasure, Beijing has undertaken a number of punitive economic measures against South Korea, including denying visas to touring K-Pop performers and boycotting duty free goods. In turn, Seoul has suspended visas for Chinese teachers and is mulling whether to take the issue to the WTO (World Trade Organization) for arbitration.
Experts worry this tit-for-tat exchange could have long term effects. Tong Zhao, a fellow in the Nuclear Policy Program at the Carnegie Endowment and Cipher Brief expert warns that "The ties between the two peoples are easy to cut but difficult to rebuild. This is a textbook example of how misunderstandings on technical issues can cause serious misjudgment about strategic intentions and a downward spiral of negative interactions."
Similarly, in Europe, the U.S. has cooperated with NATO allies to deploy several missile systems as part of the effort to counter threats posed by Iran. Many of these systems were deployed in countries bordering Russia, despite repeated objections from Moscow who believes the systems are directed at them. In response, Russia announced that U.S. deployment of missile defense systems could be grounds for it leaving the New START nuclear disarmament treaty, the deal that commits the U.S. and Russia to verifiable nuclear disarmament of deployed nuclear weapons. More recently, Moscow deployed nuclear-capable Iskander missiles to its enclave of Kaliningrad after the United States opened a missile defense site in Romania and broke ground on another in Poland.
Russia's longstanding distaste for U.S. missile defense could hamper any attempts by the Trump Administration to improve bilateral relations. Philip Coyle, a senior science fellow at the Center for Arms Control and former assistant secretary of defense, told The Cipher Brief that "Russian President Vladimir Putin hates U.S. missile defenses in Europe and has given long speeches about how U.S. missile defenses in Europe are upsetting the strategic balance." To improve relations Coyle recommended that "By simply pausing the deployment of further U.S. missile defenses in Europe, President Trump can show President Putin that he is willing to take a fresh look at what has been one of the greatest obstacles to improved U.S.-Russia relations and continued progress in nuclear arms control." Trump may have to decide between security at the expense of diplomacy and diplomacy at the expense of greater risk.
Pausing strategic missile defense is easier said than done, however, as the United States has devoted considerable resources to the endeavor in recent years. The U.S. Army just awarded $3 billion to defense contractors to advance missile defense hardware and software. Representative Mac Thornberry (R-Texas), the chairman of the House Armed Services Committee, has called for greater spending on missile defense in response to Iran and North Korea. The administration itself has also signaled its interest in advancing these capabilities. A National Security Council official told the Washington Free Beacon, "Given the number of missile tests we've seen, obviously, from North Korea and Iran over the last year this is just common sense." This bureaucratic inertia could be hard to overcome and could complicate future diplomatic efforts with Russia, China, or other countries.
Conclusion
History has shown that missile defense is disruptive whenever a country's nuclear deterrent is at stake, and the advancement of missile defense technology is likely to continue this trend. Coyle warns that "As missile defenses improve and their numbers increase, they become more threatening to the adversary. Expanded U.S. missile defense deployments only encourage U.S. adversaries to build more and more offensive weapons…" Looking forward, missile defense will likely remain a high wire act balancing between defensive necessity and trust in diplomacy. 
Will Edwards is an international producer at The Cipher Brief. Follow him on Twitter @_wedwards.