General Jack Keane Awarded Ronald Reagan Peace Through Strength Award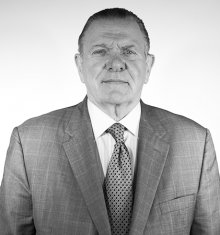 General Jack KeaneFormer Vice Chief of Staff, United States Army
The Cipher Brief extends its congratulations to Cipher Brief Expert, General Jack Keane, on being awarded this year's 'Ronald Reagan Peace Through Strength Award' at the recent Reagan National Defense Forum in Simi Valley, CA. 
The award recognizes professionals who have "applied, with constant purpose, a strategy to strengthen our armed forces, support our military men and women striving around the world, reinforce our nation's defense systems, and safeguard the lives and interests of the American people." 
What follows is General Keane's acceptance speech.
This is Cipher Brief Level I Member Only content. It can be accessed via login or by signing up to become a Cipher Brief Member.  Joining this high-level, security-focused community is only $10/month (for an annual $120/yr membership).
Cipher Brief Members engage in high-level conversations about national and global security issues every day. If you're not already a member, you should be.
If you are experiencing any issues with signing up or signing in, please drop an email to [email protected].
We look forward to welcoming you to the community!