The Network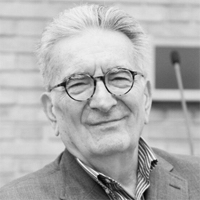 Gianfranco PasquinoProfessor Emeritus of Political Science, University of Bologna
Gianfranco Pasquino is Professor Emeritus of Political Science at the University of Bologna. He served three terms as Senator of the Italian Republica between 1983 and 1996. He was President of the Italian Society of Political Science from 2011-2013, and since 2005 he has been a fellow at the Accademia dei Lincei. He is formerly the editor of the bi-monthly journal Il Mulino and was among the founders of the Rivista Italiana di Scienza Politica (1971).
Among his many publications, he is the author of Partiti, istituzioni, democrazie (2014), Cittadini senza scettro: Le riforme sbagliate (2015), and L'Europa in trenta lezioni (2017).
Pasquino graduated in Political Science from the University of Torino. He then specialized in Comparative Politics at the University of Florence and received an M.A. from The Johns Hopkins School of Advanced International Studies (SAIS).