The Network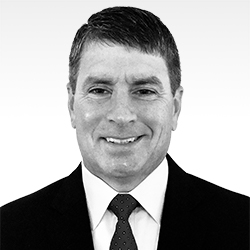 Vice Admiral Kevin DoneganFormer Commander of US 5th Fleet, the 32 Nation Combined Maritime Forces, and Director of OPS at CENTCOM
Vice Admiral Kevin Donegan, USN (ret), served as Commander of the U.S. Navy's Fifth Fleet and Commander of the 32 Nation Combined Maritime Forces in the Middle East. In those roles he led teams that planned and executed joint and combined combat, counter-terrorism and anti-piracy operations at sea and in Iraq, Syria, Afghanistan, and Yemen.
In the Pentagon he served as Director of the Navy Staff and Deputy Chief of Naval Operations, for Operations, Strategy and Planning. He was responsible for integration of U.S. Naval forces and operations, international relations, and also oversaw the development of $160+ billion annual Navy budget. He led initiatives for accelerated learning and innovation across the Navy enterprise with focus on implementing cyber security, artificial intelligence, unmanned systems, and big data management into Navy programs.
Vice Admiral Donegan also led the team that developed the revised U.S. Maritime Strategy and was the Service lead for the Department of Defense Strategic Review, the guiding strategies for the Navy and Department of Defense.
Prior to that Admiral Donegan served as Director of Operations for U.S. Central Command (J3) where he managed combat and other operations for all U.S. Joint military forces in the Middle East. During his tenure he implemented the strategic and operational plan to shift joint U.S. and coalition partners' military operations from Iraq to Afghanistan. Additionally, he introduced innovative National Cyber teams to counter terrorist messaging and enhance cyber support for U.S. Central Command operations.
He also led the Navy task force to rapidly assess damage and mitigate risks after a major national cyber security breach and implemented innovative changes in technology, techniques, and procedures to mitigate vulnerabilities.
He has served as a member of U.S. Interagency Counterterrorism Board that included the CIA, FBI, and senior Treasury, State and Defense leaders to direct U.S. national strategy to defeat global terrorist networks
He commanded the US Aircraft Carrier Strike Group forward based in Japan, the nuclear Aircraft Carrier USS Carl Vinson, an Amphibious Command Ship, and an FA-18 Strike Fighter Squadron.
Vice Admiral Donegan has been a National Security lecturer at the Kennedy School of Government, Harvard University, the U.S. Naval War College, and the University of Virginia. He was honored by the governments of Japan, Bahrain, and France for leadership and coalition team-building. A graduate of TOPGUN and the U.S. Naval Test Pilot School, he has flown over 3,800 combat and training flight hours in 31 unique classes of aircraft with over 800 arrested landings on 15 Navy aircraft carriers.
Vice Admiral Donegan currently works as a Senior Advisor for National Security and Cyber Security at Fairfax National Security Solutions.