The Network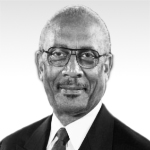 Francis X. TaylorFormer Under Secretary for Intelligence and Analysis, DHS
Francis X. Taylor is the former Under Secretary for Intelligence and Analysis at the U.S. Department of Homeland Security. In that role, he provided the Secretary, DHS senior leadership, the DHS components, and state, local, tribal and private sector partners with the homeland security intelligence and information they need to keep the country safe, secure and resilient. I&A is a member of, and the Department's liaison to, the National Intelligence Community.
Prior to his assignment at DHS I&A, Mr. Taylor was Vice President and Chief Security Officer for the General Electric Company in Fairfield, Conn. At GE, he was responsible for managing the security operations and crisis management processes designed to ensure the security of GE employees and operations globally.
Before GE, Mr. Taylor had a distinguished 35-year career in government service, where he held several senior positions managing investigations, security and counterterrorism issues.