Using Artificial Intelligence to Create a More Knowledgeable IC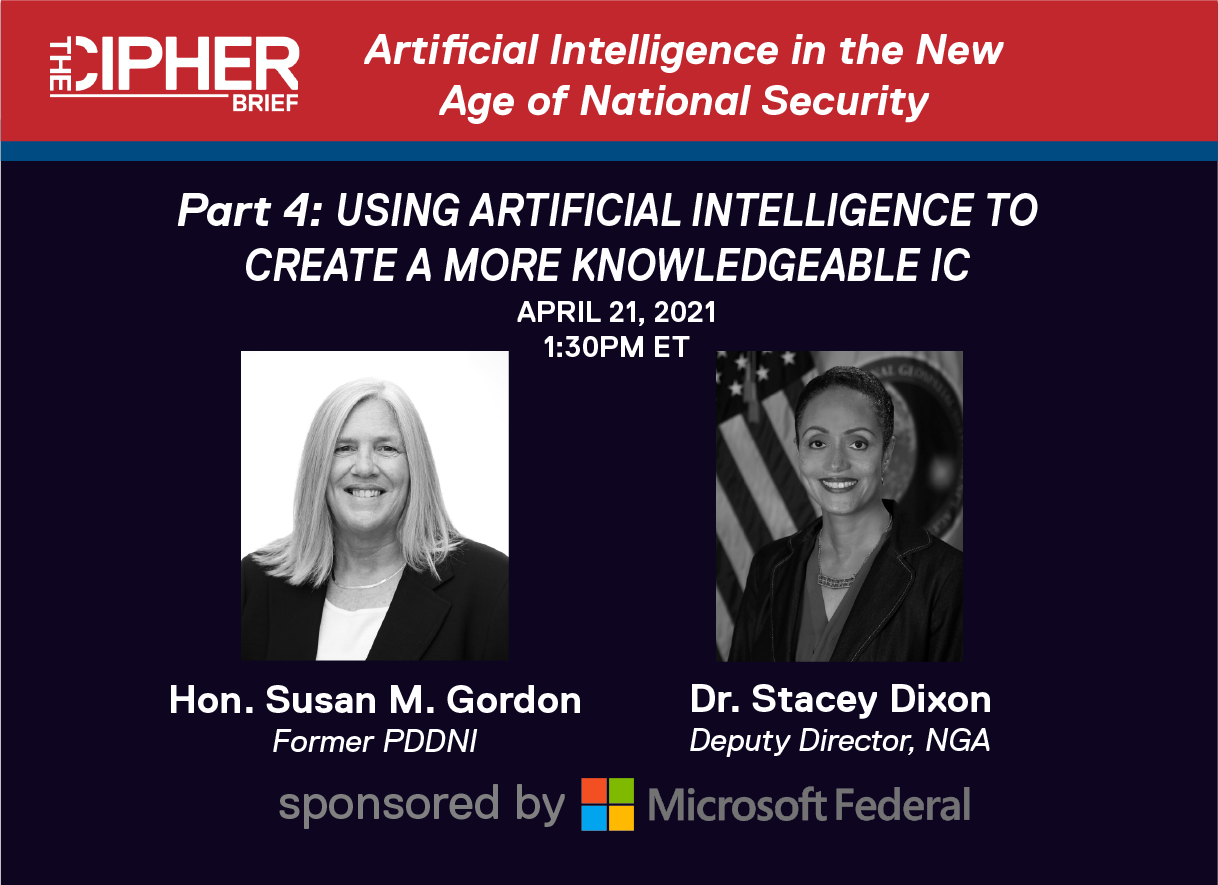 April 21, 2021 at 1:30pm ET
Presenting:
Artificial Intelligence in the New Age of National Security
a 6-part series
Part 4: Using Artificial Intelligence to Create a More Knowledgeable Intelligence Community
This special series of virtual web briefings will tap leading, diverse experts from government, industry, academia and finance and investment to lay out a path forward for integrating Artificial Intelligence into the US National Security infrastructure. Our goal is to bring greater attention and expertise to the issue of artificial intelligence and how it will change the nature of intelligence moving forward.
During this 6-part series, we'll hear from a number of experts from both the public and private sectors, as both are crucial when it comes to understanding artificial intelligence, developing it, identifying gaps that need to be filled, and integrating it into US national security, intelligence collection and analysis. Register for Part 4: Using Artificial Intelligence to Create a More Knowledgeable IC, click here.
About the Speakers:
Hon. Susan M. Gordon
Former PDDNI
Susan M. Gordon is the former Principal Deputy Director of National Intelligence, serving from 2017-2019, where she advised the President on intelligence matters and provided operational leadership of the 17 agencies and organizations of the Intelligence Community (IC). She is a widely respected authority on risk management, technical innovation, and cyber and space issues. Today, she is an active board member, university fellow, and advises private companies in the areas of technology, strategy, and leadership.
Throughout Ms. Gordon's more than three decades in the IC, she led large scale organizational change and delivered revolutionary outcomes. Ms. Gordon worked to adapt the IC to emerging economic, military, and political trends impacting the current operating environment. Ms. Gordon led the establishment of In-Q-Tel, the Central Intelligence Agency's venture arm, in the 1990s. In the last several years, she focused on advancing intelligence integration across the IC, expanding outreach and partnerships to the private sector and international allies, and driving innovation across the Community.
Dr. Stacey A. Dixon
Deputy Director, National Geospatial-Intelligence Agency
Dr. Stacey A. Dixon is the eighth Deputy Director of the National Geospatial-Intelligence Agency (NGA). In this role, she assists the director in leading the agency and in managing the National System for Geospatial Intelligence. She became NGA's deputy director on June 23, 2019.
Prior to this, she served as IARPA's fourth director from September 2018 to June 2019, after serving as IARPA's deputy director from January 2016 to August 2018. Before joining IARPA, Dr. Dixon served as the deputy director of NGA's research directorate, where she oversaw geospatial intelligence research and development. Previous to that, she served as the chief of Congressional and Intergovernmental Affairs and then deputy director in NGA's Office of Corporate Communications.
From 2007 to 2010, she was a staff member for the House Permanent Select Committee on Intelligence, and from 2003 to 2007, she worked for the Central Intelligence Agency, where she was assigned to the National Reconnaissance Office's Advanced Systems and Technology directorate.
Dr. Dixon holds both a doctorate and master's degree in mechanical engineering from the Georgia Institute of Technology, and a bachelor's degree in mechanical engineering from Stanford University. She was also a chemical engineer postdoctoral fellow at the University of Minnesota. Dr. Dixon is a native of the District of Columbia, where she currently resides.​
This virtual briefing is sponsored by