Clarity in Crisis: Leadership Lessons from the CIA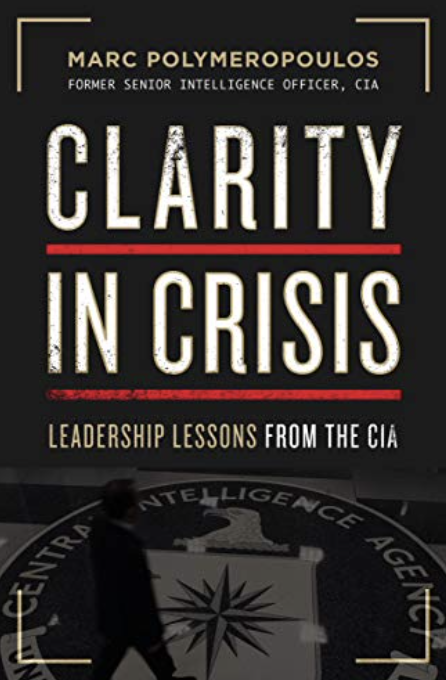 Clarity in Crisis
BOOK REVIEW: Clarity in Crisis: Leadership Lessons from the CIA
By Marc Polymeropoulos / HarperCollins
Reviewed by Ken Dilanian
The Reviewer:  Ken Dilanian is the intelligence and national security correspondent for NBC News.  He previously covered the intelligence community for the Associated Press and the Los Angeles Times.  He covered the Iraq war from the invasion through the first election as a foreign correspondent for the Philadelphia Inquirer.  He has occasionally covered stories that included the author.
DISCLAIMER:  Former CIA Officer and Author Marc Polymeropoulos is a Cipher Brief Expert.  The Cipher Brief had no input for this independent review.
BOOK REVIEW — For any student of American's premier civilian spy agency, a book purporting to offer "leadership lessons from the CIA," might prompt skepticism.  After all, as historians have documented, the CIA – for much of its history – has chalked up a litany of epic failures, from missing the Iranian revolution and the fall of the Soviet Union to the "slam dunk" case for what turned out to be non-existent weapons of mass destruction in Iraq.
But retired case officer Marc Polymeropoulos lived a different history during his 26-year-career, one in which an agency – stung by the 9/11 attacks – mobilized to neutralize al Qaeda, using intelligence and drones to wipe out the group's leadership ranks and ultimately, finding and killing Osama bin Laden.
In Clarity in Crisis: Leadership Lessons from the CIA, Polymeropoulos writes with the premise that the CIA has made important contributions to U.S. national security over the last two decades, with officers like him gathering significant intelligence while taking great personal risks in conflict zones.
Coming from that perspective, Polymeropoulos decided to be – and was allowed by agency censors to be – perhaps as frank as any former senior CIA officer in recent memory about his failures.  The result is a refreshing take on a CIA career that offers useful lessons for people who will never wear a disguise or fire a weapon.
Polymeropoulos, a huge baseball fan who coached a son now playing in college, deftly mixes sports and spying in presenting nine leadership concepts he believes are universal.  He also offers a window into his own gregarious personality, including references to his many friendships formed over chili and beer at his favorite dive joint, the Vienna Inn.
When it comes to CIA stories, many of the anecdotes he recounts are frustratingly vague, because the details remain classified.  But, for example, Polymeropoulos writes about an operation with the U.S. military targeting a terrorist that injured civilians.  Because the group had a string of successes, he writes, "I started to believe my own hype and infallibility."
When he had to report on the operation to a group at CIA headquarters, he writes that he told them: "Bottom line, this is on me and I will fix it."
The lesson he seeks to impart with his book seems to be that humility is a feature of good leaders.  But he also opens a small window into the human factor behind the CIA's controversial targeted killing campaign, in which mistakes led to the deaths of non-combatants, including women and children. The U.S. has officially acknowledged some errors but has never provided details.
Polymeropoulos, who spent most his career in the Middle East and South Asia, also makes indirect reference to another terrible episode, the deaths of seven CIA officers in a suicide bombing in Afghanistan on Dec. 30, 2009.
He writes that he will never forget "the moment I learned that Darren, one of my officers whom I had sent into harm's way, had died in Afghanistan, along with six other colleagues, while running a sensitive counter terrorism operation."
---
The Cipher Brief hosts private briefings with the world's most experienced national and global security experts.  Become a member today.
---
That could only be a reference to Darren LaBonte, a CIA officer who died at the age of 35 after questioning the security arrangements being made around a meeting with a Jordanian doctor on a CIA base in Khost.  The CIA believed the risk was worth the potential reward, hoping that the doctor would provide them access to al Qaeda leaders. He turned out to be working for the terrorists.
Polymeropoulos, who had to announce the deaths to a room full of officers in a foreign CIA station, writes publicly for the first time about how he is haunted by his own role in the affair.
"I was in a position of responsibility for the operation, and I can think of multiple ways in which I personally failed," he writes.  "Years later, when I received a promotion to the senior intelligence ranks, my first thought was, 'I don't deserve this honor.  I lost someone under my command.'"
The overall point, though, is an axiom of the spy business that, unfortunately, few practitioners are willing to say in public: Failure is endemic.  Recruitments of spies blow up. Covert operations collapse. Analysis of intelligence often misses the mark.
That doesn't mean the CIA is dysfunctional, Polymeropoulos writes.  It means, he writes, that "You will fail, but you cannot give up, because no one else is standing on the ramparts guarding America.  Failing is an option, but overall failure—quitting, not pulling up your bootstraps for the next night—is not."  Do that, he says, and success will follow, whether in the CIA, sports, business…or life.
CIA officers spent a year of "frustrating results and dry holes" tracking a high value terrorist target in Afghanistan, he writes, until one day, they got a break.  An agent on the ground signaled the location of the man.  But it was night, and details were sketchy.  It was up to Polymeropoulos to decide whether to strike, he writes, but the usual checks for civilians could not be made. The target had American blood on his hands, and "the stakes were incredibly high." Polymeropoulos recommended going forward, and the terrorist "was taken off the battlefield," in the euphemistic language of the agency. "Being willing to make –and stand by—decisions in the face of ambiguity or imperfect information is a key leadership competency that drives success," he writes.
In the end, though, the book is also a cautionary tale, because Polymeropoulos–one of the most decorated CIA officers of the modern era–was forced to retire after suffering a mysterious brain injury during a trip to Moscow.  And he concludes with the story of having to fight his own agency to get medical treatment for the debilitating headaches he suffers to this day.
Polymeropoulos believes he was the victim of what is now being referred to as 'Havana Syndrome', mysterious brain injuries suffered by CIA officers and diplomats that were first detected in Cuba. Some U.S. officials assess that the injuries were caused by a microwave device wielded by Russian intelligence officers, either as a byproduct of an electronic intelligence gathering effort or a deliberate attack. But so far, no hard evidence has emerged to back that up.
Polymeropoulos says he was knocked flat in a Moscow hotel room in 2017 and that he has never been the same.  He also says it took years for the CIA to sign off on his treatment in a brain injury program at Walter Reed National Military Medical Center.  "My physical scars of this silent wound on my brain were also matched with the emotional wound of feeling betrayed by those who did not believe what occurred and who rejected proper medical care for me," he wrote in an op-ed.
Even that experience, though, hasn't soured Polymeropoulos on the spy agency.  "I miss the CIA every day," he writes, "mostly because of the camaraderie and sense of purpose and drive that we all shared."
Clarity in Crisis earns an impressive 3.5 out of 4 trench coats.


Disclaimer: The Cipher Brief, like other Amazon Affiliate partners, gets paid a small commission based on purchases made via the links provided in this review
Read more Under/Cover book reviews in The Cipher Brief
Read Under/Cover interviews with authors and publishers in The Cipher Brief
Interested in submitting a book review?  Check out our guidelines here
Sign up for our free Undercover newsletter to make sure you stay on top of all of the new releases and expert reviews
Read more expert national security perspectives and analysis in The Cipher Brief
Read more expert-driven national security reviews, perspective and analysis in The Cipher Brief