BOOK REVIEW: The Spy and the Traitor: The Greatest Espionage Story of the Cold War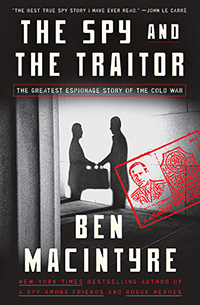 The Spy and the Traitor: The Greatest Espionage Story of the Cold War by Ben MacIntyre
The Cipher Brief's Under/Cover reviews:
THE SPY AND THE TRAITOR: THE GREATEST ESPIONAGE STORY OF THE COLD WAR by Ben MacIntyre, Crown, New York, 2018
Reviewed by Joseph W. Augustyn
What most experienced intelligence officers will tell you is that defector stories rarely end well.  Such is the case of one of the UK's most important and heralded spies of the 20th century.  Ben MacIntyre, a writer-at-large for The Times of London, has written a masterful and thoroughly readable story of Oleg Gordievsky, a man who by all accounts, had it all.  Gordievsky grew up in a family of KGB officers, attended the best schools the Soviet Union had to offer, was a gifted athlete, had a sharp and inquiring mind, and had a career path into the Soviet intelligence apparatus that promised a life of privilege and prestige. The problem was Gordievsky was also an idealist, a sponge when it came to Western classical music and the arts, Western literature, and Western political thinking and philosophy.
This is Cipher Brief Level I Member Only content. It can be accessed via login or by signing up to become a Cipher Brief Member.  Joining this high-level, security-focused community is only $10/month (for an annual $120/yr membership).