A Guide for the Transition Mission
Alison P. BouwmeesterFormer Senior Leader, Directorate of Operations, CIA
Alison Bouwmeester spent 28 years working as a CIA case officer.  When she retired and went to work in the private sector, she found that many of her former colleagues reached out to her for advice.  It turns out the private sector looked a little different than the government that so many of them had dedicated their careers to serving. So, she set out to write a book to help ease the process of transitioning from one world to another.  The Cipher Brief caught up with Bouwmeester (who is now a Cipher Brief Expert) to talk about her book, Mission: Career Transition, and what she's hoping to accomplish on her latest mission.
Our conversation has been edited for length and clarity.
The Cipher Brief:  It seems like navigating one's own career transition can be tricky enough.  What made you decide to write a book to help others navigate this as well?
Bouwmeester: I took this on because of my own career transition, and the fact that I was spending quite a lot of my time as a career coach coaching people who were considering leaving government. I felt like there was an information gap there. Particularly for people leaving intel and national security, foreign policy, there aren't books out there specifically written for them. And I feel like what motivates those people in their careers is a little different. They tend to be motivated by patriotism and ideology. Considering what to do next can be difficult when they don't see things out there that satisfy those needs that they have.
The Cipher Brief:  How important were the networking skills you acquired in your former role in making the decision to write this book?
Bouwmeester: The book is based on a survey of 33 people from across the community who've made successful transitions. Their overarching message was, 'it's all about your network'. If you want to work after your government service, the best way to find a role that's interesting and fulfilling is through your contacts. That really came through in the data I collected, and that was also the case with my own experience.
When I left, I had no idea what I wanted to do. I interviewed with almost 20 different organizations, from nonprofits and charities to defense contractors to companies completely outside the government sector. I ended up going with what was more in my comfort zone, which was to leverage my security clearance and work for a defense contractor doing business development, which was a really good interim step for me because it gave me a chance to learn how business works and still use my expertise in government.
It wasn't where I ended up, but it was a great first step. And I think most of the people that I interviewed had the same kind of experience; if they chose to continue to work, then most of them stayed close to the flagpole and worked in defense or intelligence-related businesses as a first step. But a lot of them moved on to other things once they had their legs under them in terms of how the corporate world worked.
The Cipher Brief: You also do career coaching?
Bouwmeester: I do. I worked in the private sector in defense contracting for seven years. I worked for a mid-size engineering company doing business development, and at a certain point became their vice president for business development in the intelligence sector. I then moved into a small software development company and a year after I joined them, they were bought by Accenture Federal Services, so I spent three years at Accenture Federal Services as well. So, I worked for a medium size, a small size, and a huge multinational company, which were great experiences to have.
The Cipher Brief: Were they different cultural experiences for you coming from government?
Bouwmeester: They were very different cultural experiences, and I am very positive about all of those experiences. I had been mentoring a young man who was recently out of college and was really struggling to find himself and he had not landed professionally, although he had a great degree from an Ivy league school, and I was able to help him find his way, figure out what his marketable skills were, help him market himself, and then I asked some friends to help get him a couple of interviews.
He ended up getting a great job as a data analyst, and then later became a data scientist. That was so personally satisfying, and it meant more to me than working for a company, because I came to realize that I was not really driven by dollars. I wanted to make a positive difference in people's lives. I decided to get a certification as a certified professional career coach, which I did about two-and-a-half years ago. I then decided to leave Accenture and become a career coach full time.
The Cipher Brief: From a coaching perspective, what can you bring to the table for people when they're at that stage in their career?
Bouwmeester: Well, I think there are a range of questions that need to be asked of somebody who is going through a transition, because it's the time to really think about what matters to you, what you want your life to look like after your main career, what motivates you, what your values are.
I've developed some worksheets that are included in the book that ask a lot of philosophical questions like that to help with separation planning, some options to consider, and some tools to assess your projected financial needs. A lot of your decisions need to be based on what you can live on. If you find that you can live on your pension, then making a big salary might look nice, might sound nice, but it might not scratch the itch that you have to help mankind or do something philanthropic or whatever your motivators are, whatever your drivers are.
The Cipher Brief: What's the best piece of career advice you think you've ever given to someone?
Bouwmeester: There are a couple of things. One is that whatever you do after you separate, it's not going to be by mistake. Because it might not end up being the best fit for you or you might outgrow it in a short period of time, but you will learn a lot from the experience. Don't worry about failing in your first step out.
The other thing would be that it's time to think long and hard about who you are as a person, and what really matters to you, and what legacy you want to leave behind as a human being. People who are in government tend to be so focused on the mission and doing for others and serving the country that they never take the time to stop and think about what they need for themselves. Then, all of a sudden, they're at the door turning in their badge, and they don't really know who they are and what they need for themselves.
The Cipher Brief: What haven't I asked you that you feel like is an important part of your story or the message that you're sharing by writing the book?
Bouwmeester: I think what you haven't asked me is why it's remarkable. I think it's remarkable because the book is based upon a survey that I did with 33 former relatively senior government officials, former intelligence officers, former diplomats, FBI agents, military, about the ups and downs of leading such interesting careers.
In the book, they talk really candidly about their own decisions to leave, what their biggest fears were, what mistakes they made, and what the most positive aspects were about leaving government. We talk about the mental and physical health issues surrounding separating from a long-term career like this as well. So, there's a lot of value in this sort of collective wisdom. I started out writing this book just from my perspective, and after talking to a lot of colleagues who also spend time mentoring people who were leaving, I found a lot of value in trying to assemble and analyze the collective input on these kinds of questions. That's what's different about it. It's not just me pontificating.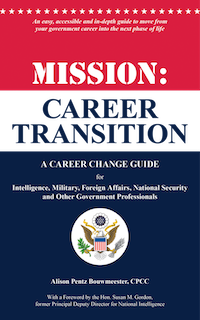 Disclaimer: The Cipher Brief, like other Amazon Affiliate partners, gets paid a small commission based on purchases made via the links provided in this story
Read more Under/Cover book reviews in The Cipher Brief
Read Under/Cover interviews with authors and publishers in The Cipher Brief
Interested in submitting a book review?  Check out our guidelines here  
Sign up for our free Undercover newsletter to make sure you stay on top of all of the new releases and expert reviews
Read more expert-driven national security news, insights and perspective in The Cipher Brief