The Secretaries Series: A Candid Conversation with Janet Napolitano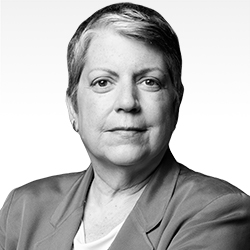 Janet NapolitanoFormer Secretary of Homeland Security
The Homeland is bringing you a series of candid, intimate interviews with former Directors of the Department of Homeland Security throughout October. 
DHS was born out of 9/11, when 23 different agencies were pulled into one department in an effort to provide better oversight and communication to help better address threats to the homeland.  Since it was created, however, DHS has had its share of challenges, not only in combining multiple agencies into one, but at the same time, managing a mission that is changing rapidly with the advance of cyber threats.
The Cipher Brief's Senior Editor for The Homeland, Todd Rosenblum, talked with former Department of Homeland Security Secretary Janet Napolitano, who now serves as President of the University of California.  
We asked the former Secretary about lessons learned since 9/11, how the threats have changed, and what her experiences tell her about where we are today.
This is Cipher Brief Level I Member Only content. It can be accessed via login or by signing up to become a Cipher Brief Member.