For Those Who Gave All: Special Operations Warrior Foundation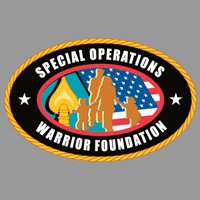 Special Operations Warrior Foundation
This Christmas season was unlike any previous holiday for many military families. U.S. Special Operations Command lost 47 troops in the line of duty, out of its ranks of 70,000 men and women.
The Special Operations Warrior Foundation (SOWF) gained 92 Gold Star children in 2017. One widow – of a fallen soldier killed in Niger – will give birth to their third child in January.
America's special operators are at the tip of the spear in this long war. Special operations personnel are serving in areas of hostility such as Libya, Syria, Iraq, Afghanistan, Somalia, Nigeria, Niger and more than 100 other countries around the world.
Relying on them so heavily has a price. Though they make up roughly 5 percent of the total U.S. armed forces, they have accounted for at least half of the nation's combat deaths since 2015. SOWF supports the families of our fallen and severely wounded Army, Navy, Air Force and Marine Corps special operations personnel. When tragedy strikes, our special operators know that SOWF has their back.
For the past 37 years, SOWF has been dedicated to honoring the sacrifice of special operations personnel who give their lives, or are gravely wounded in service of their country. The foundation ensures full college scholarships to any accredited college or university in the world to the surviving children of our special operators.
SOWF also delivers a $5,000 check to our wounded special operators' bedside when they arrive at a U.S. military hospital. We believe that when an operator is wounded, the entire family is wounded. This stipend helps offset some expenses associated with the operator's hospitalization and allows the children to travel to be with their parent.
SOWF proactively reaches out to each one of the surviving families of fallen special operators. From the initial condolence letter and follow-up phone calls, emails, birthday cards, back-to-school packages and invitations to events, the foundation remains in contact with the families.
As a result, these families know that the foundation provides life-changing programs to those who have lost so much. SOWF offers pre-kindergarten education and in-home professional tutoring, academic guidance counseling, college application preparation and visits to college campuses in the senior year of high school. Financial assistance for college includes tuition, room and board, books, fees, computers, printers, transportation and miscellaneous expenses.
SOWF has 157 students currently enrolled in college and universities across the nation and in several foreign countries. We still have over 700 surviving children, not yet of college age, to whom we have made a solemn promise to fully fund their college education. SOWF relies entirely on private donations to fulfill their mission. It is the generous donations of thousands of Americans across the nation who make our support happen.
In 2017, SOWF received its 12th consecutive 4-star rating for its financial efficiency by the leading watchdog group Charity Navigator. The foundation's 2016 administrative overhead costs were only 5.6 percent.
Those interested in learning more about SOWF, or who would like to contribute, can go to the website: www.specialops.org.
Joe Maguire is the president and CEO of the Special Operations Warrior Foundation. A career Naval Special Warfare Officer (SEAL), he retired from the U.S. Navy in 2010 after 36 years in uniform, having commanded at every level, to include the Naval Special Warfare Command.
—
For this holiday week, The Cipher Brief is giving this space to individuals and nonprofits that support the national security community, and inviting our readers to learn about and support them. This is a preview of a future weekly feature to highlight charities in this space, with preference given to those with a Guidestar.org rating of gold and above. To those giving back, we say happy holidays and thank you for what you do.
— Suzanne Kelly, CEO & Publisher, Brad Christian, COO, & Kimberly Dozier, Executive Editor