Trump's Erratic Rhetoric Increases Risk of War in Koreas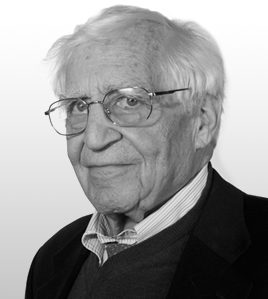 Walter PincusContributing Sr. National Security Columnist, The Cipher Brief
Saturday's Pentagon announcement that B-1B bombers escorted by F-15C fighters had flown a route above the demilitarized zone in international airspace over the Sea of Japan east of North Korea, brought back memories to those of us who lived through the aftermaths of the 1964 Tonkin Gulf  "raid," the USS Pueblo incident of 1968, and the 2001 collision of a U.S. Navy EP-3 surveillance aircraft with a Chinese F-8 fighter.
One lesson U.S. presidents and their aides should have learned from those incidents is that legitimate but provocative military actions can lead to real trouble, particularly when, as now, we are in a tense time thanks to last week's accelerated playground name-calling and violent threat-exchanges between President Donald Trump and North Korean Leader Kim Jong-un.
In a time of war-threatening-fog, accidents do happen, and costly mistakes can be made.
If you hadn't been here in Washington at the time of Tonkin Gulf, the PBS Vietnam documentary by Ken Burns and Lynn Novick covered it briefly in last Friday evening's episode. It showed that a so-called second strike against a U.S. destroyer by North Vietnam's torpedo boats never really happened.
Nonetheless, it was used by President Johnson to justify an already prepared joint congressional resolution that authorized the sending of U.S. aircraft to bomb the base of the North Vietnamese torpedo boats and later, more importantly, to escalate America's participation in that war.
Luckily, restraint and diplomacy ended the crises between the Johnson administration and North Korea in 1968 over the Pueblo, and between the George W. Bush administration with the Chinese over the 2001 aircraft collision.
There is no telling what military actions Trump had in mind when he told the United Nation's General Assembly last Tuesday that if "forced to defend itself or its allies, we will have no choice but to totally destroy North Korea," or his Sunday tweet that Little Rocket Man and North Korea's Foreign Minister Ri Yong Ho,  "won't be around much longer!" after the latter told the U.N. General Assembly that Trump's threats had made Pyongyang's "rockets' visit to the entire U.S. mainland inevitable."
It should be no surprise that Ri came back yesterday telling reporters, "Since the United States declared war on our country, we will have every right to make counter measures, including the right to shoot down United States strategic bombers even when they are not inside the airspace border of our country."
The public has taken close notice of Trump's erratic performance when it comes to national security. That was reflected in a Washington Post/ABC poll released Sunday that showed that 72 percent of those questioned voiced trust in U.S. military leaders "to deal with North Korea responsibly," while only 37 percent said they trusted Trump.
One reason why those numbers exist can be found in public positions taken last week by key members of the president's national security team that seem in opposition to Trump's views.
Trump often gives lip service to allies, but he also goes up and down in support of them, from one moment to the next.
One example is his statements about China when it comes to North Korea. He talked last April of Chinese President Xi Jinping as a friend, after their meeting at Mar-a-Largo, claiming Xi would take the lead in putting economic pressure on North Korea to halt Pyongyang's nuclear program.
When Beijing seemed to falter, Trump talked for a moment of the U.S. going alone. Recently, when China supported new United Nations-approved bank sanctions on North Korea, he again praised Xi. But then, in moment of candor this past Friday, he spoke of "China, who I love right now, this week," with the "this week" implying that his love could vanish if Beijing does not enforce sanctions on its banks doing business with North Korea.
South Korea is another example. Trump raised cancellation of the 2012 U.S free trade agreement with Seoul earlier this month, shortly after reaching a joint statement following North Korea's thermonuclear test. Trump talked again about the trade deal last week, just before going into a three-party meeting, which included Japan, that was to focus on the increased threat posed by North Korea.
Defense Secretary James Mattis gave a steadier view on U.S. dependence on allies in the face of common military threats, despite problems in keeping such alliances together, when speaking last Wednesday at the annual meeting of the Air Force Association. "History is compelling on this point, that nations with allies thrive and those without allies decline. It's that simple," he said.
He added, in a thought that one would never expect from Trump, "Remember, not all the good ideas come from the nation with the most aircraft carriers."
While Trump last week implied the threat of using nuclear weapons when he referred to the total destruction of North Korea, Secretary of State Rex Tillerson took a far different approach speaking Thursday to the Security Council's session on nuclear non-proliferation.
"As the only nation on Earth to have used nuclear weapons in warfare, the United States bears a heavy responsibility to exercise proper stewardship of nuclear weapons and to lead in working with other nations to reduce global nuclear dangers," he said.
Perhaps the clearest, recent disagreement with Trump came with regard to his position on Russia's involvement with the U.S. 2016 presidential election. Last week, Jon Huntsman, during his confirmation hearing to be U.S. ambassador to Russia before the Senate Foreign Relations Committee, said, "There is no question, underline, no question, that the Russian government interfered with the U.S. election last year, and Moscow continues to meddle in the democratic processes of our friends and allies."
Sen. Chris Murphy (D-Conn.), asked Huntsman, "How do you represent to the Russians your belief… when your boss, the president of the United States, is engaged in a fairly intentional campaign to, at the very least, cloud the issue?"
Huntsman replied, "I will speak to it, not just as a U.S. ambassador to Russia, but also as somebody who had responsibility [as a former Utah governor] for the integrity of elections in my state."
Needless to say, Trump three days later tweeted, "The Russia hoax continues, now it's ads on Facebook."
Trump has expanded his outrageous statements in recent days, attacking not only "little Rocket Man," but also fellow Republicans, Hillary Clinton, the Russian investigation, and, most surprisingly, sports figures demonstrating in response to police violence against minorities.
In the final days of the Nixon administration in August 1974, when it was clear the House would vote impeachment, three key national security figures – White House chief of staff Al Haig, Secretary of State Henry Kissinger, and Defense Secretary James Schlesinger – separately assured three Washington Post reporters, of which I was one, that they had an agreement to prevent the embattled president from using his authority alone to start a military action, including the launch of a nuclear weapon.
We are not there yet, and hopefully will never get to that situation.