Some National Security Lessons from the Past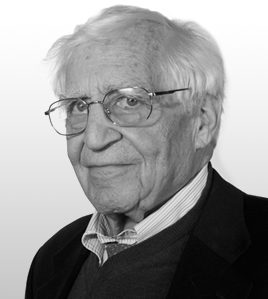 Walter PincusContributing Sr. National Security Columnist, The Cipher Brief
At a June 23 National Security Council meeting, according to notes once marked EYES ONLY, Top Secret, "The President said if he knew any way to abolish atomic weapons which would ensure the certainty that they would be abolished, he would be the very first to endorse it regardless of any general disarmament…Unfortunately, the President said, he could see no way at present to secure an agreement which would really abolish atomic weapons."
No, that wasn't President Barack Obama. It was President Dwight Eisenhower 62 years ago, who, according to notes of that 1954 NSC meeting, also said, "Thanks to the element of surprise in the enemy's hands, the United States, for the first time in its history, was frightened at the prospect of an atomic war."
Last week, at the Eisenhower Library in bucolic Abilene, Kansas, I was regularly reminded that today's foreign policy problems are not so different from those 60 years ago, after spending two days reading declassified Top Secret, National Security Council and other White House documents from the mid-1950s.
The U.S. then was supporting the government in Iraq, which Secretary of State John Foster Dulles referred to as the most liberal of the Arab states. We were worried about turmoil in the Middle East where our enemies, the communist agents of the Soviet Union – like today's Islamic State or al Qaeda – were making inroads in Iraq, Egypt, Libya, and Syria.
But the major concern of the Eisenhower administration and the U.S. public at large was Russia and China.
How little we seemed to have learned from the past.
On July 14, the House Armed Services Strategic Forces subcommittee has a scheduled hearing on "President Obama's Nuclear Deterrent Modernization plans and budgets: The Military Requirements."
I suggest that the subcommittee's members read some of the Eisenhower NSC discussions of nuclear weapons, starting with one on May 27, 1954 when the subject was a "Proposal for an International Moratorium on Future Tests of Nuclear Weapons."
In the midst of that meeting, Eisenhower told the group, "that he could perceive no final answer to the problem of nuclear warfare if both sides simply went ahead making bigger and better nuclear weapons. While of course he did not want the Soviets to gain a lead on us in this field, it was nevertheless a matter of despair to look ahead to a future which contained more and more bombs," according to notes of the session.
"We must try to find some positive answer, and to do so would require more imaginative thinking than was going on at present in the Government," the notes reported Eisenhower saying.
Eisenhower was speaking from not only his military experience, but from a short time earlier, when he had to weigh more than once using nuclear weapons in Korea.
For example, at the Dec. 3, 1953 NSC session, possible use of atomic weapons came up when the subject was "Possible Courses of Action in Korea" based on what should be done if the Communist Chinese again go on the offensive on the Korean Peninsula.
According to notes of that NSC meeting, Joint Chiefs Chairman Adm. Arthur W. Radford said contingency plans called for U.S. and U.N. ground forces to limit their operations to Korea and "not spread out to Manchuria or China proper."
But according to the notes of Radford's presentation, in order to keep the ground war limited, "the concept of operations call initially for a massive atomic air strike which would defeat the Chinese Communists in Korea and make them incapable of aggression there or elsewhere in the Far East for a very considerable time."
When Eisenhower, who was chairing the meeting, asked whether the Joint Chiefs had "laid out their target system, Admiral Radford replied that they had not," the notes said.
I should note it was at this NSC meeting that the decision was made to leave behind two U.S. divisions and one composite U.N. division and build up the Republic of Korea Army to 20 divisions.
Reading the notes of the Eisenhower NSC meetings, where sessions were regularly on Thursdays but often more than once a week, calls attention to the current use of the NSC, and Capitol Hill efforts to limit the size and role of the NSC staff.
Today's NSC meets far less than it did under Eisenhower, yet the NSC staff, which grew to hundreds under recent presidents and hit 450 under the Obama administration, has drawn attention from Capitol Hill.
Under Eisenhower, NSC meetings had set, prepared agendas on specific issues. Various cabinet members and staff experts prepared reports, and many took active part in discussions, and frequently, presidential decisions quickly followed.
The staff back then was between 20 and 30, supplemented by an Operations Coordinating Board (OCB), whose staff of 24 followed up on all NSC decisions. Assisting the OCB were working groups with representatives from departments and agencies carrying out the NSC decisions.
You can't read the Eisenhower NSC notes and then not question the current use of the NSC. Both the House and Senate Armed Services Committees have put amendments in the fiscal 2017 Defense Authorization Bill to limit the future size of the NSC staff, and it was discussed at a House Armed Services Committee hearing last Thursday.
The issue focused on whether the large NSC staff itself had become involved directly in operations of national security programs rather than coordinating them. Retired-Gen. Carter Ham, former head of African Command, testified that when he was the Joint Staff director for operations, "the frequency and the level of detail that was requested by NSC staff was beyond that which I felt necessary for that body to make policy decisions and I think started a trend very much into operational matters."
John J. Hamre, a former Deputy Secretary of Defense and now president and chief operating officer of the Center for Strategic and International Studies, said he supported a House proposal that would require Senate approval of a National Security Advisor if the NSC staff was larger than 100. "A staff that exceeds 100 would be deemed to be an operating arm of the Executive Branch and subject to oversight," he said.
The Senate proposal would place a flat staff limit at 150, and both proposals would prohibit assignment to the NSC staff of individuals from other agencies, which is the way most of the staff is made up now.
However that legislative issue works out, the Eisenhower Library experience again showed me how little we actually know in real time about what goes on during high level discussions of national security issues.