American Democracy in Trouble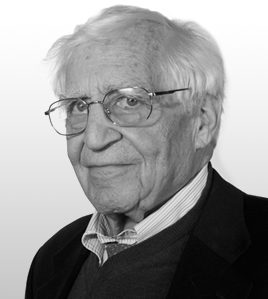 Walter PincusColumnist, The Cipher Brief
No matter who wins today's election, the American democratic system is in trouble.
Should Donald Trump win, the country would have a president who has threatened to use his powers against those who disagree with him and has shown no respect for facts or telling the truth.
A Hillary Clinton victory appears to guarantee four years of unprecedented congressional investigations, whether justified or not, from at least a Republican-run House of Representatives whose key members are determined to drive her from office or at least prevent her from being re-elected.
What seems as challenging for the future are the implications arising out of unusual recent leaks out of the FBI clearly intended to affect the election, plus a dangerous confluence of interests that have emerged in the past few months between Russian intelligence activities and the Trump campaign along with its Republican congressional allies.
Misuse of the FBI and the CIA has always been a danger, and last minute leaked allegations during this election, with no official confirmation, can undermine the bureau's authority in the future.
On Wednesday evening, Fox News' Brett Baier reported a criminal indictment of the Clinton Foundation was in the works, and that her email server had been breached by at least five intelligence services. The information was attributed to "sources with intimate knowledge of the FBI investigations."
On Thursday, during a noon appearance in Jacksonville, Florida, Trump said he had "breaking news I want to share." It was the Fox News report from the night before, repeated on conservative web sites, which he said had the FBI conducting a "high priority" investigation into Clinton's "pay for play corruption during her tenure as secretary of state" that was "far-reaching, and has been going on for more than one year…[and that] The FBI agents say their investigation is likely to yield an indictment."
At roughly the same time Thursday, other news outlets reports were questioning the accuracy of the Fox report, including NBC, ABC, and CNN. At 1 p.m., while Trump was still speaking in Florida, Baier, himself, went on Fox and said he had been "inartful" in saying the FBI investigation would lead to an indictment, and that most likely, "there would be, I'm told, a very public call for an independent prosecutor to move forward."
Nonetheless, Trump, six hours later on Thursday night in Concord, North Carolina, told his audience there was "breaking news" that the FBI "is conducting a criminal investigation into Hillary Clinton's pay-for-play…[and] that it's likely to yield a very, very serious charge or an indictment."  To justify his cherry picking, the Fox report – while ignoring that even Fox and other news outlets were contradicting it – he added, "I'm just saying that's what the newspapers are saying."
Trump added a new allegation: "Further, it's believed that no less than five foreign intelligence agencies successfully hacked into Hillary's illegal insecure server. In other words, Hillary's corrupt criminal scheme put the safety of every American family in danger, that's what's happened."
Trump's campaign manager Kellyanne Conway appeared late Thursday night on MSNBC and said frankly that despite Baier's reversal on his story, "Well, the damage is done to Hillary Clinton, that no matter how it's being termed, the voters are hearing it for what it is, a culture of corruption."
It was not over, however.
On Friday, Baier announced on Fox during an 11 a.m. special report that he not only made "a mistake" about an indictment being in the works, but that his single source had indicated only a belief that five intelligence agencies had hacked Clinton's email server, but there was no actual digital evidence any hacking had taken place.
None of this affected Trump, however, and during his Saturday nationwide radio broadcast, he said of Clinton, "She's under multiple federal investigations, has committed many crimes, including perjury, and she's now facing the prospect of a federal indictment."
Can you imagine the damage a president could do by ignoring facts and repeating inaccurate information just because it suits his or her purposes? And can the new administration crack down on FBI leaking politically sensitive information, no matter who wins?
Just as troubling coming out of this election cycle is the realization that Russian President Vladimir Putin has a new, challenging propaganda tool through which he can manipulate American public opinion.
Russia's hacking into private emails of the Democratic National Committee and individuals associated with the Clinton campaign, along with managing public release of the stolen material, offers Moscow a new and continuing opportunity to undermine Americans' faith in their own government and leaders.
Having grown up in the Cold War, it was amazing for me to see a Republican presidential candidate giving credibility to explanations offered by Putin and directly challenging the 16-member U.S. intelligence community (IC) finding that Moscow was behind the hacking.
On October 7, Director of National Intelligence James Clapper announced the IC was "confident that the Russian Government directed the recent compromises of emails from U.S. persons and institutions, including from U.S. political organizations" in order "to interfere with the U.S. election process."
Two days later, at the October 9 debate, after Clinton referred to the Clapper statement, Trump said, "she doesn't know if it's the Russians doing the hacking. Maybe there is no hacking…"
He doubled down at the final debate on October 26 saying again, "She has no idea whether it's Russia, China, or anybody else…And our country has no idea." When Clinton followed by asking whether he doubted the IC finding, Trump replied, "Yeah, I doubt it. I doubt it."
"We seek the truth; speak truth to power; and obtain, analyze, and provide intelligence objectively," according to ethics principles published by the Office of the Director of Nation Intelligence.
In this case, Trump apparently accepts Putin's denial his country is involved despite the finding of U.S. intelligence agencies. What signal does that send to the IC should he possibly win the White House about the merits of "speaking truth to power?"
What compounds my concern is that Trump has since gone ahead and used – and even misused –the Russian-selected Democratic internal emails – made public through Moscow-supported WikiLeaks. In some cases, these emails don't show anything more than behind-the-scenes campaign conversations, but shaped by Trump in public, they have been made to appear sinister, even illegal, in order to aid his election effort.
For example, at 11 a.m. last Wednesday, WikiLeaks tweeted that an email it was releasing "outed" Assistant Attorney General for Legislative Affairs Peter Kadzik "as a mole for Hillary Clinton campaign." The Kadzik email, from August 2015, to Clinton campaign manager John Podesta, an old friend, was entitled, "Heads Up." It said there would be a public hearing the next day at the House Judiciary Committee where questions about Clinton's emails might come up, and the Justice Department was that evening or the next day going to announce the timing in 2016 of release of cleared Clinton emails. It was all publicly available information. Nothing illegal was involved in passing it along.
Nevertheless, Trump went out that evening in Pensacola, Florida and told the crowd that there was "more collusion, possibly illegal, between the Justice Department, the Clinton campaign and the State Department" using that Kadzik email as an example.
"The e-mails show that the assistant attorney general, who is involved in the investigation, has been feeding information directly to John Podesta, who he knows very well, and the Clinton campaign. Folks, folks, it's a rigged system, OK? It's a rigged system." It probably should be pointed out Kadzik was not involved in the investigation.
Almost a month ago, an earlier leaked email from March 19, 2015 had Brian Fallon, a Clinton campaign spokesman, writing colleagues that "DOJ [Department of Justice] folks" had told him about a judge's status hearing that morning in a case involving Clinton's emails which would provide "a window into the judge's thinking about the proposed production schedule [for the emails] as quickly as today."
Again, since the court session had been publicly announced, there was nothing classified or illegal involved in the email. Nonetheless, Trump told a crowd at Panama City, Florida, on October 11, referring to this Fallon email, "DOJ fed information to the Clinton campaign about the email investigation. This is collusion and corruption of the highest order and is one more reason I will ask my attorney general – I will ask – to appoint a special prosecutor," Trump said.
If Trump were to win, there would be a special prosecutor investigating Clinton.
If Clinton wins but the vote is close, there is no telling what Trump will do. One thing is clear, after she takes office, there will be multiple congressional investigations if Republicans members of Congress do what their leaders have said in past weeks. There also could be substantial delays in Senate confirmation of Clinton cabinet secretaries and lower level presidential appointees. And as has already been threatened, a ninth Supreme Court justice could remain in limbo for four long years.
Meanwhile, Putin apparently stands ready to stir the pot, not just with military or diplomatic moves on the ground, but with his newly-developed propaganda tool – materials hacked from Americans' personal websites, then selected and distributed either through WikiLeaks or RT, the Moscow-supported, international, English language news website, or both.
It appears that 2017 will be a challenging year for American governance as we have known it in the past.