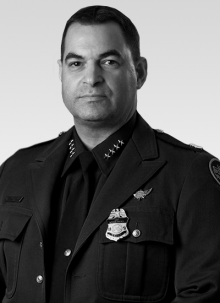 Michael FisherFormer Chief, U.S. Border Patrol
Many of us have seen decades of sporadic attention given to the security of our border, but I believe we are now better positioned to not only define what we mean by border security but identify the appropriate measures of performance and effectiveness that have long seemed unreachable. 
To begin with, I believe we can no longer look at border security as an either/or proposition – that the border is either secure or it's not.
The border environment is too vast and complicated to merely compare and contrast arrest statistics from one year to the next. The dynamic threat to our country demands a more sophisticated approach to assessing security and a new dialogue is needed to determine how, and to what extent, we approach a secure border.
Granted, much has been learned over the years about the evolution of securing our border but many will agree, mostly in private, that the current definition of "operational control" in the 2006 Secure Fence Act is outdated and in my opinion, unattainable.
The law defines "operational control" as meaning "the prevention of all unlawful entries into the United States, including entries by terrorists, other unlawful aliens, instruments of terrorism, narcotics, and other contraband."
The reference to preventing "all" unlawful entries suggests that even if the Border Patrol apprehends everyone attempting illegal entry between the ports of entry they fail because they did not prevent the entry in the first instance.  This is like holding a metropolitan area police chief to a standard requiring the prevention of all crime, all the time within their jurisdiction.  This is hardly realistic.
Perhaps we should focus on the state of the border, rather than the security of the border, recognizing that the level of our border security depends on various factors, some of which we do not control.  For example, risk can be assessed by identifying the intent and capability of our adversaries –  transnational organized crime, narcotics smugglers, human trafficking networks, and terrorists.  Risk is better understood and measured over time when coupled with understanding our vulnerabilities and the consequences of our actions and inactions. 
This would lower risk and processes could be instituted to identify key variables and thresholds that would allow constant measurement of risk and provision of a dashboard view to leaders in the field for deployment of resources to lower risk at any given time.
To that end and over the past few years, the Border Patrol has been providing quarterly State of the Border briefings to the Chairman and the members of the House Appropriations Committee.  The intent was to introduce a new way to assess and understand our border environment and to discuss ways to lower border risks.  The following represents an unclassified outline of those briefings.
The State of the Border
The State of the Border has three sections:
Intelligence Community Estimates
Risk Indicator Metrics; and
Situational Awareness
Intelligence Community Estimates
The State of the Border starts with a classified briefing from a representative of the Intelligence Community, specifically addressing the Border Patrol's Priority Intelligence Requirements.  Updates from the previous briefings would be provided and new threats, if they emerged, would be identified.
Risk Indicator Metrics
Following the intelligence update, the following metrics would be reviewed, compared and contrasted against those from previous briefings, and an operational context would be provided to the Chairman and members of the Committee:
Terrorist Screening Database Matches (non-US persons)
Percent of Other Than Mexicans (OTMs)
Percent of Unique Criminal Aliens
Percent of Total Southwest Border Marijuana Seizures
Assaults on Agents
Daily Average Apprehension
Percent of Confirmed Non-Illicit Activity
Percent of First-Time Apprehensions (90-Day Trend)
Marijuana Weight (lbs.) per Seizure Average (90-Day Trend)
Interdiction Effectiveness Rate
Recidivist Rate
Average Apprehension per Recidivist
Situational Awareness
The Border Patrol gains Situational Awareness primarily from two areas:
 Deployment Density—areas along the border that have sufficient assets to detect and respond to illicit cross-border activity e.g. unattended ground sensors, radar systems, agents on patrol, mobile surveillance systems, remote video surveillance systems etc.
Geospatial Intelligence—intelligence derived from the exploitation and analysis of imagery and geospatial information that describes, assesses and visually depicts physical features and geographically referenced activities along the border.
As a new administration takes power, we have another opportunity to alter the landscape and influence border security.  The brave men and women who protect us along our borders each night are counting on our best efforts and the citizens who rely on our leaders for their security deserve no less.