Trump Takes 'America First' to Skeptical Davos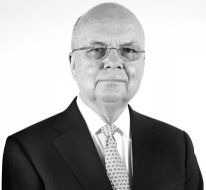 General Michael HaydenFormer Director, CIA and NSA
President Donald Trump became the first U.S. president to visit the World Economic Forum in Davos, Switzerland, since President Bill Clinton in 2000. His message: America's new tax measures are good for business, as long as it serves the "America First" agenda of his administration. Cipher Brief expert and former CIA and NSA chief Gen. Michael Hayden offered thoughts on Trump's Davos visit, edited from conversation below.
Hayden: The president is at heart a salesman. He's saying America is open for business and we're here to draw business into the ever-expanding American economy.
But Davos is a place about interconnection, interdependence, globalization and inclusion. The heart of the president's policy is "American first." There's an element of exclusion – competitiveness as opposed to win-win
Trump is also using the trip to mend some fences, namely with Great Britain, Hayden said. British Prime Minister Theresa May said all the right things Thursday in her public appearance with Trump in Davos about valuing the "special relationship" with the U.S. But she offered no effusive rejoinders to Trump's comment that he has a "really great relationship" with May.
Hayden: This is the same prime minister who had to respond to presidential retweets a few weeks ago, that were frankly inexplicable. Those of the Muslim videos that he put out. (Retweets of false videos initially tweeted by a racist, ultranationalist fringe group.)
Whether it's the retweeting of those horrific videos or criticizing Sadiq Khan, the mayor of London, while a terrorist attack is underway, or to criticize Scotland Yard for the Manchester Bombing during investigation – the British people are offended by that. So she needs to be careful too.
All my British friends tell me we must sustain the relationship, but that they are all equally dismayed at some behavior from this side of the Atlantic.
Yet Hayden thinks Trump has scored some wins, just by coming to Davos.
It's a tough job, he's not an experienced global political leader, so you know, cut him a little slack here. I think the president is the way God made him, which is a bit undisciplined and a lot spontaneous, and things come out that shouldn't come out.
Frankly, I think it's very difficult for anyone, but I'm glad he went. It's been a long time since an American President has gone to Davos. Last year, really strikingly, Xi Jinping, the president of China gave what I would call the "American Speech" at Davos – the speech about win-win globalization and inclusion.
The Trump national security strategy that just came out attempted to square the circle of "America First" doesn't mean "America alone." It actually did a pretty decent job of that. I'm not convinced that it reflected the heart of the president so, here's an opportunity for him, from a prepared speech by a pretty good staff to maybe square that circle again in front of this audience.
That said, Hayden worries some of Trump's recently reported comments where he favored immigration from largely white, European countries vice African ones has real world blowback for national security professionals in the field.
What the president tweets, what the president makes public in his speeches, or off-hand remarks, all of that sets the context in which these security professionals have to work. We had an example a week or two ago, where the president said something about Africa and Africans and immigrants from those countries.
What do you do if you're a station chief in an African country? And you're having dinner with the chief of service? What do you say about what the president said? 'Pay no attention to the president of the United States; we really don't think that?'
That's a pretty uncomfortable position.
So people are working hard, they're doing their duty. But these other things do matter and they create limits that would not otherwise be there in how effective we can be.