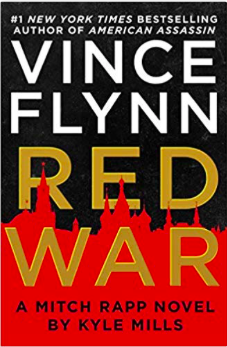 red war
BOOK REVIEW:  Red War (A Mitch Rapp Novel Book 15)
by (the late) Vince Flynn and Kyle Mills
Reviewed by Robert Richer
First of all, I need to highlight that I was a personal friend of the late Vince Flynn, and assisted him as he developed the characters of the Mitch Rapp series.  Thus, I do have some personal bias when reviewing the books in the series, as authored by Kyle Mills.
Red War's thrust centers on the deteriorating health of the Russian President, as he wrestles and seeks alternative medical treatment for inoperable brain cancer.  The Russian President, Maxim Krupin, is worried that his political opponents will seize on any perceived illness or weakness and move against him.  Because of that concern, Krupin reactivates a retired Russian general who has been in isolation for some time but has remained unwaveringly loyal to Krupin. The Russian General is a nationalist of old school Soviet military think.
This is Cipher Brief Level I Member Only content. It can be accessed via login or by signing up to become a Cipher Brief Member.  Joining this high-level, security-focused community is only $10/month (for an annual $120/yr membership).
Cipher Brief Members engage in high-level conversations about national and global security issues every day. If you're not already a member, you should be.
If you are experiencing any issues with signing up or signing in, please drop an email to [email protected].
We look forward to welcoming you to the community!